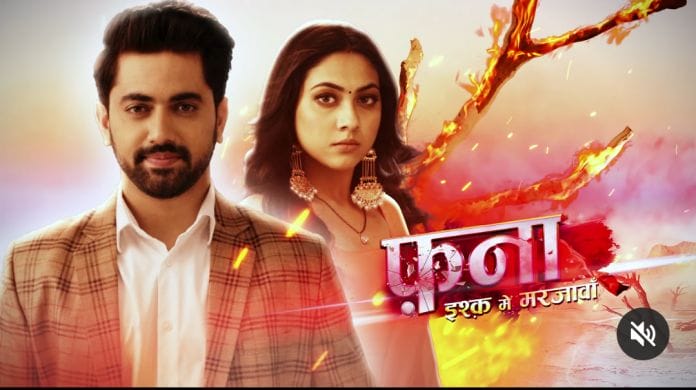 Fanaa Ishq Mein Marjawan 31st August 2022 Written Update on TellyExpress.com
The episode starts with threatening Agastya. She says that he won't be able to see Pakhi and Tara again if Agastya doesn't kill Thakur. She says to Agastya that Thakur is coming for the new college's inauguration and asks them to leave immediately. At the college, Pratap calls Meera and warns her that this time their plan shouldn't flop.
Agastya, Pakhi and Vicky reach college. Agastya says that security has tightened after the last incident, so he won't be able to take the gun inside. Vicky distracts the security guards. Agastya and Pakhi go inside the college with a gun. Vicky informs Meera the same.
Meera says to the family that she is going to get a lot of money after Agastya kills Thakur. She says that then she will finally be free. She asks them to dance. Sameer says that God will punish Meera for her sins. Meera calls the goons and instructs them to beat Sameer and Yug. They oblige. Mona says that God won't let Meera win. Meera says that she has already won and forces them to dance.
At college, Thakur performs God's veneration. Agastya and Pakhi arrive there. Agastya calls out to Thakur. He aims a gun at Thakur. He says that Thakur didn't listen to his warning. He accuses him of destroying his life. Thakur says that Agastya has some misunderstandings. He asks Pratap to make Agastya understand. Pratap pretends to reason with Agastya. He signs Agastya to shoot Pratap. Agastya shoots Thakur in the chest. Thakur asks Agastya what he has done before falling, holding his chest. Agastya breaks down. Pakhi also cries at seeing this. Meera gets elated watching the same through the CCTV camera. The police arrest Agastya and take him from there.
Meera celebrates her victory by drinking alcohol with Vicky. The latter asks when they will get money. Meera says that she's waiting for Pratap's call. Meera comes to Tara. She says that Tara will be free in a while as her parents did her work. She leaves. Tara cries. At the hospital, Thakur is under treatment. Pratap wishes that he dies. Meera phones Pratap. He rejects the call. Meera calls him again.
Pratap answers the call and asks why she keeps calling him. Meera asks when she will get her money. Pratap refuses to give her money until the doctor confirms his dad's death and their plan is successful. He hangs the call. Pratap cries and acts in front of the doctor to save his dad. Just then, Thakur shocks Pratap, coming in front of Pratap fit and fine. Pakhi and Agastya are with Thakur. Pakhi says that they have recorded when Pratap confessed his intention. Agastya says that they have sent a letter along with the recording.
A FB shows Agastya putting the audio recording and a letter in Yug's pocket when he hugs him and asking to give them to Thakur. Agastya says that in the letter he wrote a plan for Pratap to escape. A FB shows Yug meeting Thakur and explaining the plan. Agastya says that Yug came to Pandal to give him a fake gun. He further says that he shot Thakur with a fake gun and he faked death. Thakur slaps Pratap. Agastya says that Pratap's game is over. Pakhi says to Agastya that it's time for the final battle with Meera.
The episode ends.
Click to read