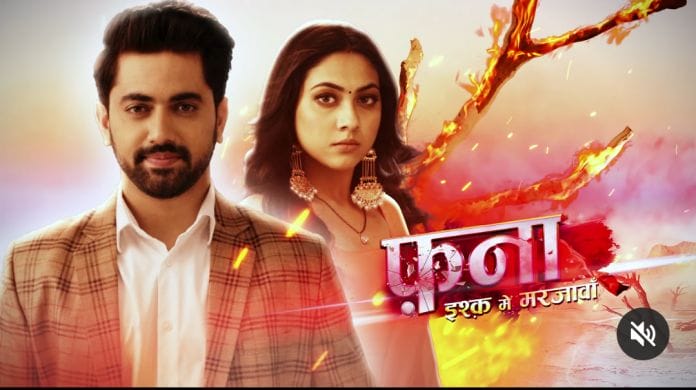 Fanaa Ishq Mein Marjawan 31st May 2022 Written Update on TellyExpress.com
The episode starts with Yug alerting Meera that someone is behind her, but Meera fails to hears this as her phone gets switched off dur to low battery. Yug says that someone is there and he tries to call Meera and the security, but he can't reach them. He phones a staff call Ragu and says to give the phone to Meera.
Yug says that someone enters the godown and he can be the same person who harmed the minister. Meera says to the goons that someone entered the godown and says them to catch him. The goons search for Agastya with gun. Agastya places the bomb in different places of the godown and makes them explode. Meera gets shocked.
Agastya is about to leave the godown. Yug comes in front of him. Yug tries to stop Agastya and tries to remove his mask to know his identity. Agastya pushes him down and runs out. A car picks Agastya up. The latter thanks for helping him. The shawl from the driver head blows up and Agastya is stunned to see Pakhi. He wonders why Pakhi helped and if she gets know the truth.
Pakhi stops the car in a place. She says to Agastya to come out. Agastya obliges. Agastya thanks Pakhi and is about to leave. Pakhi calls out Dodo. She removes his mask and gets emotional on seeing Agastya. They share an hug. Pakhi asks when he got well. Agastya says that he got well the day when Meera tried to kill him burning alive. He couldn't tell her that he got well as her parents' lives are in danger, so he is trying to protect her and family hiding.
Agastya blames himself for Pakhi's condition and says that he wishes to give her back her happy life and lessen his sins' burden. Agastya rests his head on Pakhi's lap and requests her to forgive him. Pakhi makes him get up. She says that he got punished more than what he did.
She says that he isn't at fault, so he doesn't need any more punishment. She says that they have to save their families. Agastya says that they will as there's nothing in the world that thet can't do together. Agastya asks how she got to know about him. Pakhi says that she overheard Yug talking to Meera over phone and she felt that he is the same person, who saved her last day. Pakhi asks if he was him to which he noda yes.
Pakhi says that he couldn't see his face, but his eyes were familiar. She says that she went to his room to check and she didn't find him, so she confirmed that the masked man is Dodo. So she came to help him. Agastya promises to Pakhi that hereafter he will protect her and save her from all the trouble. Pakhi says that they have to go back home before Meera and Yug get suspicious.
Pakhi comes back home from the main door. Agastya. The latter comes to his room and messages Pakhi. She messages him back that thankfully Meera and Yug haven't returned home yet. Pakhi pretends to sleep on the couch on seeing Meera and Yug coming.
Meera wakes up Pakhi and asks who saved her from the minister. Pakhi says that she didn't see his face as he had a mask. Meera threatens Pakhi and says that she can never see her parents alive if she lies to her. Yug calms Meera down. He says that though all their things burned in the fire, they're going to get the property in a week then they don't need any deal.
The next day morning Dadi is reading Bagawat Gita Pakhi comes to Dadi and sits next to her. Dadi says that she knows Pakhi is worried about her parents. She says that she's praying for them daily and assures that they will come back safe and sound. Mona comes to them and laments that Meera insulted her. Dadi taunts her. Mona apologize to Dadi. Pakhi wonders how to stop Meera. Dadi says that they have to find Meera's weakness. Pakhi says that she knows it and gets determined to make Meera confess all her crimes.
The episode ends.
Click to read