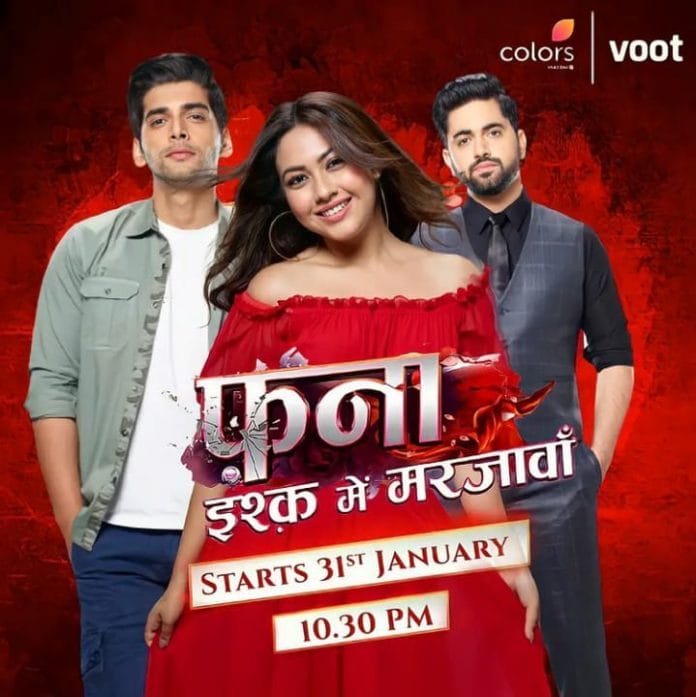 Fanaa Ishq Mein Marjawan 4th February 2022 Written Update on TellyExpress.com
The episode starts with Pakhi getting shocked on seeing someone. It's revealed that the person is Ishan. Pakhi asks how he knows that she's here. Ishan says that hasn't come for her, but to drink coffee. He adds that he wanted to give company to Pakhi, who is drinking coffee alone and makes her life less sad. Pakhi laugh. She asks if they will meet always in the shop.
Ishan asks so she believes that they will meet again and laugh. Ishan says that they have dinner here tonight. Pakhi says that she wishes that he could, but she can't as she has to meet Agastya in a while. Ishan asks where she's going to meet him. Pakhi tells him the location. Ishan offers to drop Pakhi. She agrees.
Other side Agastya is waiting for Pakhi. He smiles looking at the ring. Pakhi is on her way in the car with Ishan. Pakhi says that Agastya cares for her lot. Ishan asks if she takes all her decision asking to him. Pakhi says that she trusts Agastya lot. Ishan asks if her boyfriend needs to get Agastya's approval. Pakhi says that Agastya's matters lot for her. Ishan asks if she likes anyone. Pakhi says that yes, but she's not sure if he likes her too.
Ishan asks if that boy likes coffee kids and if he's chatterbox. Pakhi replies positively. Ishan says that then the boy will like her too. Ishan drops Pakhi at her location. Ishan asks Pakhi how he can know if a girl likes him. Pakhi says that he will know it through her gesture. They both smile. Pakhi begins to leave and turns back to say something then leaves.
Pakhi enters the castle. A helicopter pours rose petals over Pakhi. Pakhi meets Agastya. She says that she called him to show this venue. Agastya says that he wanted to say something to her. Pakhi says that she also wanted to say something. She further says that she never said this to anyone before and asks whether their relationship will change after this. Agastya thinks that their friendship will change into love. Pakhi says that she's in love. Agastya smiles and thinks in mind me too.
Pakhi says that it's like universe made her meet to her dream boy. She says that she doesn't know this is the feeling of love that's why she didn't tell him before. She asks if he doesn't want to know the boy name. Agastya thinks in mind his name sounds beautiful when she says. Pakhi says that he is name is Ishan shocking Agastya. Pakhi keeps talking about Ishan while Agastya looks on shocked. Pakhi says that Ishan wants to take her for dinner and says that they can talk later. She asks if she can leave. Agastya agrees. Pakhi hugs Agastya getting elated. She leaves. Agastya cries recalling Pakhi's words about Ishan.
Pakhi comes back and finds Ishan. She asks if he hasn't gone. Ishan gives an excuse first then admits that he is waiting for her. Pakhi says that she knows it. Ishan spreads his hand towards Pakhi. The latter holds Ishan's hand. Agastya says that Pakhi is doing wrong. He asks Pakhi to not do this mistake. Agastya starts leaving the place. Agastya stops on seeing Pakhi and Ishan leaving holding hands. Pakhi and Ishan drive off.
Dadi says the staff to put red roses as Agastya said Pakhi loves red roses. Agastya comes back and sits down. Dadi goes to him and asks what happened. Agastya cries placing his head on dadi's lap. He says that Pakhi failed to recognize his true love for her. Dadi says to Agastya to give Pakhi some more time. Agastya gets up and walks towards his room. Dadi tries to stop him, but in vain.
Agastya says to the hoodie man that Pakhi did wrong with him. The hoodie man removes his cap. He apologizes to Agastya calling him boss. He assures Agastya that he kept following her everywhere. He says that he lost Pakhi's track when she went inside the mansion. He doesn't know how that boy met Pakhi in the meantime. He adds that he thought he is a client when that boy meet Pakhi. He promises of doing something as he knows how important Pakhi is for Agastya. Agastya says that he doesn't know anything.
Agastya drags that man inside a secret room where there are lot of monitor screen in which Pakhi's video recording is playing. Agastya lastly watches the monitor that shows Pakhi sitting in the restaurant waiting for Ishan. Agastya says how many times Pakhi has smiled, but she doesn't know it. He says that people thinks that Pakhi doesn't get angry on seeing her face, but she hides some pain when she smiles lot than usual.
Even Pakhi's mom doesn't know this, but he knows. He says that he has the recording of Pakhi's every moment of her life in the last 15 years as she belongs to him, but due to that man hoodie he lost her. He says that he did mistake. Eveything has changed in the 9 hour he couldn't monitor her. Agastya says that he loves Pakhi from the childhood, so he became her Universe who fulfills her every wish. He asks how she asked for someone else to the same Universe. He was happy thinking that he is life is going to change and it had changed.
Agastya cries saying that he couldn't be Pakhi's love after doing all this. He says that he feels like the reason for his living was snatched away. He blames the man for that. The man cries. Agastya says that he forgave him for letting them meet in the mansion, but Pakhi kept meeting that boy afterwards and he needs to punish him for that. Agastya says that he needs to die and tries to strangle his neck with the chain.
The episode ends.
Click to read: