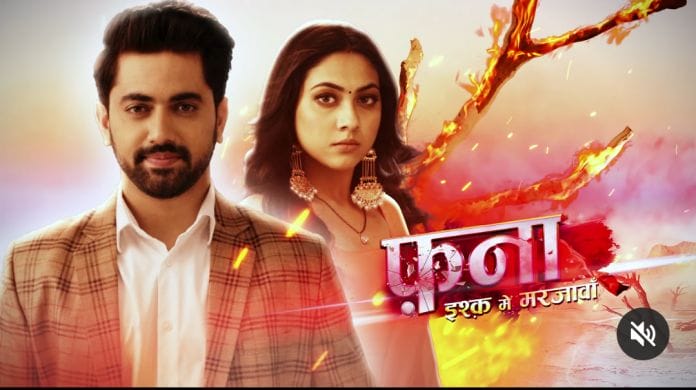 Fanaa Ishq Mein Marjawan 8th August 2022 Written Update on TellyExpress.com
The episode starts with Agastya seeing Pakhi in the CCTV footage and crying. There Pakhi cries feeling worried about Agastya. She wonders why she feels worried about Agastya when he is with her. Here Agastya prays to God to protect Pakhi.
In the dinning table Pakhi says Dodo to pass the salad. Agastya doesn't respond. Tara asks the fake Agastya if he forgot his name. He manages that he was lost in his office thought. He thinks that Dodo name is strange and wonders what will be the meaning of that name.
Meera is in call with the fake Agastya and asks him to get the habit of Pakhi's touch and all as he is going to marry her. She instructs him to celebrate their wedding night before their marriage. Agastya gets furious hearing this and warns Meera. The latter says to Agastya that he will watch live Pakhi and fkae Agastya's getting closer and he will also hear her scream. She shows him the CCTV footage. Agastya says that Meera is doing wrong with Pakhi.
Pakhi comes to the fake Agastya. She says that Tara slept in Naveli's room. He says that let her sleep with Naveli. He tries to get intimate with her. But Pakhi stops him saying that doesn't know why, but she's feeling anxious. She's going to bring Tara. Here Agastya laughs saying that Meera's plan flopped. Meera says that they will see who win and lose in the sangeet and wedding which will take place the next day.
At the Sangeet Tara asks Saradha aka Meera to wish his dad as her parents are going to get married. Tara asks the fake Agastya his and Pakhi's favorite song to play it. Pakhi asks him to tell. Meera hopes that the fake Agastya will distract Pakhi for a while so that she can find out Pakhi and Agastya's favorite song.
The fake Agastya says that he will dance with Tara first on her favorite song. They dance. Agastya watches this live. While dancing Meera sign fake Agastya and the latter drags a wire near Tara. Tara stumbles on the wire and falls down. Dadi notices this. Pakhi rushes to Tara and cares for her.
Dadi says that Agastya dragged that wire to make fall Tara. Pakhi is shocked and asks why Agastya would do so. Fake Agastya pretends that he dragged that wire mistakenly near Tara and apologizes to her. Pakhi also says that he must have done it accidentally. Fake Agastya asks Tara to punish him.
Tara says that his punishment is that he has to dance with mom on their favorite song. Fake Agastya look at Meera. The latter shows a message which contains song name. A FB shows. Meera's man beats Agastya and threatens to harm Tara if he doesn't tell his and Pakhi's favorite song. Agastya agrees to tell. FB ends. Fake Agastya tells Naveli the song. She plays it. Agastya and Pakhi dance on this.
Dadi remembers what had happened and gets suspicious of Agastya. She sees Pakhi and Agastya's room door is opened and goes to close it. She finds Agastya covering Pakhi and Tara with the quilt. She closes the door and leaves. Fake Agastya thinks that Dadi is too smart, so have to keep an eye on her.
The next day Tara comes to Agastya to call him for haldi ceremony. She is having Agastya's favorite toy. Agastya throws that toy away saying to not have old toys, he will get her a new one. Dadi sees this and is shocked with Agastya's act as that toy is Agastya's favorite one from his childhood.
The episode ends.
Click to read