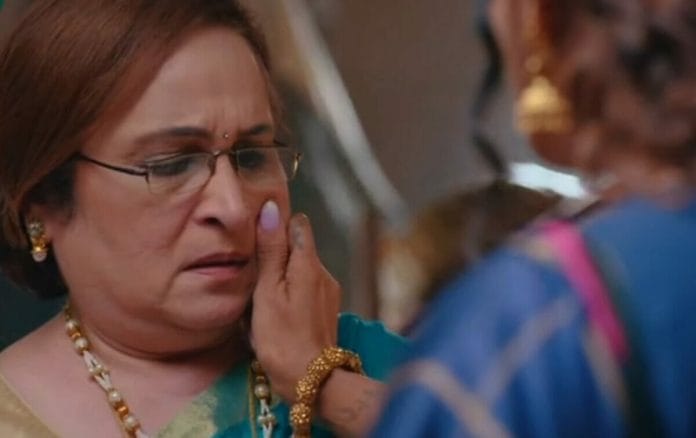 Fanaa Ishq Mein Marjawan Spoilers, Upcoming Story, Latest Gossip , Future Story, Latest News and Upcoming Twist on tellyexpress.com
Fanaa Ishq Mein Marjawan, popular show on voot, is gearing up for drama with Dadi growing suspicious of fake Agastya's activities.

Previously it was seen that Pakhi called Agastya Dodo and the fake Agastya didn't respond it which surprised all. Fake Agastya managed to cover up saying that he was lost in his thought. However this alerted Dadi. Later Meera instructed fake Agastya to get intimate with Pakhi before wedding in front of real Agastya and asked him to watch it live.
But Meera's plan flopped when Pakhi stopped fake Agastya saying that she was feeling anxious for an unaware reason. Agastya laughed and mocked Meera for her plan got flopped. In the Sangeet Tara asked fake Agastya to tell his and Pakhi's favorite song.
Upon Meera's instruction fake Agastya made Tara fall to create distraction and buy some time for Meera to find Agastya and Pakhi's favorite song. Dadi noticed this and questioned Agastya. The fake Agastya tried to manage by giving some excuse.
Fake Agastya thought of keeping an eye on Dadi who was acting smart. Later Dadi's suspicion grew stronger seeing Agastya throwing away his favorite childhood toy that gifted by Pakhi.
In the today episode it's seen that Dadi will refuse to believe that Agastya can throw the toy gifted by Pakhi. She will conclude that he isn't Agastya, but a doppelganger.
Dadi will decide to stop Pakhi and the duplicate Agastya wedding. She will even pretend to faint while Haldi ceremony. The duplicate Agastya and Meera will notice this and will understand that Dadi knows the truth.
Dadi will try to tell Pakhi the truth calling her to the storeroom, but Meera will attack Dadi and will tie her up to a chair. She will message Pakhi from Dadi's phone that she left to see her unwell friend.
Will Pakhi find out about Agastya's doppelganger and will foil Meera's plan again? Will Meera get successful in her intention?
Stay tuned to this space for latest update of your favorite shows.