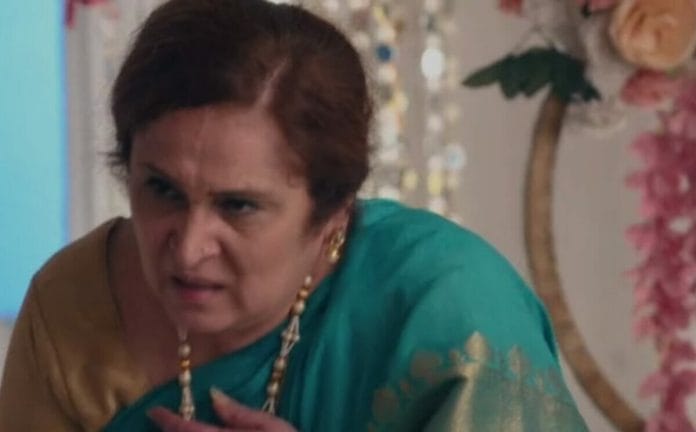 Fanaa Ishq Mein Marjawan Spoilers, Upcoming Story, Latest Gossip , Future Story, Latest News and Upcoming Twist on tellyexpress.com

Voot's popular daily soap, Fanaa Ishq Mein Marjawan, is gearing up for drama with Meera killing Dadi.
Previously it was seen that Pakhi got worried about Dadi when she did not receive her calls. Pakhi decided to not get married until Dadi would return home.
Agastya's doppelganger overheard this and told Meera about Pakhi's decision. Meera threatened Dadi to harm Tara if she didn't obey her. She forced Dadi to send an audio message. Pakhi received Dadi's audio message in which Dadi said that her friend was in ICU so she wouldn't be able to attend the marriage and asked Pakhi to marry without her.
Pakhi agreed, but she felt anxious and wondered why she was feeling so. Tara heard sound coming from the storeroom and tried to open it, but Meera stopped her. Agastya watched Pakhi and his doppelganger sitting on the wedding mandap and felt helpless.
However Agastya was confident that Pakhi would recognize his doppelganger and would stop the wedding.
In the today episode it's seen that Agastya will watch crying Pakhi and Agastya's lookalike performing wedding rituals. He will wish that Pakhi stops the wedding realising he isn't Agastya.
Dadi will manage to free herself and escape from the storeroom. She will rush to stop Pakhi and Agastya's lookalike wedding. Meera will stop Dadi. They both will fight. Meera will inject a drug on Dadi's shoulder. Yet Dadi will push Meera down and will reach the wedding mandap.
Dadi will faint and die. Pakhi will run to Dadi leaving the wedding rituals. Family will get shocked with Dadi sudden death. Pakhi will find that Dadi lied to them about her friend being unwell. She will get determined to find the truth behind Dadi's death.
Meera will instruct Agastya's lookalike to get intimate with Pakhi and make her pregnant. He will try to come closer to Pakhi, but she will push him away.
Will Pakhi find out Meera killed Dadi? Can Agastya escape from Meera's clutches and save Pakhi from his doppelganger?
Stay tuned to this space for latest update of your favorite shows.