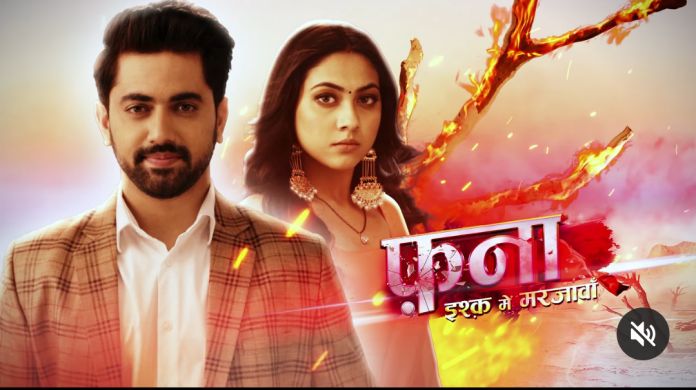 Scene begins with Pakhi wears her nuptial chain again and rushed to her room. She closed the door behind and takes a deep breath. She starts feeling nervous thinking about what's going on here? She doubts whether Dhadi said true? If she remove the nuptial chain it will affect her husband? Pakhi tries to convince herself it's a lie. She goes to take shower. Later Pakhi comes down and learns from dhadi that Agastya is in his room. He was handling the meeting from home. She advise her to go and help him. Pakhi asks her she has no idea about his business then how will she support him? Dhadi asks her to give food to him and impress him. Pakhi stares her in confusion. She shares to him that dhadhi need a grandson soon. Hearing this Pakhi feels uncomfortable there. She leaves from there.
Something is keep disturbing her. She brings food for Agastya there. Agastya denies to take food reasoning he don't have time. Pakhi feeds food to him making him suprise. He start a concentrate on his files while eating. Pakhi is keep staring him. She is feeling new feels with him. She never got such feelings about him. She even forget the plate got empty while starting him. She thinks what's going on here why is she getting his thoughts often? Meanwhile Agstya follows behind Pakhi and tells her he has an surprise for her today. Pakhi gets excited hearing it. He asks her to get ready and leaves. Pakhi gets ready beautifully in Kurti. Agastya comes there and asks him to wear sarie. She says that she don't have any. He gifts her new one. She wears it for him. Agastya praises her beauty and tells her she is looking pretty in sarie. Pakhi feels happy hearing it. He clicks selfie with her.
Agastya blindfold her and take her near beach. She gets over excited seeing beach there. She plays with waves. He gifts her bunch of rose and balloons. He says that Ishaan will come here to meet her in few minutes enjoy. He bids bye to her and leaves. Pakhi feels something strange inside her.
Screen froze
Also See: