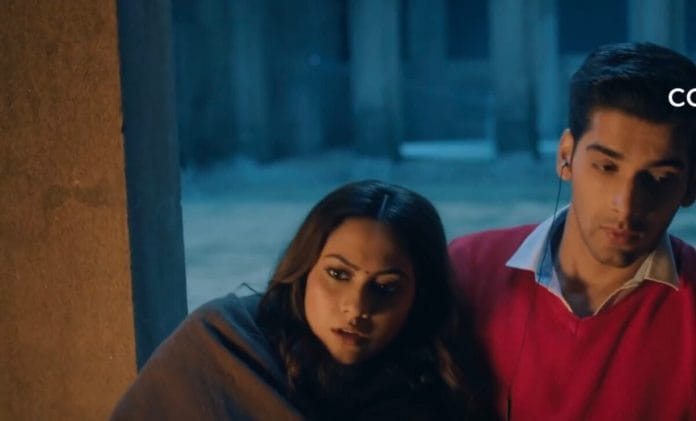 Fanaa Ishq Mein Marjawan Spoilers, Upcoming Story, Latest Gossip , Future Story, Latest News and Upcoming Twist on tellyexpress.com
Colors newly launched show Fanaa is all set for some interesting twists and turns in the story with Pakhi growing closer to Ishan while Agastya thinking of proposing Pakhi.
In the previous episode it was seen that Pakhi's mother was worried about Pakhi. Agastya arrived there and asked about Pakhi. Agastya was worried learning that Pakhi was missing. He contacted ACP to look for Pakhi. The man in hoodie watched this then he followed Agastya. Meanwhile Pakhi and Ishan had a talk. On seeing Pakhi's wound on her hand, Ishan helped Pakhi to cover it with a band aid. Pakhi lamented about getting locked in the mansion. Ishan told the mansion's history to divert her mind. Ishan and Pakhi shared the headset and listened some music and kept looking at each other when the other person isn't looking at her/him. Agastya found out Pakhi is locked in the mansion after checking the CCTV footage and informed police. Police team rescued Pakhi. Police questioned Ishan. But Pakhi saved him saying he is decent guy and she survived in the mansion because of him.
In the upcoming episode it will be seen that Agastya will decide to express his feelings to to Pakhi and propose her. Meanwhile Pakhi will search on the internet about Ishan and will find the hospital in which he works. Pakhi will come to that hospital on the pretext of dressing her wound. Pakhi will come across Ishan. Ishan will do her wound dressing and offer Pakhi for a coffee to which Pakhi will agree. They will have talk and their bond will grow. The man in hoodie will watch them. Later Agastya will call Pakhi and asks to meet her and she will agree.
Will Agastya be able to propose Pakhi? What the destiny is stored for Agastya, Pakhi and Ishan?
Stay tuned to this space for exclusive updates about your favorite shows.