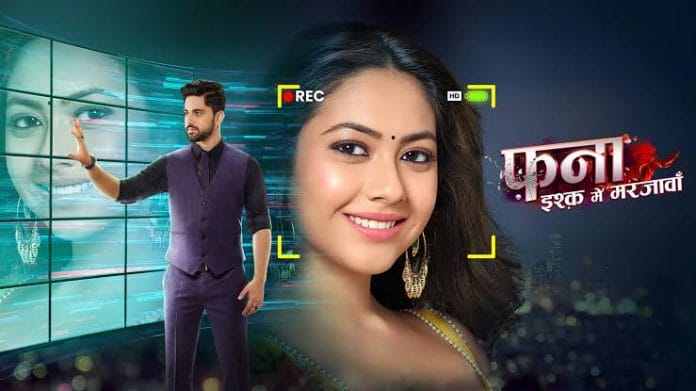 Fanaa Ishq Mein Marjawan Spoilers, Upcoming Story, Latest Gossip , Future Story, Latest News and Upcoming Twist on tellyexpress.com
The last week began with the nurse trying to feed Agastya, but he refused to eat. Bulbul comes to the nurse and shoved her saying that she would feed him. Agastya recognized Bulbul with her voice which surprised Dadi, who was witnessing this. She got happy. Bulbul said to Agastya to have food. But Agastya demanded to show her face first. Bulbul said that she covered face like the superhero. Agastya excitedly said that Bulbul was his superhero. Bulbul fed food to Agastya. Then Agastya and Bulbul played catch catch with the ball. Agastya broke a vase by mistake. On seeing Meera Bulbul hid. Meera got furious seeing the broken vase. She slapped Agastya shocking Bulbul. She took a stick to beat Agastya. Dadi tried to stop Meera, but in vain. Meera made Dadi leave the room and beat Agastya mercilessly. Bulbul got teary eyes witnessing Meera's cruelty.
Later Bulbul decided to teach Meera a lesson for making Agastya cry. She brought spicy in a plate when Meera was having breakfast. She placed a turned on fan near it. The spicy went into Meera's eyes and she shouted in pain. Bulbul mocked Meera. Shanaya wondered why Bulbul was helping them and got suspicious of Bulbul. She shared with Naveli that she doubted Bulbul was hiding something from them. Naveli tried to convince Shanaya that it wasn't true. However Shanaya sneaked into the storeroom and searched in Bulbul's stuffs determined to find the truth. Naveli dragged Shanaya out the storeroom before Bulbul could see her. Naveli scolded Shanaya for checking in Bulbul's belongings and advised her to not overthink.
Meera and family got shocked hearing Agastya blabbering Pakhi's name in the sleep. Meera got sacred that Agastya got his memory back. She contacted Agastya's doctor right way to confirm her doubt. Doctor assured her that Agastya took Pakhi's name in sleep so he didn't get his memory back. Meera said to Yug to get Agastya hospitalized as soon as possible. Bulbul asked Dadi about Pakhi and learned about Agastya and Pakhi's love story. Bulbul also learned that the next day is Agastya's birthday. She promised Dadi to celebrate it grandly. Bulbul mixed some powder in Meera's beauty cream which caused her some allergic reaction on the skin. Meera left the house in emergency to see the doctor. In the meantime Bulbul celebrated Agastya's birthday with Dadi and Naveli.
After Meera returning home, Agastya spilled that his birthday was celebrated. Meera warned Dadi for celebrating Agastya's birthday hiding from her. Bulbul said that it was her idea. Meera got furious and fired Bulbul. The latter threatened to register a police complaint against Meera. The latter wasn't scared and said Bulbul to do it. She threw Bulbul out of the house which made Agastya sad. Dadi got worried about how Agastya would get cured.
Meera organized her business partner, Mr Sinha's, party event in Raichand's house in order to get a deal signed by the minister with Mr Sinha's help. Bulbul arrived to the Raichand's house as a dancer. Bulbul got shocked knowing that Agastya's house was the party venue. She covered her face so that Meera couldn't see her face. Bulbul went to meet Agastya secretly and found him sleeping peacefully. Later Bulbul's face gets revealed and Meera got shocked on seeing Bulbul's face.
Meera questioned Karthik about Pakhi by showing her photo. Karthik said that he didn't know her, she didn't belong to his dancers group. Meera was trying to convince the minister to get a big deal. Agastya came running to Meera and requested her to save him from the rat. The minister and Meera's business partner were shicked knowing Meera liedto them about having cut all her ties with Agastya and about Agastya being in the mental hospital. They refused to sign the deal with Meera. They tore up the contract before leaving which enraged Meera. She decided to punish Agastya. She plucked a current wire to give current shock to Agastya. But Bulbul stopped Meera. The latter got shocked on seeing Bulbul's face and asked how she got saved after falling down the cliff. Sameer got suspicious on hearing this. Meera was about to slap Bulbul, but Bulbul's mom stopped her. She warned Meera and took Bulbul from there.
Meera stopped Bulbul from leaving and said to Bulbul that she will give her 20 lakhs to do her work. Bulbul demanded two crores. To Yug surprise Meera agreed. Later Meera explained to Yug her plan. She said that she wanted to make people believe that Pakhi is alive and Bulbul is Pakhi. Then she will fourtch Pakhi's signature and get Agastya's whole property on her name. The next day Bulbul came to Agastya's house shocking all except Agastya, who got elated on seeing his best friend. She stopped Meera from sending Agastya to the mental hospital by blacknailing her. Bulbul claimed that she would be the owner of this house for the next three days and she would stay in the owner's room. Later Bulbul asked Meera to cook shocking all.
In the upcoming week it will be shown that Agastya will stumble on a video of Pakhi and himself while playing hide and seek with Bulbul and family and will take Pakhi's name and will say that he won't let anything happen to Pakhi.
Keep checking this space for exclusive update of your favorite Hindi shows.