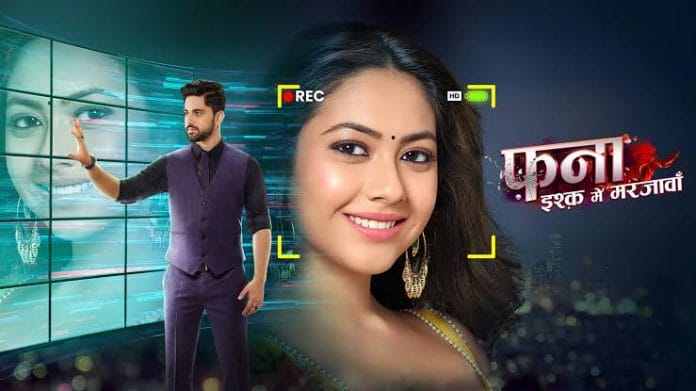 Fanaa Ishq Mein Marjawan Spoilers, Upcoming Story, Latest Gossip , Future Story, Latest News and Upcoming Twist on tellyexpress.com
The previous week we have seen that Agastya came to know Raghav's location through the detective. Agastya reached there to catch Raghav. The latter put up an act as instructed by Ishan when Pakhi arrived along with Mohit. Raghav blamed Agastya of trying to kill him. Pakhi got shocked seeing this. Agastya tried to clarify, but Pakhi walked away refusing to listen to Agastya's explanations. Later Pakhi and Mohit discussed about Agastya. Mohit said that Agastya must have put hidden cameras in her bedroom. But Pakhi felt it hard to believe this. Ishan was overhearing them. After Mohit left Ishan pretended to come across Pakhi and engaged a talk about Agastya.
Pakhi shared with Ishan about what happened earlier. Ishan got irked when Pakhi told that her heart couldn't believe what her eyes have seen. Ishan said that Agastya couldn't have done this as he is smart and it wouldn't have been easy for Mohit to track Raghav's location.
Pakhi said that she doubted Raghav to be liar since the beginning. She regretted doubting Agastya and got ready to leave. Ishan made Pakhi trip and he catched her in his arms. Other hand Agastya was worried for Pakhi when she didn't answer his calls. Agastya received some photos that showed Pakhi with Ishan. Agastya got angry on seeing theme. But he did not ask Pakhi about the photos and hid them from her.
Pakhi apologized to Agastya for doubting him. They reconciled. Ishan got furious on learning that Agastya didn't doubt Pakhi despite seeing the photos. However Ishan devised a new plan to provoke Pakhi against Agastya. Later Agastya and Pakhi were spending a romantic moment in a hotel. A man's arrival disturbed their romance.
That man claimed that Agastya asked him to develop some Pakhi's photos. Agastya denied it. Pakhi suggested seeing the photos to clear the confusion. To prevent any misunderstanding between him and Pakhi, Agastya stopped Pakhi from seeing the photos and asked the manager to take that man out. The man dropped the photos deliberately and Pakhi saw them.
Agastya tried to explain Pakhi that he didn't ask him to click those photos. Pakhi didn't believe Agastya and walked away. She misunderstood that Agastya had put that hidden camera in the bedroom and broke down. Later Ishan approached Agastya with a new plan to trap him and successfully convinced him for that. As a part of his plan Ishan told Pakhi about Agastya going to open a new ward for kids and invited her for the press conference of the same.
On hearing this Pakhi got confused with Agastya's intention. She wondered that one side Agastya was helping Ishan to become independent, but other side he was stalking him. The next day Pakhi attended the press conference. Police arrived there to arrest Ishan for fraudulent activities in the construction of that new ward.
The officer thanked Agastya for giving them tip about Ishan via mail. Agastya denied of sending any such mail to him. The officer showed the mail which had Agastya's digital sign which shocked Agastya. Pakhi misunderstood Agastya after seeing that mail. Agastya tried to explain to Pakhi his innocence, but in vain.
He begged Pakhi to give him a chance to prove he hadn't sent that mail. Pakhi refused to believe Agastya hereafter and walked away. She fainted while walking which shocked Agastya. Agastya brought an unconscious Pakhi to her parents' house. After gaining her consciousness Pakhi got scared seeing Agastya which hurt the latter.
On learning what happened in the press conference, Sameer asked Agastya to leave his family and Pakhi alone. Agastya requested Sameer to let him explain to Pakhi. The latter shocked Agastya Agastya by asking him to give her some time and asking him to leave. As Agastya refused to leave without talking to Pakhi, Sameer threw Agastya out of the house.
Meanwhile Ishan met Meera in the jail. They joined hands against Pakhi and Agastya. They devised an evil plan using Shanaya to separate Pakhi and Agastya forever. Agastya fell sick after waiting whole night in the rain outside Pakhi's house. Pakhi got concerned for Agastya. She scolded him.
However Pakhi tried to hide her concern for Agastya and asked him to leave. Agastya said that he wouldn't go away of Pakhi even if she wanted it before leaving. The goons kidnapped Shanaya as per Ishan and Meera's plan. Ishan planned to put the blame on Agadtya and wanted to become in Pakhi's eyes by saving Shanaya. To Agastya's disappointment, Agastya entered the scene to save Shanaya before Ishan.
Agastya got stabbed while fighting the goons. In the upcoming week it will be shown that Ishan will rush Agastya to the hospital. Ishan will call Sameer and will inform that Agastya got stabbed and is hospitalized. He will ask him to come to the hospital immediately. Pakhi will get shocked when Sameer will tell her the same. Stay tuned to this space for latest update of your favorite shows.