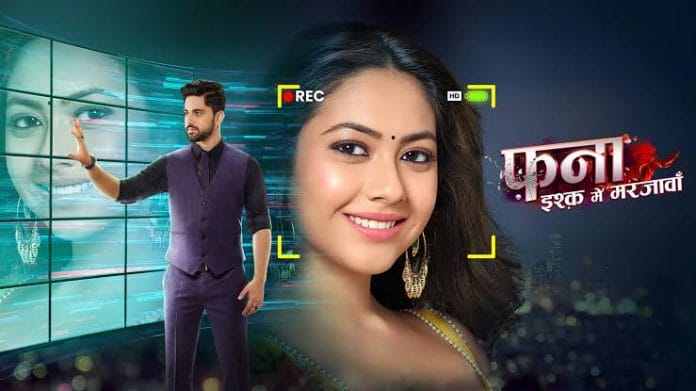 Fanaa Ishq Mein Marjawan Spoilers, Upcoming Story, Latest Gossip , Future Story, Latest News and Upcoming Twist on tellyexpress.com

Last week it was seen that after lot of efforts, Agastya escaped from Meera's clutches successfully. Pakhi confirmed that Agastya, who is at home, is an imposter when she discovered that Agastya didn't have burn scars on his chest.
Pakhi wondered who could have changed the DNA reports, as that day Agastya's lookalike was at home with Tara. She realized that Meera must do this. Later, Pakhi learned that Tara's teacher Sharda was none other than Meera when she overheard Meera and Agastya's lookalike conversation.
Pakhi got worried about what happened with the original Agastya. Meanwhile, Agastya was on the road stopping vehicles to get a lift to reach home. On the other hand, Meera's men gained consciousness. They looked for Agastya and checked the cage.
They found Yug in Agastya's place. They beat Yug. Meera was shocked on learning that Agastya had escaped. Agastya and Meera left to find Agastya by making an excuse.
Pakhi understood that Agastya was in some danger. She followed Meera and Agastya's lookalike to find Agastya's whereabouts. Elsewhere, Agastya hid on seeing Meera's men finding him.
Pakhi was looking for Agastya, whereas Agastya found a way to reach home. They arrived at the place where the Dahi Handi competition was going on. Agastya fainted. Pakhi saw Agastya and rushed to help him. Later she took Agastya to her parents' house.
Agastya and Pakhi were shocked to learn that Tara got kidnapped by Meera. The latter threatened to kill Tara if they would contact the police. However, Agastya decided to take police help to find Tara. Meanwhile, Meera had called the doctor who did Agastya's lookalike plastic surgery for her backup plan.
Agastya's lookalike who was keeping an eye on Agastya and Pakhi, Meera phoned Pakhi and threatened to harm Tara if they informed the police. Agastya and Pakhi returned home.
Agastya told the family that they had pretended to go to the police station to force Meera to call from her phone to trace her location. Just then, Naveli said that they had found Meera's location. Agastya and Pakhi fooled Agastya's lookalike by making Mohit and Naveli sit on the puja dressing up like them while they went out through the back door.
They reached Meera's location. They outsmarted Meera and rescued Tara and Yug. Later, Agastya decided to send Pakhi and Tara to Singapore to protect them from Meera. Meanwhile, Meera met the mystery man and asked him to give her a last chance to execute her final trick.
Pakhi and Tara were ready to move to Singapore. Just then, Meera shocked everyone by arriving there. She revealed that she planted an explosive chip on Tara. She asked Agastya and Pakhi to kill Subut Thakur, who was Agastya's mentor and also a well-known face in the technology world, to save Tara's life.
Agastya and Pakhi refused. Meera asked them to choose between Tara and Subut and gave them three days' time to make their decision. Later, Meera raised her hand to slap Tara, but Pakhi held it and warned Meera to not try to harm Tara.
Agastya beat Agastya's doppelganger when he tried to touch Pakhi. Meera threatened them to get the bomb exploded. Pakhi asked her to go ahead as she was also going to die.
Agastya asked Meera to treat his family with respect and to not harm them if he wanted them to obey her. Meera agreed just to make Pakhi and Agastya believe that they would be safe if she listened to her.
Pakhi, with the help of Mona and Naveli, fooled Vicki, Agastya's doppelganger and got him drunk. Agastya pretended to be Vicky in front of the guards and would go to his office to get a device with which he could deactivate the bomb.
Meara received her head's call, who asked her about the plan's progress. Meera assured him that Pakhi and Agastya had to agree to their plan. Meara went to check on Agastya and Pakhi. Agastya reached the room in time through the secret room and pretended to sleep.
Later, Agastya was successful in turning off the blinking red light on Tara's. Pakhi, Agastya and Tara were rejoicing at the victory. Meera learned about Pakhi and Agastya planning something after finding drunk, unconscious Vicky with a wine bottle.
Meara threatened to reduce the bomb explosion time limit if they try to remove or deactivate the chip. Meara took Tara from Pakhi and Agastya as punishment for being over smart.
Agastya was torn off between his mentor and Tara and shared his dilemma with Pakhi. The latter assured Agastya that they would save Tara without harming anyone.
Can Pakhi and Agastya safe both Tara and Subut? How will they do it?
Stay tuned to this space to get the latest update of your favorite show.