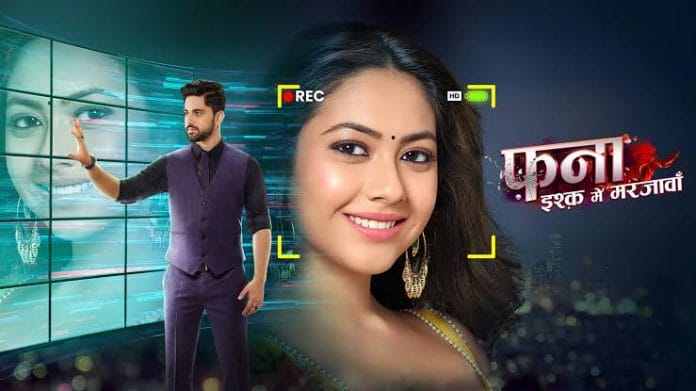 Fanaa Ishq Mein Marjawan Spoilers, Upcoming Story, Latest Gossip , Future Story, Latest News and Upcoming Twist on tellyexpress.com
Pakhi and Agastya along with Tara returned home. Dadi welcomed them. Elsewhere Meera vowed to take revenge from Agastya and was ready to execute her plan to ruin Pakhi and Agastya's life.
Here Pakhi got worried that Meera could attack Agastya again. Tara played music and asked family to dance to cheer up Pakhi. Dadi got worried when she pushed the Agastya's photo frame down accidentally. Dadi considered it as a bad omen.
Agastya reassured Dadi. However the next day Pakhi prohibited Agastya from going to the office and asked him to work from home. Family supported Pakhi. Later all played hide and seek upon Tara's suggestion.
Agastya hid in the storeroom. There someone hit Agastya with a rod and he lost his consciousness. Tara wasn't able to find where Agastya was hiding. She sought Pakhi's help to find Agastya.
Pakhi took Tara to the storeroom. She got suspicious finding Agastya's phone on the floor. Tara and Pakhi called out Agastya. The latter suddenly appeared in front of them scaring them.
Later in the midnight Agastya woke up in the midnight when Pakhi and Tara were sleeping. He fixed spy cameras in the bedroom and in the hall. The next day Agastya struggled to solve a puzzle when Tara asked him.
He pretended to have pain in his gunshot wound to escape. He shouted at Pakhi when the latter tried to see his wound. He received a message from a mysterious person.
Agastya suddenly fainted after eating the prasad. Doctor checked Agastya and told that he got allergic to almond. Dadi and Pakhi got surprised hearing this as Aagstya wasn't allergic to almonds.
Agastya reacted angrily when doctor suggested taking a blood test. Agastya scolded doctor when he advised him to rest. Agastya left home pretending to have an important meeting in the office. Pakhi got worried about Agastya's health and followed him.
She reached a warehouse. Agastya met Meera. The latter scolded Agastya for not having started her work yet and threatened him. They got alerted when Pakhi's phone rang. Later Pakhi questioned Agastya what he was doing here.
Agastya lied that he bought that place to build a house for himself, Pakhi and Tara and wanted to surprise. Meera got shocked seeing the person she had captured missing and texted Agastya lied again to Pakhi and came out. He spotted that person and brought to Meera again.
Pakhi wanted a tutor for Tara, Agastya made Meera enter his house in the disguise of Tara's tutor. In the late night Agastya surprised Pakhi with an anniversary cake made by him and decorations.
Pakhi and Agastya cut the cake and celebrated their anniversary. They had a romantic dance and then started to get romantic, but Tara interrupted them. The next day Meera confronted Agastya about not following her instructions.
Pakhi got surprised to see them having a serious discussion Pakhi questioned Agastya what Tara's tutor is doing here. Meera handed her ring to Agastya. She said that Agastya got a ring for Pakhi when he had brought home the previous day so, she asked Agastya if he gave that ring to Pakhi.
Agastya agreed to Meera. He got on his knee and slid the ring in Pakhi's finger and expressed his love for her. Pakhi didn't like Tara's tutor interfering in their personal matter and she found her annoying.
She asked Agastya why he didn't give the ring the last night when he surprised her. Agastya said that he didn't to give it now to make the day special.
Meera manipulated Tara to ask Pakhi and Agastya get married again. Tara insisted convinced Pakhi for the same. Family gathered for puja. Pakhi and Dadi got worried when diya didn't light up despite Pakhi's two attempts and the puja plate fell down accidentally.
Later Pakhi's bangle broke and Pakhi's mehndi got spoiled. Elsewhere it was revealed that Meera kidnapped Agastya and was keeping him captive. She sent the duplicate Agastya that she created through the plastic surgery to Agastya's house.
Meera revealed to the real Agastya her evil intentions. She said that the duplicate Agastya mingled with the family and no one doubted him.
She said that he would transfer Agastya's all property on her man while she would get Pakhi married to that fake Agastya.

In the upcoming episode it will be interesting to see if Pakhi will find out that Agastya got replaced by his doppelganger, whether Agastya will escape from Meera's clutches and stop Pakhi and the fake Agastya's wedding or Meera will get successful in her plan.
Stay tuned to this space for latest update of your favorite shows.