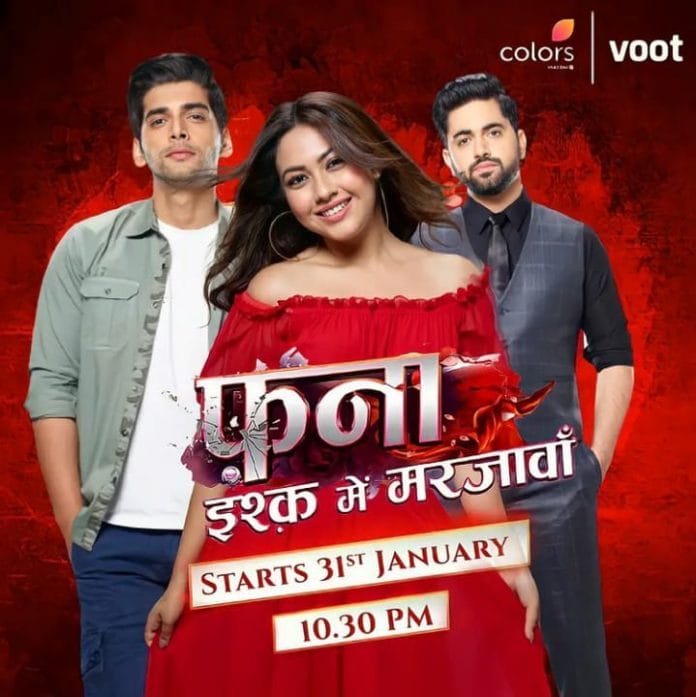 Fanaa Ishq Mein Marjawan Spoilers, Upcoming Story, Latest Gossip , Future Story, Latest News and Upcoming Twist on tellyexpress.com
The week bagan with Agastya remembering how he had hacked the CCTV cameras and had fooled Meera that he was in still in the coma and had came to save Pakhi. The latter returned home and hugged Dadi getting emotional. They all get shocked on seeing Pakhi's torn blouse, but they got relived when Pakhi said that nothing wrong happened with her and explained how a masked man saved her from the minister. Agastya managed to reach his room and pretended to be in the coma just before Meera arrived there to check him. Yug showed Meera the video of the minister getting beaten by public. Meera got furious and questioned Pakhi what happened. Pakhi told her everything. Meera threatened Pakhi to harm her parents. Agastya thought of giving Meera the worst night ever. Later Agastya sneaked into Meera's office.
Yug alerted Meera by noticing someone (Agastya) moving her on the video call. Meera and his goons searched for that mystery person. Meanwhile Agastya placed bombs in different places and made them explode shocking Meera. Whie leaving the factory, Agastya found Yug in front of him and the latter tried to remove his mask to know who he was. Suddenly a car came and saved Agastya.
The latter was stunned knowing Pakhi saved him. Agastya revealed to Pakhi that how he got his memoy back. Pakhi got overwhelmed on hearing this. They shared an passionate hug. Agastya apologized to Pakhi. The latter said that it wasn't his mistake. She further said that their priority should be saving their both family and they teamed up for the same.
Agastya promised Pakhi to protect her from all the problems. Pakhi and Agastya reached home before Meera and Yug. Later Pakhi wondered how to stop Meera. Dadi quoted about Krisha's words to Arjun during the war and advised Pakhi to find Meera's fear. Pakhi thought that she knew it and got determined to use it against Meera and make her confess her crimes.
Pakhi met Agastya secretly and said that they have to use Meera's biggest fear to defeat her and her biggest fear is Agastya as he is standing between her and the property so she tried to kill him twice. She said that she had a plan and for that she would need Agastya, Naveli and Shanaya's help. Pakhi told Naveli and Shanaya about Agastya pretending to be in coma and sought their help for their plan.
Naveli agreed, but Shanaya hesitated as she didn't trust Agastya. Pakhi assured Shanaya that Agastya had changed and he didn't want bad for them. Pakhi said to Shanaya to go out on any pretext and meet Mohit and added that she had already told him the plan. Shanaya did the same.
Later Pakhi faked Agastya's death. She injected Agastya a medicine without Meera's knowledge to make the latter believe that Agastya died. Mohit and his men took Agastya out for his last rites. Pakhi met Agastya and discussed about their next plan.
In the night at Raichand's mansion, as per Agastya and Pakhi's plan, Agastya scared Meera by appearing in front of her. The latter fainted getting frightened. Pakhi hid herself and Agastya when Yug arrived there on hearing Meera's screaming. Pakhi pretended to come there on hearing sounds and asked what happened. Meera gained her consciousness and said to Yug that she saw Agastya and he is alive. Yug said that she must had a nightmare.
Pakhi said that Agastya's ghost returned. Yug denied it. Later Pakhi said to Meera that he felt someone's presence in Agastya's room while crossing it. Meera come to Agastya's room to check the same. She got afraid when Agastya's shoes moved towards her and the door got closed by itself. Meera ran from there getting scared. Agastya watched this through the CCTV footage.
Meera told Yug about what happened in Agastya's room and brought him to Agastya's room. But she got stunned on seeing the shoes putting back to it's normal place. As Yug didn't believe her, she took Yug to the crematory to check the CCTV footage. Meera saw Agastya body taken inside in the footage and confirmed that Agastya was dead and his ghost was in their house. Meera returned home and asked Pakhi what Agastya wants from her to which Pakhi said that Agastya wants revenge from her which shocked Meera.
In the night Agastya and Pakhi scared Meera again. They made her believe that Agastya wants to kill her. Yug didn't believe this when Meera told him. Later Yug told Meera that they were going to get the properties on Meera's name that day itself. Meera got happy on hearing this while Pakhi got worried. Dhe discussed with Agastya about the same and they decided to execute their plan B. Agastya mixed something in the water bottle placed in the car.
Meera and Yug took Pakhi with them to transfer the properties on Meera's name. On their way Pakhi tricked Meera and made her consume the spiked water. In the lawyer office Meera create a scene and acted violently with the lawyer. Meera's lawyer refused to transfer Agastya's properties on Meera's name, who was acting like she lost her sanity. Yug got suspicious that someone was doing all this and got determined to find that person
In the upcoming week it will be shown that Meera will be in a room. Agastya will come again in front of her. He will act as kid and will call Meera to play with him. Meera will get frightened once again. She will run out office the room. Pakhi and all will be gathered in the hall. Yug will tell that someone from them is scaring Meera pretending to be Agastya. Pakhi will get nervous on hearing this.
Stay tuned to this page for latest update of your favorite TV shows.