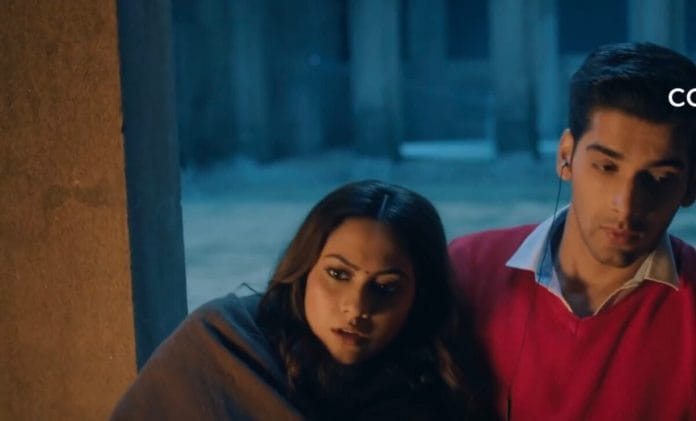 Fanaa Ishq Mein Marjawan Spoilers, Upcoming Story, Latest Gossip , Future Story, Latest News and Upcoming Twist on tellyexpress.com
Colors newly launched show Fanaa is all set for some interesting twists and turns in the story with Pakhi and Ishan getting locked together in a scary mansion.
In the previous episode it was seen that Pakhi's clients wanted to do their wedding in an haunted Mansion. So Pakhi took them to visit her one college friend's mansion. However Pakhi's friend Taniya and her clients left and Pakhi gets locked in the mansion. She got scared recalling the scary story told by the caretaker about that mansion. Ishan sneaked into that mansion as he had bet with his friend. Pakhi met Ishan. Pakhi misunderstood Ishan for a thief. But Ishan said that he is a doctor and showed his identity card as proof. At the airport Agastya was was waiting for Pakhi.
In the upcoming episode it will be seen that Pakhi's mother will be worried about Pakhi. Agastya will arrive there and will ask about Pakhi. Agastya will be worried learning that Pakhi is missing. He will contact ACP to look for Pakhi. The man in hoodie will watch this then he will follow Agastya. Meanwhile Pakhi and Ishan will have a talk. On seeing Pakhi's wound on her hand, Ishan will help Pakhi to cover it with a band aid. Pakhi will lament about getting locked in the mansion. Ishan will tell the mansion's history to divert her mind.
Ishan and Pakhi will share the headset and will listen some music and will keep looking at each other when the other person isn't looking at her/him. Agastya will find out Pakhi is locked in the mansion after checking the CCTV footage and will inform police. Police team will rescue Pakhi. Police will question Ishan. But Pakhi will save him saying he is decent guy and she survived in the mansion because of him.
Who is the hoodie man? Why he is following Pakhi and Agastya?
Stay tuned to this space for exclusive updates about your favorite shows.