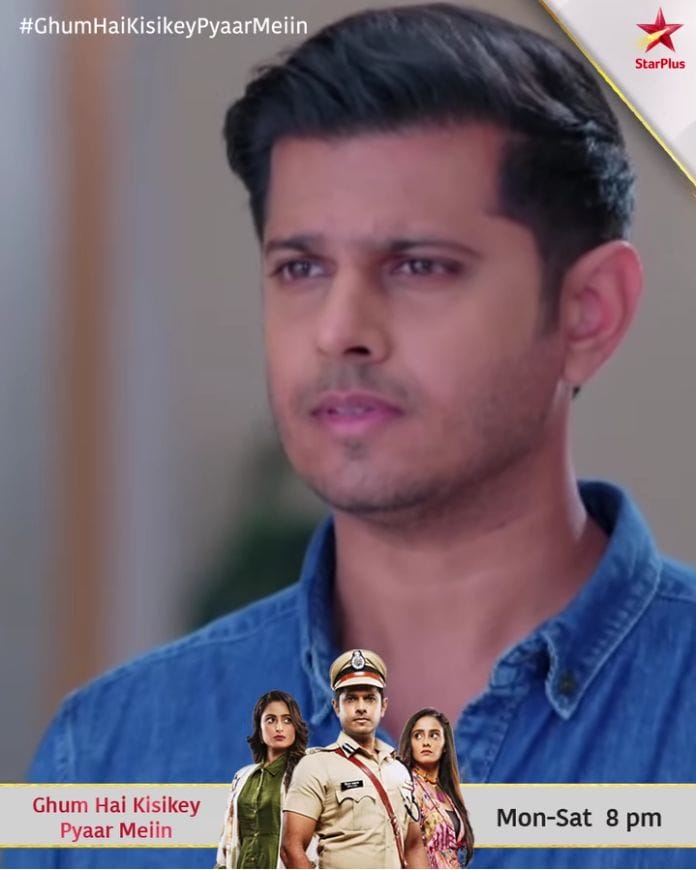 Ghum Hai Kisikey Pyaar Mein 12th July 2022 Written Update on TellyExpress.com
Episode starts with Sai instructing Pakhi about all the informations related to pregnancy. She also controls her diet and activities, whereas Pakhi gets frustrated with her. She holds her head and stays silent, while Karishma states that after giving birth to the baby, Pakhi won't have any rights on it.
Pakhi gets shocked hearing it, while Sonali supports Karishma and proclaims that Pakhi will bear all the pain of giving birth to the baby, but Sai will be called the mother of it. Whereas, Sai states that Pakhi already knew about all the concequences and still decided to become their surrogate.
Here, Sai taunts Pakhi whereas Bhavani takes a stand for her. She proclaims that Pakhi is helping Sai and Virat to become parents and ask Sai to respect her. She mocks Sai for not being able to become a mother and declares that a women's body can bear all the difficulties for the baby. She stops Sai from scaring Pakhi.
Sai takes a stand for herself and tells Bhavani that her taunts doesn't effect her anymore. She reminds everyone that the baby Pakhi is carrying belongs to her and she will be the real mother of the baby. Whereas, Ashwini also supports Sai and proclaims that the latter have all the qualities to become a mother.
Elsewhere, Sai confronts Bhavani comparing herself with her and tells that does she ever taunted her that she can't become a doctor? She proclaims that everyone can't be same like others and states that as a doctor she can help so many women's to become a mother. Shivani agrees with Sai and reminds about the time, when she saved Rajiv's life.
Vaishali hears their conversation and gets worried for Pakhi. Bhavani says that Pakhi will live her life as a widower of Samrat. She tells that she sees herself in Pakhi, while Sai states that the latter should have to start doing something after giving birth to her child, so that she won't put her nose in other matters. Bhavani also scolds Sonali for telling that Pakhi should start a new beginning of her life.
Ahead, Pakhi shares her anger with Vaishali and worries that what she will do after giving birth to the baby. The latter reminds about her warning to Pakhi and tells that she can't become the mother of the baby. Pakhi gets an evil plan and devides to steal the baby from Sai. Vaishali warns Pakhi that Sai won't let her do it, while the latter proclaims to do the impossible thing.
Sai goes inside Pakhi's room to give her some books, but gets shocked seeing the latter's changed look. She sees Pakhi wearing colourful saree and questions about it, to which she replies that she wants her baby to feel happines and declares that she wants it to know that it's father is alive. Sai gets suspicious about Pakhi and goes back to her room. She determines to investigate about Geeta's matter.
Further, Sai shares her suspicion with Virag while he gets frustrated with her. She gets angry on him and tells about how much she have suffered, while he ask her to move on and enjoy the phase of being parents. She gets furious at him, whereas Chavans along with the guests gets shocked seeing Pakhi's changed look.
They taunts her for wearing colourful sarees, while Bhavani confronts her. Pakhi says that she is doing it for her baby, while Karishma reveals that Pakhi is carrying Sai and Virat's child. The guests gets stunned, while Sai comes there proclaiming that the child belongs to her.
Precap:- Sai gets furious at Virat and orders him to arrest the culprit. She ask him to brings the culprit in front of her eyes as soon as possible and taunts him for being slow at solving the case. He gets frustrated with her behaviour and gives a befitting reply to her. He goes to do his mission and denies to fulfill her demand.
Whereas, the doctor checks Pakhi and tells that she isn't pregnant. The latter gets shocked, while Bhavani and Sai questions the doctor about the baby, whereas she replies that Pakhi is fine and was about to say regarding the baby but at that time a goon comes inside. The goons shot the doctor, while Sai along with Bhavani and Pakhi gets shocked.
Click to read: