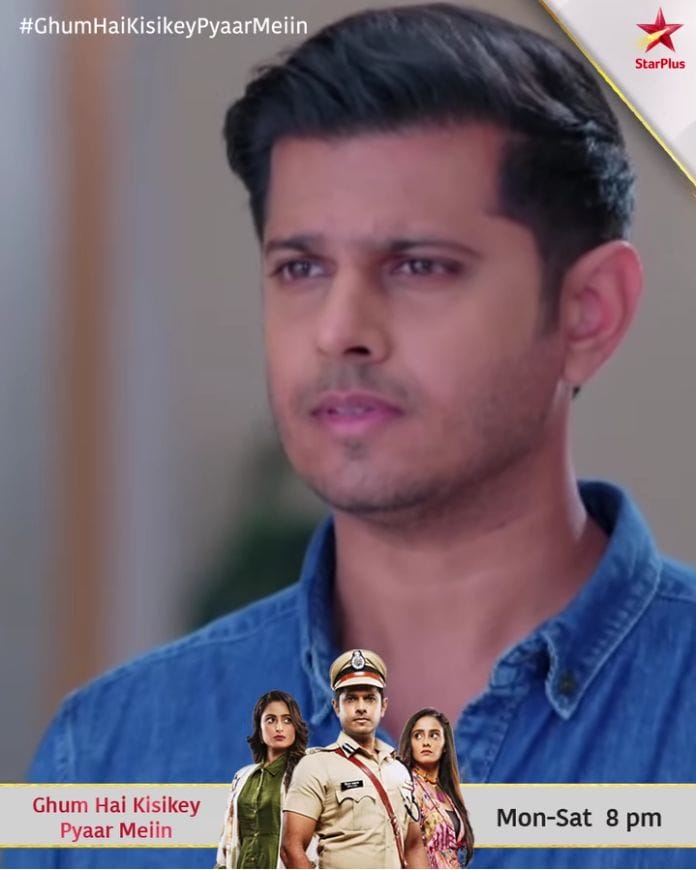 Ghum Hai Kisikey Pyaar Mein 13th August 2022 Written Update on TellyExpress.com
Episode starts with Virat meeting Harish and DIG sir inside their cabin. They confronts him about the surrogacy matter and questions regarding Pakhi's crimes. Harish states that Virat was present there when Pakhi illegally came for the surrogacy instead of Geeta and he haven't taken any actions against it. Virat tries to clearify the matter and says that he wasn't in a state to think wisely at that time and proclaims that the surrogacy procedure was very important to him at that point of time. Meanwhile, DIG sir states that he is disappointed with Virat and tells that he have to bear the punishment for his mistake.
Here, Harish notify Virat that there will be an interrogation about the matter and ask Virat to be present there. He proclaims that till then Virat will be suspended and gives him the notice, while the latter gets shocked. Harish also ask Virat to submit his licensed gun, while Virat feels devastated.
Pakhi recalls her crimes and regrests it. She remembers how she tries to get Virat's attention and even tried to steal Vinayak from Sai. At that time she imagines herself in front of her, who makes Pakhi recalls her crimes and states that what she had done to her life. Pakhi self-realises about her mistakes and cries finding herself wrong. She proclaims that she have ruined her life by her own hands.
Elsewhere, Vaishali comes to visit Pakhi and gets devastated seeing her condition. She cries and scolds Pakhi for not listening to her warnings. Pakhi states that Vaishali was right and ask the latter not to get worried for her, as she deserves the punishment. Vaishali gets emotional seeing Pakhi's condition but doesn't believe her words.
Vaishali ask Pakhi if she is again acting to be changed? To which the latter gives a sarcastic smile stating that her own mother is doubting her. She again regrets all her past mistakes, while Vaishali calls the lawyer and insists them to work on Pakhi's case. She assures her that she will do anything to bring Pakhi out of the jail.
Ahead, Virat returns back to the house and tells everyone about her suspension. All gets shocked and ask how can they suspend Virat for Pakhi's crimes? To which he notify that he was present there at that hospital, when Bhavani brought Pakhi for the surrogacy instead of Geeta. Sai also shows her concern towards Virat, while Bhavani blames her for the matter.
Bhavani proclaims that because of Sai's complaint against Pakhi, Virag is also suffering. Whereas, Virat cries stating that he have ruined his hardwork and image in front of his seniors. Sai tries to comfort him, while Bhavani insists Sai to take her complaint against Pakhi back, but the latter denies to do it.
Further, Sai reminds Chavans about the crimes Pakhi has done, while Ashwini and Shivani takes a stand for her. Sonali reminds that how Samrat and Virat has helped Sai when she was inside the jail, while the latter proclaims that Pakhi's case is different and tells them how she attacked her for the baby. Bhavani tells that Pakhi haven't murdered anyone, while Ninad states that her release won't help Virat in getting his job back. Whereas, Sai stays firm in her decision.
Precap:- Chavans searches for Sai but couldn't able to find her. They all gets worried and states that she isn't anywhere inside the house. Ashwini tels that even the baby is missing. At that time Mohit comes there and notify that someone has seen Sai along with the baby going inside the bus. Whereas, at that time Virat gets a call the the bus had an accident. He gets shocked and worries about Sai.
Click to read