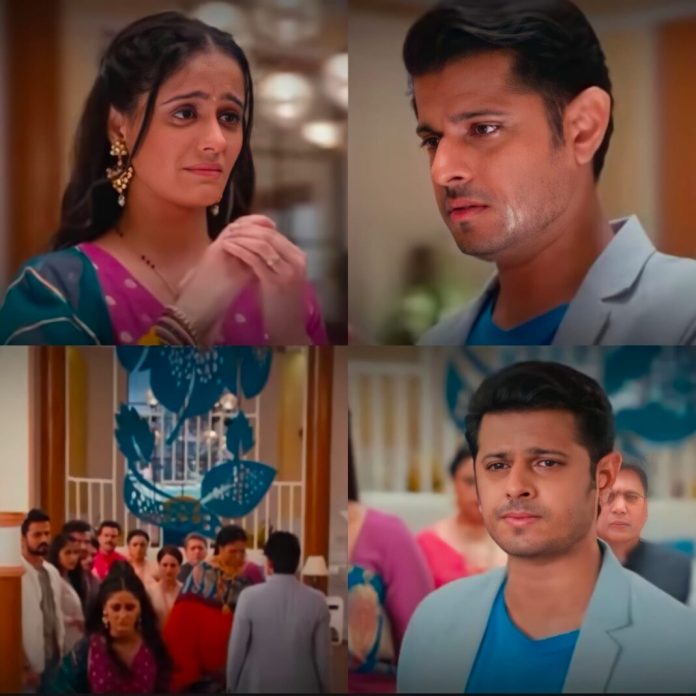 Ghum Hai Kisikey Pyaar Mein 1st July 2022 Written Update on TellyExpress.com
Episode starts with Ashwini trying to console Bhavani. She sits near her and request her to forget the past. She tells that Sai and Virat are so excited to welcome their child and insists Bhavani to give her blessings to them. Meanwhile, Ashwini also reminds Bhavani that how she took care of Virat when he was borned. She gets emotional and requests Bhavani to do the same with Virat's child. She ask her to make the clothes for the new born baby and proclaims that only she have the right to hold the baby before anyone. Ashwini tells that Bhavani have to protect the baby, like the way she protected Virat.
Here, Ashwini tries to get Bhavani forgiveness and ask her to leave her anger aside. Whereas, the latter tells that she was able to look after Ashwini and Virat only because they were near her. She shows her concern that how she will be able to protect the baby, when the surrogate won't even live with them.
Bhavani tries to tells her worry to Ashwini and says that no one is understanding her intentions. Ashwini also gets emotional seeing tears in Bhavani's eyes. Whereas, Vaishali ask Pakhi to stop her ploy against Sai and Virat. She shows her concern towards her daughter and says that she can't see her in trouble.
Elsewhere, Vaishali says that Pakhi is changed while the latter gets furious and expresses her anger out. She tells that she have always suffered because of Sai and couldn't able to live her life peacefully. She declares that she is the same and haven't changed at all, but now she can't leave the ones who hurts her. She proclaims to take her revenge from Sai.
Pakhi questions Vaishali that why she never supports her? She ask why cant she see her pain and suffering. Pakhi cries being hurt, while Vaishali replies that she will always be with her and agrees to help. Vaishali assures to fulfill Pakhi's ploy against Sai, while at that time Bhavani comes to meet Pakhi.
Ahead, Pakhi shows her fake concern towards Bhavani and gets successful in trapping her in the ploy. Bhavani gets emotional stating that Pakhi is so much concerned about the family and her, but no one is able to understand her selflessness. Pakhi comforts Bhavani and smirks as soon as the latter goes away from the room.
Chavans congratulates Sai and Virat as they were about to go to the hospital. Devyani expresses her happiness for Sia, whereas the latter tells Mansi that Samrat will always be there with them. Mansi smiles towards Sai and blesses her. Whereas, Bhavani insists to go along with Sai and Virat to meet Geeta. Virat agrees to her request and visits the doctor.
Further, Bhavani ask if there won't be any danger to the baby? To which the latter replies that everything will be fine. She says that they only have to make sure that Geeta comes to the hospital within three hours, so that they can starts the procedure as Sai's freezed egg won't be able to last more then three hours. Sai assures that Geeta will coke on time. Whereas, Pakhi disguises herself as a hospital staff and reaches Geeta's house, while the latter gets confused seeing her.
Precap:- Pakhi shows the terms and conditions of surrogacy to Geeta and Yogesh, while the latter gets shocked seeing that Geeta can even go to jail. He becomes furious stating that Sai has hided such a big thing from them. He declares that Geeta won't become their surrogate, but the latter tries to calm him. She says that she trusts Sai and insists to talk to her, but Yogendra stays firm on his decision and stops Geeta from even contacting Sai.
Click to read