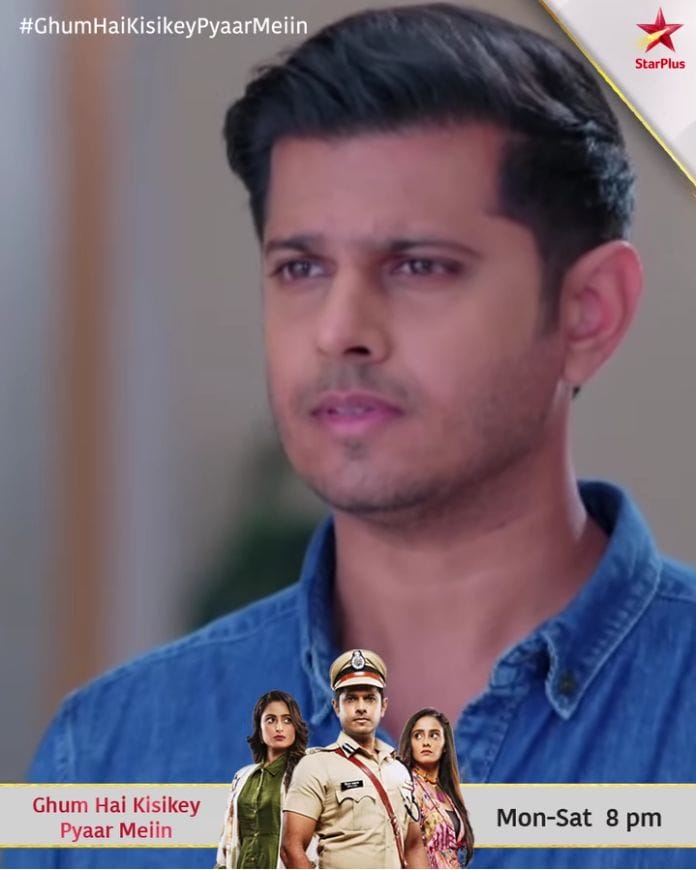 Ghum Hai Kisikey Pyaar Mein 20th July 2022 Written Update on TellyExpress.com
Episode starts with Sai getting Pakhi's report and gets shocked learning about the complications in her pregnancy. She takes the report secretly and keeps it inside her bag. Whereas, Pakhi becomes tensed as she couldn't able to find the report. Meanwhile, they returns back to the Chavan residence and everyone gets elated to see them back. Ashwini shows her concern towards them and tells that Bhavani has gone to visit the temples in order to thank God for saving their lives. The latter also tells that they have prayed for Sai, Virat, Bhavani, Pakhi along with the baby in Pakhi's womb.
Here, Sai glares at Pakhi while Virat notices the sad face of Sai. He thinks that she is upset because of their fight and decides to solve everything in between them. He follows her inside their room and sees her removing the jewelleries thinking about something.
Virat confronts Sai and ask if she is still angry with him? He apologises to her for his behaviour and shows his love towards her, while she comes in front of him and assures that she isn't upset because of him. She tells how she was scared for him and notify that the time when he entered inside the hospital, she realised the value of him in her life. She hugs him showing her love.
Elsewhere, Virat queen Sai about the reason for her sad mood, to which she reveals about the complications in Pakhi's pregnancy. She shows the reports to him, while he gets shocked reading it. She blames Pakhi for it, while the latter gets confusing and ask that how Pakhi is at fault?
Sai gets stunned by Virat's question and ask if he can't see the plan of Pakhi? She keeps putting accusations on her and declares that she was behind all the plan. She tells Pakhi to be the mastermind of the plan. She proclaims that the latter attacked her as well as manipulated Geeta against them in order to stop them from becoming their surrogate.
Ahead, Virat denies to believe Sai and scolds her for always blaming Pakhi. He takes a stand for Pakhi and rebukes Sai. He ask her to change her mindset, while she gets shocked with his behaviour. He tells that she have gathered wrong information about Pakhi in her mind and ask to move on in life. He tells that Pakhi is helping them and she should have to be grateful about it.
Sai gets upset with Virat and shows her anger towards him. They both gets into a conflict. Whereas, Pakhi calls Vaishali and notify her about the matter. She shows her worry for getting caught by Sai and ask for help, while Vaishali ask her daughter to be aware of Sai. She says that the latter won't leave her of anything happens to the baby.
Further, Sai gets inside Pakhi's room and hears her talking with Vaishali. Pakhi gets scared and cuts the call upon seeing Sai, while the latter confronts her regarding the complications in her pregnancy. Pakhi lies that she was about to notify Sai regarding it, but the latter denies to believe her. She reminds Pakhi that she will only give birth to the baby, but it will belong to her and Virat only. Sai threatens Pakhi to look after the baby properly.
Precap:- Virat gets inside Pakhi's room and tells her that he has also read the reports. He assures Pakhi that Sai never brings her personal grudges in between them and requests her to let the latter look after her and the baby. He says that the baby is really important for them, while Sai agrees to him and promises to look after Pakhi sincerely. But, she also proclaims to teach a lesson to Pakhi if she tries to do anything wrong.
Click to read