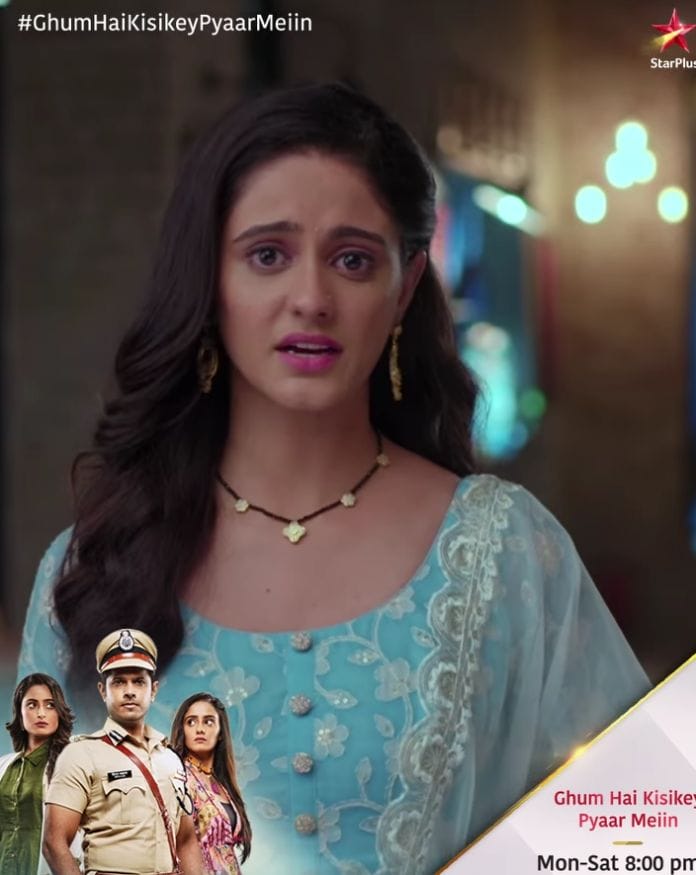 Ghum Hai Kisikey Pyaar Mein 30th July 2022 Written Update on TellyExpress.com
Episode starts with Virat getting shocked seeing Pakhi standing on the edge of the cliff. He shouts her name and runs to save her. Whereas, Sai also follows him and confronts Pakhi. The latter gets stunned seeing them, while Virat shows his concern towards Pakhi and the baby. Sai questions the latter for trying to suicide along with their baby, to which Pakhi denies their assumptions and replies that she just wanted to get out of the house to take some fresh air. She proclaims that she was feeling trapped inside the house and so came to Samrat's orphanage in order to feel his presence.
Here, Virat ask Pakhi that why she didn't notified them about it, to which the latter accuses Sai for torturing her and says that she didn't allowed her to go anywhere out of the room. She states that she was feeling suffocated inside her room and so sneaked out without informing anyone.
Pakhi also tells Virat about Sai and Ashwini's conversation that the latter was determined to take her signature on the papers. She says that Sai always makes her feel insulted in front of everyone and so to avoid her she left the house. Virat scolds Sai for her behaviour towards Pakhi and questions why she again talked to Ashwini about the papers.
Elsewhere, Virat tells that they already ended the discussion about taking signature of Pakhi on the paper then why Sai was behind it? To which she gives him a direct reply and says that he also does many things which she prohibits him from doing. She proclaims that she just want her baby to be fine, while Pakhi replies that a baby can't be healthy if the mother is not doing fine.
Pakhi says that Sai makes her feel like she is a prisoner. She proclaims that she won't return back to the house till she delivers the baby. She assures Virat that she will call her when she was about to give birth, to which he insists her to get back to Chavan Niwas and says that everyone is worried about her.
Ahead, Pakhi states that she understands their concern but tells that Sai will again start her torture. Virat assures that she will keep Sai away from her, while Pakhi states that she needs two promises from Sai in order to go back to the house. Pakhi ask Sai to promise that she won't trouble her for signing the papers and she won't look after her. In order to protect her baby Sai agrees to Pakhi's conditions.
Virat and Sai returns back to the house along with Pakhi, while everyone gets elated upon seeing her and showers their love towards Pakhi. Bhavani mocks Sai, while the latter takes a stand for herself and says that she fulfilled Pakhi's conditions in order to bring her back. Karishma and Sonali looks at one another. Whereas, Vaishali shows her worry towards Pakhi and then takes her inside along with Virat.
Further, Pakhi notify Vaishali about her ploy while the latter says that she was worried for her. Pakhi says that she got successful in getting Virat's concern and keeping Sai away from her. Whereas, Sai notify Ashwini about her reason for accepting Pakhi's conditions and says that she can do anything for her baby. Whereas, Ashwini advice her to bear Pakhi till she delivers their baby.
Precap:- Pulkit checks Pakhi and assures that the baby is fine and is also out of danger. Pakhi taunts Sai and says that since the latter stopped troubling her, everything got fine. Sai starts leaving from the room when she feel dizzy. Ashwini holds her, while Sai feels nauseous too. Ashwini says that Sai seems to be pregnant, while Pulkit and Virat gets elated. Whereas, Pakhi gets shocked hearing the news.
Click to read