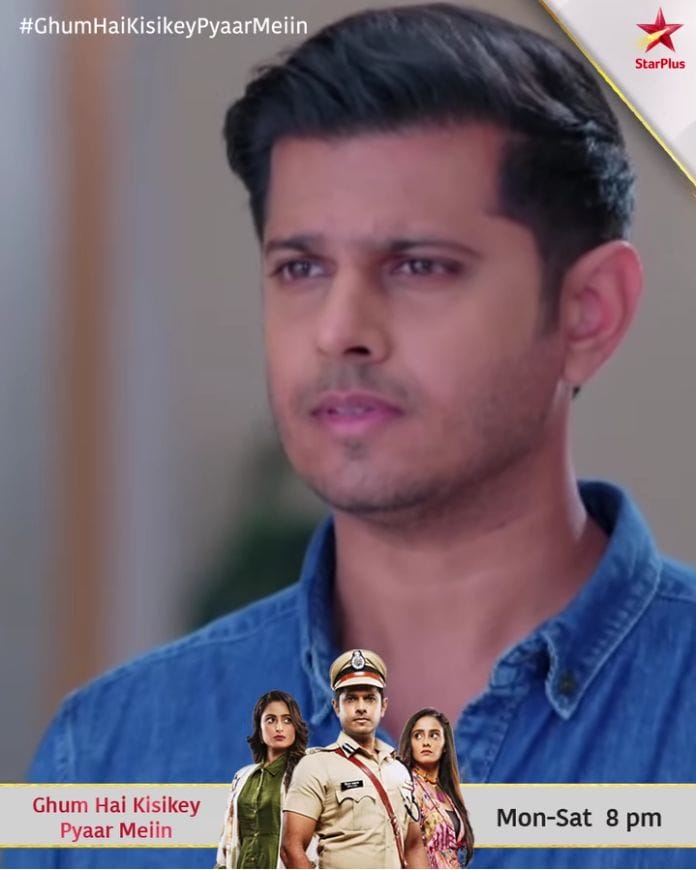 Ghum Hai Kisikey Pyaar Mein 4th June 2022 Written Update on TellyExpress.com
Episode starts with Virat dropping Sai to the hospital. He gets romantic with her, while she blushes and then bids him adieu. Whereas, Pakhi gets close to Samrat and complains that he have turned their personal trip into a family vacation by including all the family members. He apologises to her and says that they have overcome such a problematic situation and so everyone needed a break. She smiles at him and tells that she was just teasing him. He ask if she will be able to complete her blogging around their family? To which she says that she wanted to go to the trip to spend quality time with him.
Here, Sai rejoins her duty and checks the patients. At that time she starts feeling dizzy. The nurse holds her and makes her sit on the bed. She ask Sai to do her pregnancy test and states that she is definitely pregnant as she has a different glow on her face. Sai laughs at her statement and jokes about it, while the nurse insists her to take the pregnancy kit.
Sai takes a kit from the nurse, just to keep her heart and then goes to the house. She gets fresh and then takes the test. She gets shocked yet surprised seeing the test positive and remembers her consummation with Virat. She gets elated and plans to notify about it to him.
Elsewhere, Virat ask Sai to give him the dinner. She keeps three plates, while he gets confused and says that no one else is in the house, except for them. She smiles looking at him and gets shy. He questions her about the third plate, to which she gives him hints and then he realises the matter. He stands up and goes near her.
Virat confronts Sai while she tells that they are going to be parents. He gets overwhelmed and shows his gratitude towards her. They both rejoices and then waits for their family to reveal the good news to them. Meanwhile, Chavans returns back and Bhavani praises Pakhi for bringing stuffs for everyone.
Ahead, Sai and Virat reveals about her pregnancy to everyone and they all gets surprised. Bhavani along with Ashwini shows their conversation towards Sai, while Ninad also comes there. They all looks after Sai and ask her to take care of herself. Pakhi gets jealous seeing special treatment to Sai and decides to have her baby also.
Sonali and Omkar gets shocked and looks at each other. Later, Samrat apologises to Pakhi as the family members asks her also for the kid. She holds his hand and says that they are right and gets close to him. Meanwhile, Sai waits for Virat to pick her up, but he gets late. She calls Samrat and ask him for favor, whereas Pakhi gets irked by Sai as she interrupted their romantic moment.
Further, Sai apologises to Samrat as he picks her up, while he says that he will always be there to help her. At that time their car's tire gets puncture and Samrat somehow stops the car and gets relieved seeing Sai being fine. She gets out of the car and gets furious seeing Jagtap with his goons. She scolds them, while he forcefully makes Sai sit inside the car, while his man's gets hold of Samrat. The latter somehow fights with the goons, but Jagtap drive over Samrat and the latter falls down. Sai gets shocked seeing it and screams Samrat's name.
Precap:- Mansi sees Samrat and Pakhi's photo frame and says that she will hang it in her room. She shares her happiness, while Sonali takes the phot and praises them. She was about to return it to Mansi, when the frame falls down and gets broken. Devyani gets tensed and ask to call Samrat. Shivani tries his number but it doesn't get connected. Whereas, Samrat falls down on the road being lifeless.
Click to read