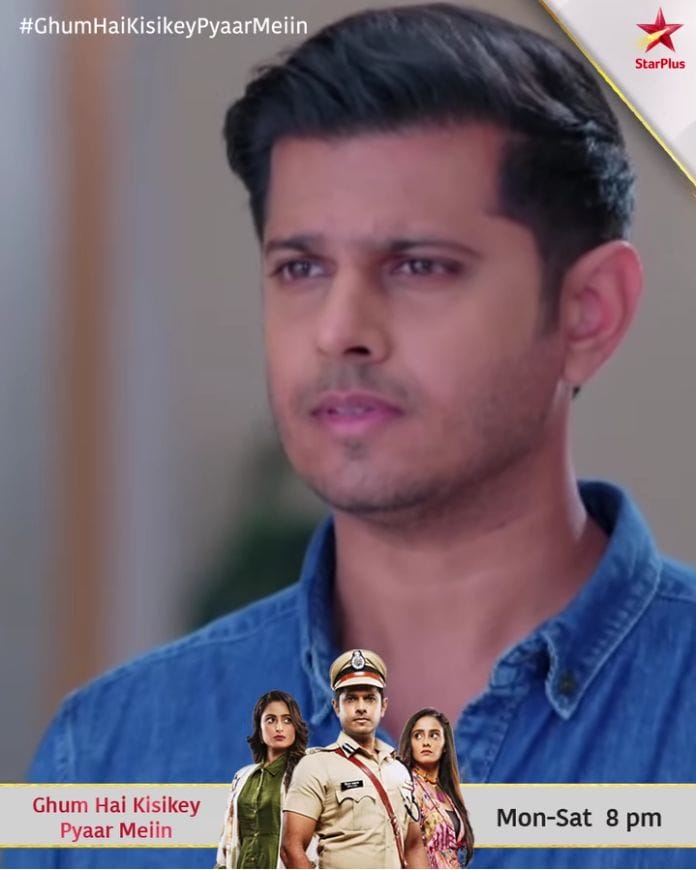 Ghum Hai Kisikey Pyaar Mein 5th August 2022 Written Update on TellyExpress.com
Episode starts with Virat calling Sai but she couldn't able to attend the phone, as she was busy with the patient. Virat gets tensed and keeps calling her, while a junior doctor attends her phone. Virat thought her to be Sai and ask her to come to the house as soon as possible and notify her about the emergency of Pakhi.
The junior doctor tells Virat about Sai being busy in performing an operation, while he instructs her to apprise Sai about the emergency in their house. She then goes to tell Sai about the issue, while Virat's car gets stuck in the road due to heavy rain.
Here, Bhavani along with others enjoys the party when Pakhi video calls them and ask Bhavani to come home. She tells about her labour pain and cries while the latter gets shocked. She informs Chavans about Pakhi's condition and ask Mohit to bring the car as soon as possible. They gets worried for Pakhi and starts praying for her.
Bhavani says that yesterday only they performed the baby shower and never thought that Pakhi will go into labour pain so soon. At that time Mohit comes there and tells that the whole Nagpur is filled with water due to heavy rain and no vehicle is working. Everyone gets shocked and keep praying for Pakhi and the baby.
Elsewhere, Sai learns about the emergency and gets worried. She calls the cab and ask to come pick her but the driver denies and says that no vehicle is working in heavy rain. She agrees to give him more money, but still the driver denies and cuts the call. Sai gets tensed but still motivates herself to stay strong.
Virat goes inside the house while Pakhi was about to go downstairs. She looses her conscious and was about to fall when he saves her. He carries her towards the sofa and makes her lay there. She cries and screams in pain telling about her sufferings, while he tries to calm her down.
Ahead, Sai calls him and notify about the situation. She says that she won't be able to come while he tells that no one is at home. Sai notify that even ambulance are also not working, while Virat gets worried. She motivates him and tells that he is enough to save their child. She ask him to think about their baby and says that he will bring it into the world.
Sai instructs Virat to make Pakhi lay in the flat surface. He carries her towards the table and makes her lay there. He covers her with a clothe and brings hot water as per Sai's instructions. She then ask hr junior to bring a picture of how to deliver the baby and shows it to Virat. She also ask Pakhi to calm down and assures that everything will be fine.
Further, Sai calms Virat and assures that he can easily do the procedure. Chavans also gets to know about it and becomes stunned. They starts praying for the baby and Pakhi, while Sai also starts praying. Virat says that he can't able to see baby coming out, while Pakhi ask him to push the baby. He along with Pakhi tries to push the baby down and he sees the head of the baby coming out and tells happily about it to Sai.
Precap:- Sai accuses Pakhi for being her surrogate illegally. She proclaims that she tried to steal her baby and get her arrested in front of all the Chavan family. The police officers arrests Pakhi and takes her along with them, while Virat tries to stop Sai and insists her to take back the complaint.
He says that Pakhi is their family member, but Sai denies to hear anything and declares that if anyone supports Pakhi it will try to help her, then she will punish them also. She warns Virat stating that she won't even spare him and declares that she will go away from the house along with her baby, while all gets shocked and looks at her.
Also, Read in Hindi:-
Episode starts with Chavans celebrating Pakhi and Sai's baby shower. Whereas, they both sits on the swing as the ceremony gets started and enjoys the rituals. Meanwhile, Pakhi gets jealous of Sai and Virat's closeness and discuss about her ploy to steal the baby with Vaishali.
Sai gets happy seeing the dance performances of the family members, while Pakhi looks at her and whispers that she will steal her baby after giving birth. Sai gets shocked hearing Pakhi's threat, while the latter smirks and proclaims to get the baby by hook or by crook. She proclaims that Virat will himself handover the baby to her after the delivery.
Here, Sai stares at Pakhi being stunned and declares that she won't let her even touch the baby after it gets borned. She assures to keep her baby safe from Pakhi and declares that she will expose her truth in front of everyone. Whereas, Pakhi laughs at Sai and challenges her to get the baby and Virat both, while the latter accepts the challenge and says that she won't let anyone separate her from the baby.
Click to read