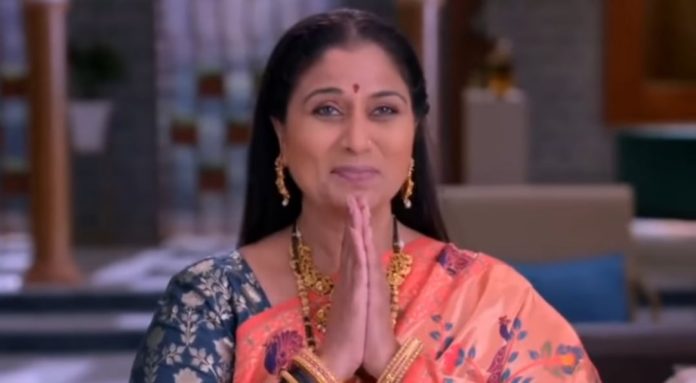 Ghum Hai Kisikey Pyaar Mein  Spoilers, Upcoming Story, Latest Gossip , Future Story, Latest News and Upcoming Twist on tellyexpress.com
Star Plus popular serial Ghum Hai Kise Key Pyaar Meiin is gearing up for some intense drama and interesting twists in the upcoming story. Previously, Sai denied to take Pakhi's help and declared her decision in front of everyone. She showed her suspicion against Pakhi and gets into a huge argument with Bhavani. Ninad showed his trust upon Pakhi, but Virat declared that he will always support Sai's decision. Meanwhile, Geeta offered her help to Sai and Virat and agreed to become their surrogate.
In the current track, Sai shares the happy news with Virat while they both gets excited. He then goes to convince Bhavani, but she shows her disappointment and demands to meet Geeta before she can become the surrogate, but Sai denies her command and declares that only her decision will be final as the baby will be her and Virat's child.
Here, Virat tries to make Sai understand and tells his perspective regarding Bhavani and Pakhi's offer. He says that he don't have any problem if Pakho will become their surrogate and tells all the benifits they will get from her.
Sai becomes furious and scolds Virat for not trusting her decision. He clearifies that he is always with Sai and proclaims that he will always support her. He proclaims that he just wanted to deny all the allegations of Sai against Pakhi and says that he trusts her.
Ahead, Sai declares that she feels Pakhi is doing everything with a bad intention. She tells that she can never let Pakhi become their surrogate, as she wants to enter inside their life via using their child.
Sai gets a good news regarding Geeta's report and decides to visit the doctor along with her. Virat, Sai and Geeta goes to meet the doctor and the latter advice them to be careful during the procedure. Virat and Sai expresses their excitement to welcome their child, while Pakhi eavesdrop.
Later, Pakhi decides to stop Geeta from becoming the surrogate and follows her. She also takes help from a thief and gives them some work. Meanwhile, Sai tells Ashwini about the good news, whereas Pakhi confronts them and expresses her anger. Sai ask her to stay out of her life, while the latter agrees.
Now in the upcoming episode, Bhavani will tell Ashwini about her intentions. She will say that she wanted Pakhi to become Virat and Sai's surrogate, so that they could have looked after her. She will say that Virat and Sai would be able to spend time with their child before it's birth and even they could have seen the baby grow. Bhavani will get furious and scolds Ashwini stating that they aren't understanding her concern, whereas the latter will start crying.
Will Pakhi get successful in her ploy?
Will Geeta be able to become Sai and Virat's surrogate?
It would be interesting to see what happens next on the show.
Stay tuned with us for more news, Spoilers and written updates of Ghum Hai Kise Key Pyaar Meiin.