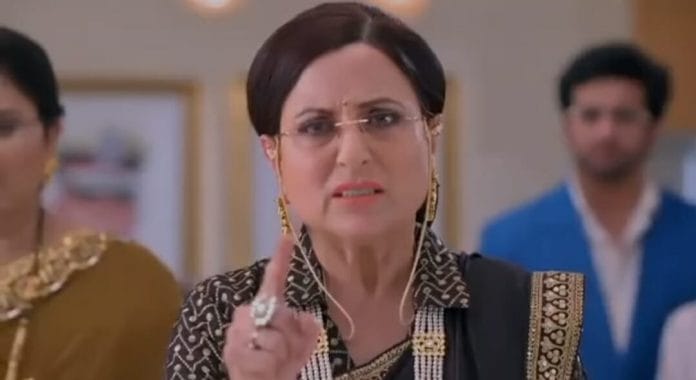 Ghum Hai Kisikey Pyaar Mein Spoilers, Upcoming Story, Latest Gossip , Future Story, Latest News and Upcoming Twist on tellyexpress.com
Star Plus show Ghum Hai Kisi key Pyaar Meiin is one of the most loved shows on Indian television. Right from the time of its inception, the show has been entertaining the masses. Previously, Virat confronted Sai about Savi being his daughter while the latter revealed the truth.
They both got into an argument while Virat snatched Savi from her and brought her to Chavans house. Sai determined to get her daughter back and tried to enter Chavans house but Virat got her arrested. Meanwhile, Chavans became shocked finding about the truth.
In the current track, the police team arrested Sai and forcefully takes her to police station. She tries to release herself and insists to let her meet Savi but Virat stays firm on his decision. Meanwhile, Chavans ask him about the matter while he denies to speak to anyone and declares that Savi needs him.
Here, Pakhi confronts him and ask him to tell everything while he notify how Jagtap informed him about Savi being his daughter and Sai was trying to separate them by taking her back to Kankavli. Pakhi gets shattered by the truth while Ashwini consoles her.
Bhavani denies to believe that Savi is Virat's daughter and proclaims it to be Sai's ploy. She states that the latter sended her lover Jagtap in order to manipulate Virat and points out at her character.
Ahead, Virat gets furious at Bhavani and defends Sai. He states that she can never lie and protects her character. Virat also stops Bhavani from meeting Savi and shows his concern towards the latter as her fever doesn't get down.
Ashwini ask Virat to release Sai as Savi will ask for her mother. She proclaims that the kid can't stay without her mother, but Virat denies her request and goes inside Savi's room. Meanwhile, Sai determines to get her daughter back while the police puts her inside the interrogation room.
Later, Sonali mocks Ashwini for being concerned for Sai while Pakhi keeps crying thinking about the reality. Whereas, Vinayak and Virat looks after Savi, while she gets conscious and ask about her mother.
Now in the upcoming episode, Usha will try to feed Sai and gets worried as she denies to eat anything. Sai will proclaim that she won't eat anything till she gets her daughter back. She will determine to take Savi away from Virat and vows not to let him come near her. Whereas, Virat will get concerned for Savi as her fever doesn't get down. He will decide to take her to the doctor while she says that her mother is a doctor and ask to see her. Meanwhile, Sai will try to run away from the police station. She will get the gun kept of the table and points at the police officers asking them to stay back.
Will Sai be able to get Savi back?
Will Pakhi helps Sai?
It would be interesting to see what happens next on the show.
Stay tuned with us for more news, Spoilers and written updates of Ghum Hai Kise Key Pyaar Meiin.