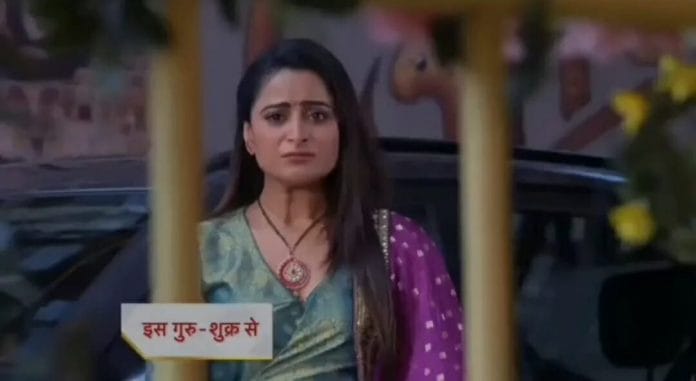 Ghum Hai Kisikey Pyaar Mein Spoilers, Upcoming Story, Latest Gossip , Future Story, Latest News and Upcoming Twist on tellyexpress.com

Star Plus popular daily soap Ghum Hai Kise Key Pyaar Meiin have garnered a huge amount of audience. The gripping storyline filled with twist and turns makes it engaging to the viewers. Previously, Virat made a request to Dr. Ashok and made him hide the truth from Sai. The latter got disheartened and then decided to call Anandi to find about the clue regarding Vinu.
But, Anandi denied to give any information. Sai cried being shattered, while Virat felt bad for her and blamed himself for hurting her. Meanwhile, Chavans find about Shivani being pregnant and congratulated her.
In the current track, Pakhi gets hurt finding about Shivani's pregnancy but hides her tears behind her smile and gets happy for her. Whereas, Bhavani becomes furious and scolds Shivani for being shameless. She states that it's Virat and Mohit's age to become father, but she is giving them brothers.
Here, Shivani takes a stand for herself and unintentionally taunts Pakhi as she can't become a mother. She proclaims that it's not her fault that Pakhi can't conceive, while the latter gets hurt hearing it and goes back to her room.
Virat follows Pakhi and consoles her but she cries feeling disheartened. At that time he gets a call from Anandi and gets shocked learning that Sai tried to invade inside the orphanage to get information regarding Vinu.
Ahead, Virat goes to confront Sai, while the latter tried her best to sneak inside the orphanage office room and searches for the information from computer, but geta caught by the guard.
Virat confronts Sai while she tells the truth to him. She says that she is trying to find their son and breaks down in front of him asking for help. He agrees but thinks that he can't let her find the truth.
Later, Sai ask Virat to calls Anandi asking for the information while he assures to do it. He then treats Sai's wound and drops her back to the house. He then goes to his room while Pakhi confronts him. He lies to her and she catches it. She cries thinking about their relationship.
Now in the upcoming episode, Sai will confront Virat and cries asking that why he didn't stopped her from leaving the house with their child? She will hug him being emotional, while he will hug her back and accepts his mistake stating that it was his fault.
He will proclaim that he should have stopped her and cries telling that they all must have been together as a family if he had stopped her from going away.
Meanwhile, Pakhi will see them and comes out of the car. She will hear his confession and gets teary eyes being hurt by his words.
Will Pakhi decides to leave Virat?
Will Sai find about the truth?
It would be interesting to see what happens next on the show.
Stay tuned with us for more news, Spoilers and written updates of Ghum Hai Kise Key Pyaar Meiin.