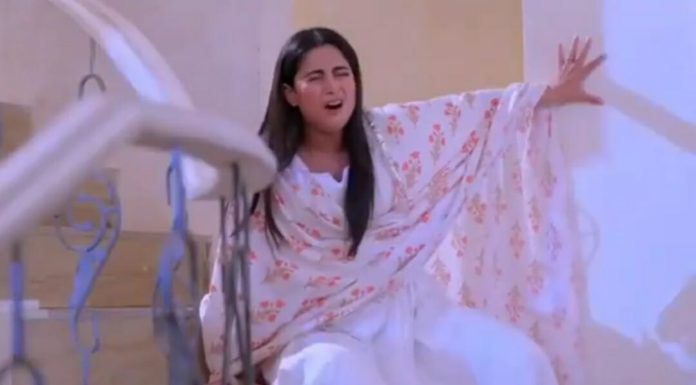 Ghum Hai Kisikey Pyaar Mein  Spoilers, Upcoming Story, Latest Gossip , Future Story, Latest News and Upcoming Twist on tellyexpress.com

Star Plus popular daily soap Ghum Hai Kise Key Pyaar Meiin have garnered a huge amount of audience. The gripping storyline filled with twist and turns makes it engaging to the viewers.
Previously, Pakhi ployed to steal Sai's baby and notified her plan to Vaishali, while the latter warned her to be aware of Sai. Whereas, Virat looked after Pakhi during her pregnancy and also mended his relationship with Sai. Meanwhile, Chavans celebrated baby shower of Pakhi and Virat surprised Sai with several gifts.
In the current track, Pakhi looks at Sai and whispers about her plan. She tells that she will take the baby after giving birth to it, while Sai gets shocked. She tells about her suspicion towards Pakhi, which she was getting from a long time. She gives a befitting reply to Pakhi and declares to fail her ploy.
Here, Sai gets adamant to get her baby from Pakhi and proclaims to expose her in front of everyone. Pakhi laughs and declares that no one will believe her, not even Virat. She stays firm on her statement that Virat will himself handover the baby to her.
Sai challenges Pakhi to fail her ploy, while the latter accepts the challenge and says that no one can stop her from getting the baby. Whereas, Sai gets into turmoil and decides not to tell Virat about the matter.
Ahead, Virat shows his excitement to welcome the baby and shares his plans with Sai. He notices her being worried and ask about it, while she hides the truth from him. Whereas, Pakhi tries to get Virat's attention and makes him feel the baby inside her womb.
Virat gets elated to feel the first kick of the baby and talks to it, while Pakhi emotionally blackmails him stating that after giving birth to the baby she won't be his mother anymore, to which Bhavani assures that the baby will always be Pakhi's child also.
Later, Chavans goes to a Puja leaving Pakhi alone. She wanders around the house and breaks Sai and Virat's photoframe. She saves herself from having a massive fall, but her labour pain started. She calls Virat while he rushes to come there and tries to calm her down. He also calls Sai but she was busy with her patients. Meanwhile, Pakhi screams in pain and holds her baby bump.
Now in the upcoming episode, Sai will accuse Pakhi for illegally being her surrogate. She will proclaim that the latter tried to steal her baby and will get her arrested in front of all the Chavan family. The police officers will arrest Pakhi and takes her along with themselves, while Virat tries to stop Sai and insists her to take back the complaint.
He will say that Pakhi is their family member, but Sai denies to hear anything and declares that if anyone supports Pakhi or will try to help her, then she will punish them also. She will warn Virat stating that she won't even spare him. Sai will declare that she will leave the house along with her baby, while all will get shocked.
Will Pakhi gets arrested?
Will Sai be able to get her baby?
It would be interesting to see what happens next on the show.
Stay tuned with us for more news, Spoilers and written updates of Ghum Hai Kise Key Pyaar Meiin.