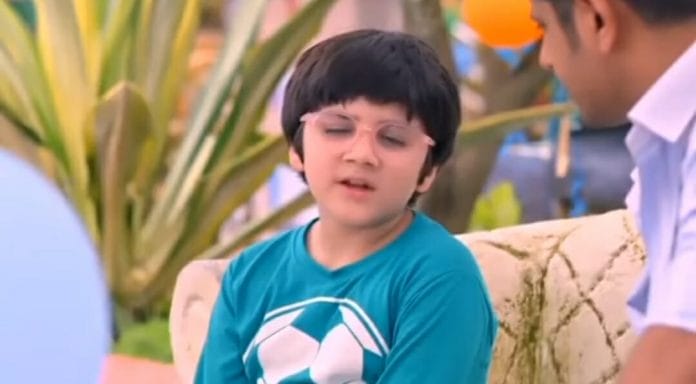 Ghum Hai Kisikey Pyaar Mein Spoilers, Upcoming Story, Latest Gossip , Future Story, Latest News and Upcoming Twist on tellyexpress.com
Star Plus popular daily soap Ghum Hai Kise Key Pyaar Meiin is grabbing the attention of the audiences. Viewers are loving the track, whereas the twists in the story is keeping them hooked to their television screens.
Previously, Savi introduced Vinayak to Sai while the latter felt an unknown attachment with him. Sai motivated Vinayak to stand against his bullies and then treated his injury.
She looked after him and admired Savi and his friendship bond. Whereas, Virat decided to surprise his son by visiting the camp, while Sai faced Gulabrao and his mens fiercely.
In the current track, Virat notices the message written on the tree by a child and feels bad for her. He writes a reply that her father will soon come back to her and prays to God for the kid. He then gets excited to meet Vinayak, whereas the latter enjoys inside Sai's house and bonded well with Savi.
Here, Sai gets surprised seeing lots of common things in between Vinayak and her. She even motivated him that he can do anything and ask him to stand against his bullies. She tells him to be strong, while he nods getting encouraged by her.
The principal thanks Sai for looking after Vinayak, while he gets attached to her. Meanwhile, Savi gets elated seeing the reply on her message and gets ready being excited to welcome her father. She takes Sai to show her the reply but due to rain it gets erased.
Ahead, Vinayak gets surprised seeing Virat and they bothe hugs one another being emotional. Virat finds about the bullies and injury of Vinayak and gets concerned for his son, but the latter assures him and praises about Sai for looking after him.
Virat decides to meet the lady who took care of Vinayak, while Usha insists Sai to tell the truth to Savi. She feels bad for the kid's expectations, but Sai stays firm on her decision and proclaims to keep Savi away from the past and her father.
Later, Gulabrao finds that Sai is still continuing her teaching classes and helping the ladies to learn. He gets furious and ploys a cunning plan against her. Whereas, Sai and Virat crosses path but couldn't able to see one another.
Now in the upcoming episode, Vinayak will tell Savi that his father is a police officer, while she will get excited. Meanwhile, some goons will come inside the camp to kidnap them, but Vinayak will fight with them. They will take Savi, while Virat comes there and warns them to leave her.
They will threatens Virat and then starts fighting with him. He will beat them blue and black, while Savi will get excited. A goon will run away with Savi, while Virat follows him. He will try to get Savi, but the goon will throw her up in the sky and Virat will get shocked.
Will Sai forgive Virat?
Will Savi find about her father?
It would be interesting to see what happens next on the show.
Stay tuned with us for more news, Spoilers and written updates of Ghum Hai Kise Key Pyaar Meiin.