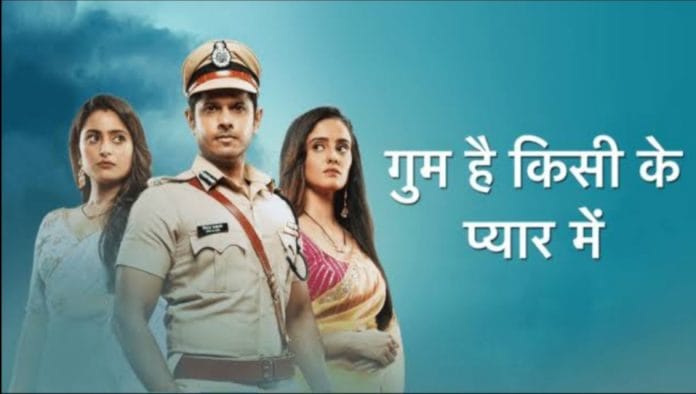 Ghum Hai Kisikey Pyaar Mein Spoilers, Upcoming Story, Latest Gossip , Future Story, Latest News and Upcoming Twist on tellyexpress.com
Star Plus popular daily soap Ghum Hai Kise Key Pyaar Meiin is one of the most loved shows on Indian television. Right from the time of its inception, the show has been entertaining the masses.
This week the storyline showcases Vinayak getting upset from Virat for his rude behavior. The latter gets disappointed as he couldn't able to receive the treatment from Sai, while she calls Virat being concerned for Vinayak and convinces him to continue the treatment keeping their past aside. She proclaims that Vinayak needs the treatment, while Virat agrees to her decision.
Here, Virat surprises Vinayak by sending him to Sai's house, while Savi and Vinayak expresses their joy after seeing one another. Meanwhile, Virat apologizes to Savi for his behavior and she immediately forgives him. Sai gets heart broken thinking that Virat has moved on in his life, while the latter thinks that Sai has moved on in her life and have a daughter Savi.
Bhavani and Ashwin encourages Pakhi to move forward in her life with Virat and proclaims that only she can help him. They reminds how Virat adopted Vinayak after she suggested him to. Whereas, she decides to think about the matter.
Elsewhere, Jagtap and Virat misses to see one another, while Sai starts the treatment for Vinayak. They then goes out to roam around the places, while Gulabrao sees Virat and stops him. He confronts the latter and warns him to stay away from Sai. He talks bad about Sai's character while Virat gets furious and starts beating him.
Gulabrao raises questions about Virat and Sai's relationship while Virat tries to hit Gulabrao, but Sai stops him and ask him to leave the latter. Gulabrao runs away from there after giving a warning to Virat, while Sai takes him away and tries to treat his wounds. He denies to get treatment from her, while Savi aids him.
Ahead, Sai and Virat sees the bonding of Savi and Vinayak. Meanwhile, Virat confronts Sai about her relationship with Savi and taunts her for moving on in her life. She taunts him back stating about his relationship with Vinayak.
Chavans prepares for the welcoming of Harini and Pulkit. The latter misbehaves with the family, while Bhavani ask her tk behavior properly. She decides to keep Harini along with them for sometime in order to teach her traditional values, while the latter get irked with them.
Later, Vinayak tells Pakhi about the injury of Virat while she gets concerned and talks to him. He hides about Sai from her and his family. Whereas, Savi thanks Virat for helping her mother. Virat and Sai recalls their past and blames one another for the mishap. She accuses him for not finding her while he replies that he came but found her name with the dead passengers. They keeps accusing one another, while Virat gets attacked by the goons of Gulabrao.
Sai helps Virat while the latter fights with the goons. One of them kidnaps Savi and takes her away, while Sai gets devastated. Virat assures her and takes Vinayak and Sai along with him to save Savi. Gulabrao smirks seeing Savi and hangs her with the crane. Sai gest shocked seeing her daughter while Virat keeps Vinayak hidden inside the car.
Virat consoles Sai and fights with the goons to save Savi. He gets hit but Sai helps him. They both somehow saves Savi while Pakhi calls Vinayak and he tells her about the situation. She gets shocked and leaves for Kankauli along with Mohit.
Chavans consoles her ask her to stay strong. They also starts praying for Virat, while a goon finds Vinayak and points gun at him. Virat saves him and then risks his life to save Savi as the goon fires the bullet towards her.
Here, Sai gets shocked seeing Virat injured and takes his to the police guest house to start his treatment. She somehow manages to save his life and assures Vinayak and Savi that he is fine. Vinayak tells Pakhi about the injury of Virat while she gets dumbstruck and starts crying. Usha sees the concern of Sai towards Virat and prays for their reunion. Sai goes to bring medicine for Virat and ask for Jagtap's help, while he also comes towards the police quarters.
Ahead, Pakhi also comes there and shows her concern towards Virat. She cries seeing his state while Sai sees her and gets shocked finding that Pakhi is Virat's wife and Vinayak's mother. She hides herself from Pakhi, while the latter hugs Vinayak and cries.
Now in the upcoming episode, Pakhi will ring Sai's door bell while the latter opens the door and gets shocked. Pakhi will enter the house and says that their destiny always brings them in front of each other.
Sai will reply that she is not the same anymore and proclaims that Pakhi is now Virat's wife. Pakhi will say that she wants to ask something from Sai and insists the latter to come along with her to Chavans house, while Sai will look at her being stunned.
Lot more drama and twists to come in Ghum Hai Kise Key Pyaar Meiin, don't miss watching the show. Stay tuned with us for more Spoilers, informations and written updates of your favourite shows.