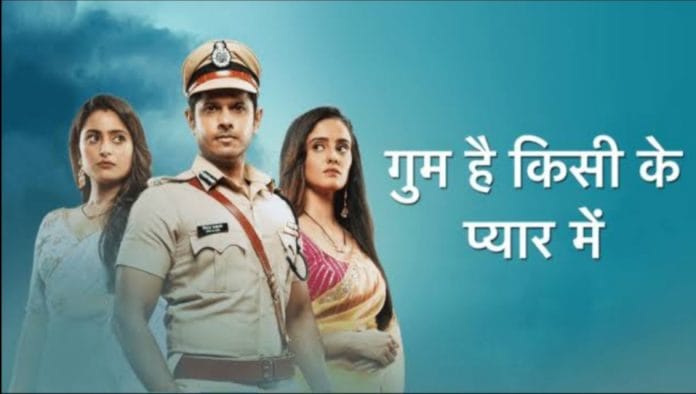 Ghum Hai Kisikey Pyaar Mein Spoilers, Upcoming Story, Latest Gossip , Future Story, Latest News and Upcoming Twist on tellyexpress.com

Star Plus popular daily soap Ghum Hai Kise Key Pyaar Meiin have garnered a huge amount of audience. The gripping storyline filled with twist and turns makes it engaging to the viewers.
This week the storyline showcases Sai getting arrested for Malhar's death. Whereas, Jagtap also files a case against Sai revealing that Malhar was his brother. He accuses Sai for taking revenge from his brother, while she denies their allegations. Jagtap tries to scare Sai, while Virat stands in between them and faces Jagtap fiercely. He also comforts Sai and ask her to calm down.
Here, Virat takes Samrat's help to get bail for Sai. Whereas, Pakhi tells the Chavans about Sai being arrested. Bhavani prohibits the family members from meeting Sai, while others gets worried for her. Pakhi and Bhavna goes to the police station and mocks Sai for degrading their reputation, she tries to prove her innocence but Bhavani denies to accept it.
Virat challenges Pakhi that he will get Sai out of the jail before the morning, whereas she stops Samrat from helping Sai, but the latter denies her request and assures Sai that he will get her out. He also gives confidence to Sai, while Pakhi gets irked.
Elsewhere, Malhar's postmortem reports comes and Sai gets the bail, as he has consumed alcohol which reacted with the medicine. Sai goes back to Chavans Niwas and gets greeted by Ashwini. At that time Jagtap comes there with his mens and determines to get Sai.
Jagtap scares the Chavans by telling how he murdered Sai's father, while the latter gets furious and faces his strongly. When he tries to get close to Sai, the men's of Chavan Niwas stands in front of her to protect her. She gets emotional seeing their support, while Jagtap gives the court order to give 5 crores as redemption money to Malhar's family.
Ahead, Sai gets shocked seeing such huge amount, while Virat assures that if they will win the case, then they won't have to give it. He assures her that everything will be fine, while Bhavani and Pakhi taunts Sai for endangering their lives.
Virat goes to the hospital to interrogate about Malhar's case, while the nurse and Dr. Thurat accuses Sai for the mistake. The nurse gets scared by Dr. Thurat's warning and lies about Sai, whereas other doctors and an old patient shows their support towards Sai. The old man notify Virat about the truth, that how Malhar was misbehaving and Sai saved them from his torture. Virat gets elated on finding the witness to support Sai, while Dr. Thurat gets worried hearing their conversation.
Further, Dr. Thurat warns the nurse and ask her not to change her statement. She agrees to him being scared. Whereas, Sai gets furious at Jagtap after talking to him via phone. He offers her to come to him and proclaims to remove all the case from her. She scolds him and breaks her phone, while Samrat, Devyani, Rajiv and Shivani comes to support Sai and gives their money to help her.
Sai gets emotional seeing her family's care, whereas Bhavani discuss about the matter with her lawyer and everyone gets shocked hearing his two suggestions. Pakhi ask to select the one in which Virat have to leave Sai. Meanwhile, Mansi's health deteriorates and Bhavani ask Samrat and Pakhi to take her to the hospital.
Later, Jagtap starts troubling Chavans. He cuts their electricity and water supply and proclaims to continue his torture till he gets Sai. Samrat takes Sai to the police station and notify Virat about it. Virat consoles Sai and gets furious at Jagtap. He determines to teach a lesson to him and goes to his place. He fights with Jagtap and his goons single-handedly. He ties Jagtap with his jeep and drags him towards the Chavan Niwas.
Jagtap warns Virat to kill him and remember how Sai's father also did the same to him. Sai gets shocked seeing Jagtap being tied and gets the flashes of her past. She ask Virat to leave him being scared of Virat's life, but the latter denies and declares to punish Jagtap.
DIG sir comes along with Vitthal and ask Virat to leave Jagtap. He convince Virat and says that he can't arrest him without any proofs. Whereas, Vitthal and Jagtap proclaims to take their revenge. Ahead, Samrat was about to take Mansi to the hospital, when Jagtap comes there in groom's outfit and proclaims to marry Sai.
Here, Bhavani scolds Jagtap while he pushes her away. Pakhi blames Sai for all the problems, while Samrat takes a stand for Sai. Jagtap's goons points gun at Smarat, while Sai saves him and ask them to leave her house, but they denies.
Sunny takes Virat to visit Mr. Kamat, who proclaims to help Virat against Jagtap and offers money to them. Sunny ask Virat to take it in order to free Sai, while the latter gets into dilemma, but then takes if after Mr. Kamat insisted him. But, at that time Inspector Kadam comes there and arrests Virat in case of taking bribe from Mr. Kamat. The latter accuses Virat in fake case, while he gets shocked.
Ahead, Jagtap tells Sai that how he made Virat arrested while she gets worried for him. She uses her wit and gets successful in sending away Jagtap and Vitthal from her house. She visits Virat and sees him inside the jail, she gets worried while Samrat promises to bring him out.
Sai goes inside her room and gets shocked seeing Jagtap. He tries to force her, while she shouts and Samrat comes to her rescue. He beats Jagtap mercilessly, while Omkar stops him and suggests to admit him to the hospital orelse he will die. Samrat and Sai admits Jagtap to the hospital, while Dr. Thurat taunts Sai, while she takes a stand for herself.
Elsewhere, Sai gives her statement to the police and files a case against Jagtap for molestation. Whereas, Vitthal also comes there and threatens Sai. She gives a befitting reply to him and he goes to give blood to his son. The nurse denies to take his blood as he was alcoholic, but he starts shouting at her.
Sai defends the nurse while Dr. Thurat scolds Sai and ask the nurse to do the procedure. She denies and reminds him about Malhar's case, while he scolds her and threatens to snatch her job. She gets silent whereas Sai gets suspicious after hearing their conversation and confronts the nurse. She gets shocked after hearing the truth and gets Dr. Thurat arrested for his deeds.
Later, she takes help of an intern and messages Mr. Kamat from Vitthal's phone. He comes there along with the money bag and discuss that how they trapped Virat. Sai records their conversation and exposes them. DIG sir arrested them also, while Jagtap gets worried for his father.
Now in the upcoming episode, Sai will resume her work as a doctor, while suddenly she starts feeling dizzy. The nurse will come to help her and makes her sit. She will suggest Sai to take pregnancy test, while the latter will get elated after seeing the test results positive. Lot more drama and twists to come in Ghum Hai Kise Key Pyaar Meiin, don't miss watching the show. Stay tuned with us for more Spoilers, informations and written updates of your favourite shows.