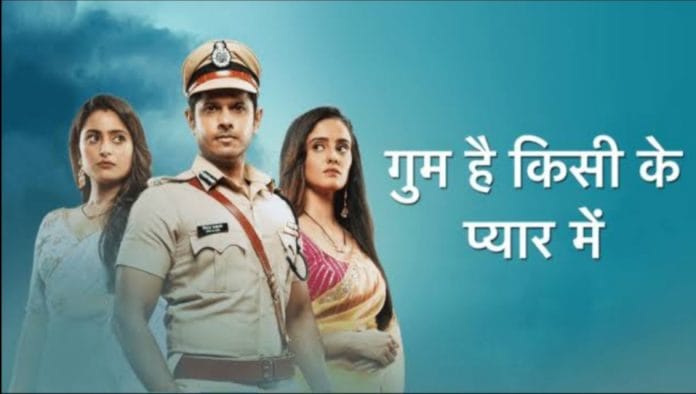 Ghum Hai Kisikey Pyaar Mein Spoilers, Upcoming Story, Latest Gossip , Future Story, Latest News and Upcoming Twist on tellyexpress.com
Star Plus popular daily soap "Ghum Hai Kise Key Pyaar Meiin" is all set for high voltage drama.
This week the storyline showcases Virat pouring his frustration out on Shruti, while she warns her not to misbehave. He notify her about the encounter with his family, whereas she feels bad for him and suggests to tell the truth to them.
Here, Virat denies to contact his family, while Shruti becomes worried for his condition. She tries to calm him as he started pouring his anger out on his family and Sai. He declares that he won't ever forgive them and states that they don't trust him at all.
Shruti somehow convinces Virat to have his medicine and goes to bring it. Whereas, Sai suffers from pain and anxiety. She couldn't able to forget Virat and shares her turmoil with her father's potrait. She gets stressed and losses her conscious.
Elsewhere, Shruti gets shocked seeing Virat being unconscious on the floor and becomes worried. She tries to wake him up but he didn't respond. Whereas, otherside Chavans discuss about Sai's health state and worries about her. Ashwini and Ninad shows extra care for her, while Bhavani scolds them for spoiling her.
Pakhi becomes frustrated seeing everyone supporting Sai and voice against it. She calls them partial, while Samrat stops her. Shivani advices to call Sai in order to learn about her condition but latter doesn't pick any call being unconscious.
Ahead, Samrat notify Chavans about Sai's sacrifice to save Virat's job. Meanwhile, Shruti takes Virat's phone and calls his family's number. Pakhi receives the call, while Shruti introduces herself and was about to tell regarding Virat but Samrat cuts the call giving a warning to her. Pakhi gets mad at him, while he also glares her.
Shruti somehow notify Virat's family about his condition, while they all showed no concern towards him and declares that he is getting his punishment for betrayal. Shruti gets shocked seeing their behaviour and takes Virat inside the room by herself.
She calls the doctor, who ask her to take proper care of Virat and advice to reduce his fever.
Further, Pakhi shows concern for Virat while her husband and Mohit scolds her. She blames Sai for everything, while Chavan's takes stand for the latter. Meanwhile, Samrat along with Mohit and Pakhi goes to check on Sai being worried about her.
Sonali keeps instigating Bhavani against Sai and Virat. Meanwhile, Samrat and Mohit takes the help of warden of Sai's hostel to open her room door. They gets shocked seeing an unconscious Sai and Pakhi helps them to wake her up. Samrat shows his care and ask her to stay with them in Chavan Niwas, but she denied stating about her self-respect. But, Samrat anyhow gets sucessful in convincing her to stay with them for some days.
Later, Pakhi tells Sai about Virat's condition while latter gets worried. Meanwhile, Sai goes to Chavan's house and gets welcomed warmly. She questions about Virat's health, to which Bhavani scolds her asking not to take his name. But, she shows her care towards him and prays for him.
Sai stops Ninad from cursing Virat and ask to forgive him. She says that their relationship was forced and it's better that it ended. She advice them to ask about Virat's health, but they denies except for Pakhi who blamed Shruti for all the mess.
Shivani scolds Sai for helping Virat, while latter ask them to leave her alone. She states that she can't live with them as she wants to survive on her own.
Here, Ninad and Ashwini showers their love for Sai. He declares that Sai deserves all the happiness and apologises from his side. She gets emotional hearing his words and shows her gratitude.
The doctor ask Shruti to be careful with Virat. He was about to recognise Virat but Shruti handles smartly and sends him away. Ahead, Virat gets conscious and accuses Shruti for their close proximity. She scolds him for the allegations and tells how his family treated him. She shows sympathy towards him, while he gets hurt emotionally. He shares his pain with Shruti, whereas Sai determines to live on her own will.
Ahead, Sai somehow agrees to stay with Chavans till she gets fine. Meanwhile, Virat's memories haunts her inside her room. She imagines him and shares her pain, she decides to leave from there the next day and tells about it to the family members.
Shruti tries to look after Virat but he gets furious and blames her for everything. Whereas, she sympathise his state but doesn't show it as she knows he wouldn't like it. She advice him to clearify everything by telling the truth, while he replies that he can't risk her safety.
Ashwini tries to calm Sai and ask her to stay in their room, if she remembers Virat in her room. Whereas, Devyani and Pulkit also comforts her and feels happy seeing her surrounded by her loved ones. Whereas, Shruti keeps helping Virat even after his denial.
Further, Samrat along with Mohit and Pakhi comes there and confronts Shruti for disturbing them by calling. They warns her not to contact them, while she tries to clarify her intentions. They insults her, while Virat takes stand for her. Samrat tells about Sai being ill, whereas Virat gets concerned and ask about it, but they doesn't reply and goes away from there leaving him tensed.
Sai removes her nuptial chain and gives it to Ashwini, asking to give it to Shruti as she is Virat's wife. Ninad even curses Virat and Shruti for hurting them. Whereas, Shruti realises her growing feelings for Virat.
Sadanand returns back to his terrorist gang, and they becomes overjoyed upon seeing him. They also notify him about Shruti being Virat's wife and shows the newspaper article. Sadanand gets furious and decides to confront them.
Later, Virat makes Shruti understand not to contact his family, while she apologises. Whereas, Sai bids adieu to Chavans while leaving, whereas Ashwini advice her to find a life partner who can be with her in her journey. But, Sai denies stating that she will focus on her career.
Now in the upcoming episode, Shruti will tell Virat that he is really nice and states that she couldn't able to tell him, what she feels for him. She will start crying being emotional, while Virat tries to console her. At that she will suddenly hugs him, while he keeps trying to calm her down. Meanwhile, Sadanand will get inside Virat's house and gets furious seeing them. Whereas, Virat and Shruti will become shocked seeing him alive. Lot more drama and twists to come in Ghum Hai kise Key Pyaar Meiin, don't miss watching the show.
Stay tuned with us for more Spoilers, informations and written updates of your favourite shows.