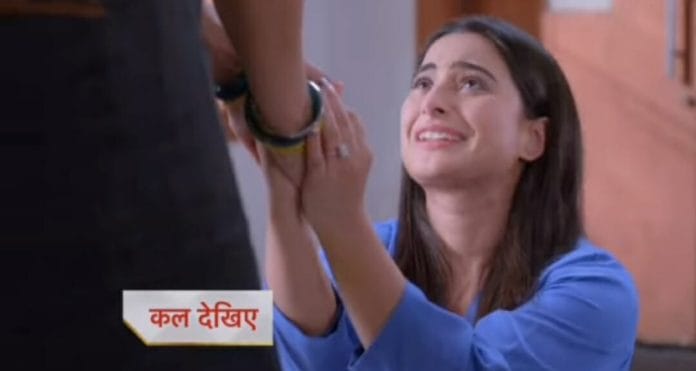 Ghum Hai Kisikey Pyaar Mein Spoilers, Upcoming Story, Latest Gossip , Future Story, Latest News and Upcoming Twist on tellyexpress.com

Star Plus popular daily soap Ghum Hai Kise Key Pyaar Meiin is moving towards the bitter chaos in Sai and Virat's life due to the surrogacy matter. Previously, Pakhi succeeded in her ploy to become Sai and Virat's surrogate. Whereas, Sai became shocked after learning about the truth from Geeta and Yogesh behind their denial.
In the current track, Sai clearifies all the misunderstandings of Geeta and tells that there won't be any legal issues. She insists them to believe her, while Geeta shows her trust upon Sai and agrees to visit the hospital. The latter gets elated and notify Virat about it, who was searching for Sai being worried about her.
Here, Virat tries to tell the truth to Sai about Pakhi being their surrogate but gets unsuccessful. Sai meets Bhavani inside the hospital and introduces her to Geeta, but the latter tells that she is of no use to them. She notify Sai about the truth, while the latter gets shocked.
Virat becomes concerned about Sai after seeing her injury. She ignores it and confronts him about the matter. She reminds him about their discussion and ask why he allowed Pakhi to become their surrogate. He tries to explain about his turmoil and says that he was in dilemma.
Ahead, Sai gets furious at Virat and both gets into an argument. She scolds Bhavani when she tries to stop them and ask her to stay out of their matter. She also scolds Bhavani for taking a major decision of their life and gets mad at them.
Sai gets suspicious about Pakhi upon recalling the past incidents. She determines to confront the latter, while Pakhi hides from them after seeing Geeta and Yogesh. She tries to hide her secret and gets inside the cabin.
Later, Pakhi makes a plan to save herself and calls Geeta to meet her. The latter gets stunned seeing Pakhi and recognises her to be the hospital lady. She proclaims to expose her in front of Sai, but Pakhi stops her and insists her to hear her perspective.
Now in the upcoming episode, Virat and Sai will get into an argument regarding the surrogacy matter. He will ask her to accept the truth and questions that why is she creating such a huge issue?
He will remind about their dreams of having their own baby and ask if her ego is more then their wish? To which she will get furious at him and tells that he have done a huge mistake.
She will deny to accept Pakhi as their surrogate and then takes the phone from him and calls Geeta. Meanwhile, Pakhi will beg Geeta to hide the truth and cries in front of her. Sai will also come inside the cabin and looks at someone being shocked.
Will Pakhi gets successful in her diabolical ploy?
Will Sai accept Pakhi as her surrogate?
It would be interesting to see what happens next on the show.
Stay tuned with us for more news, Spoilers and written updates of Ghum Hai Kise Key Pyaar Meiin.