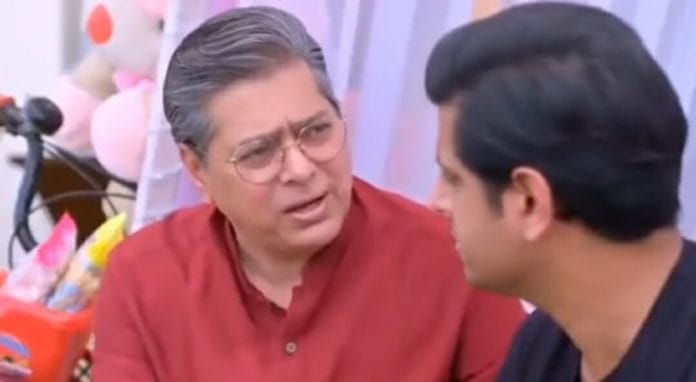 Ghum Hai Kisikey Pyaar Mein Spoilers, Upcoming Story, Latest Gossip , Future Story, Latest News and Upcoming Twist on tellyexpress.com
Star Plus popular daily soap Ghum Hai Kise Key Pyaar Meiin have garnered a huge amount of audience. The gripping storyline filled with twist and turns makes it engaging to the viewers. Previously, Virat filed an FIR against Sai and decided to drag the matter to the court.
Whereas, Jagtap visited the latter in order to clarify his intentions and apologised to her, but she lashed out at him and used the opportunity to trick the police in order to escape from the jail. Meanwhile, Savi kept asking for Sai and Virat couldn't able to handle her, while Ashwini somehow consoled the latter.
In the current track, Virat plays with Savi and Vinayak in order to divert her mind from Sai. He starts rethinking about his decision but then shows his gratitude towards Ashwini for handling Savi. She tells him that if again the latter ask about Sai, then they won't be able to do anything. She advice him to reunite Savi with her mother.
Here, Virat denies to follow Ashwini's suggestion while at that time Sai enters inside Chavans house and hugs Savi being emotional. They both cries and Savi complains that why she left her? Chavans also comes there, while Ashwini worries that what if Sai tells the truth to Savi?
Sai hides the matter and assures Savi that she won't leave her anymore. She expresses her pain of staying away from her daughter. She also warns Virat not to come in between them, while Pakhi and Ashwini makes him understand about the situation and tells that a kid can't stay away from her mother.
Ahead, police staffs also comes there and apologises to Virat for their carelessness. Meanwhile, Sai takes Savi away from there. Bhavani blames everything on Sai and proclaims that it must be her plan to get back inside Chavans house.
Sonali also instigates Bhavani against Sai and proclaims that Virat won't let Savi go away from him. She states that Sai will use the opportunity and ask what if both of them starts parenting Savi? Bhavani gets furious at Sai and determines to keep her away.
Later, Virat gets heart broken while Ninad tries to console him and makes him understand about the matter. Whereas, Savi stays with her mother and tells about how Virat took care of her. Meanwhile, she also ask Sai to sing lullaby like Virat while the latter expresses her love towards Savi and Usha gets elated hearing about Virat's care towards Savi.
Now in the upcoming episode, Virat will knock on Sai's door while the latter denies to let him come inside her house. He will forcefully get inside while she states that Savi is her daughter and he can't take her away.
He will proclaim that he will tell the truth to Savi about him being her father and reminds how the latter was searching for her father all around the places. He will go inside Savi's room while Sai tries to stop him but he locks the door. Savi will look at him being confused while Sai will break down expressing her love towards Savi.
Will Virat reveal the truth to Savi?
Will Bhavani accept Savi?
It would be interesting to see what happens next on the show.
Stay tuned with us for more news, Spoilers and written updates of Ghum Hai Kise Key Pyaar Meiin.