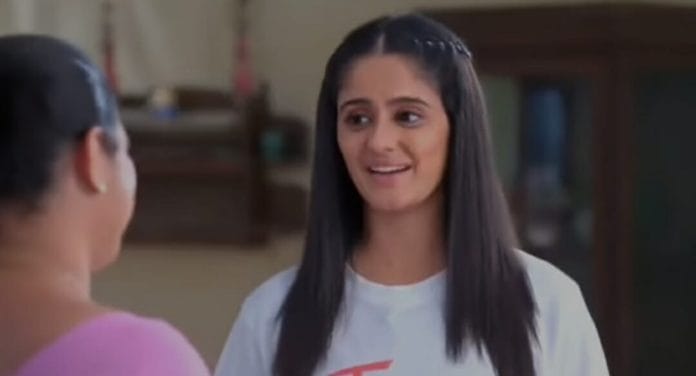 Ghum Hai Kisikey Pyaar Mein Spoilers, Upcoming Story, Latest Gossip , Future Story, Latest News and Upcoming Twist on tellyexpress.com
Star Plus's top rated show "Ghum Hai Kise key Pyaar Meiin" has been entertaining the audiences with its exciting twists and plots. Previously, Virat confronted Sai about Jagtap and her relationship. She got furious and slapped him.
Meanwhile, Virat prepared Vinayak for the racing competition in order to get rid of Sai. He took the latter inside police training camp while Sai secretly helped Vinayak and taught him the correct way to run.
In the current track, Chavans gets elated finding about Vinayak's accomplishment. Virat proudly tells everyone about the timing covered by Vinayak to complete the race. Whereas, Bhavani ask Omkar to bring out the tickets they buyed for Sai to return back to her home.
Here, Bhavani states that after the race they will finally get rid of Sai while Virat ask not to take her name. Meanwhile, he notices Pakhi being lost and ask about the matter but she hides the truth and decides to invite Sai in the racing competition to help her son.
Pakhi takes the tickets from Bhavani and states that she will give it to Sai. She parcel it to the latter with 2 customized t-shirts to cheer Vinayak. She also showers her extra care towards Vinayak and feeds him to prepare for the race.
Ahead, Chavans cheers Vinayak and gets excited to wear the t-shirt to encourage him. Sai and Savi also gets elated after receiving the t-shirts and wears it to support Vinayak. Usha appreciates Sai's efforts and questions that what she will do after the racing competition.
Sai gets into thoughts while Savi takes her to the competition. Meanwhile, Vinayak waits for Sai and Savi while Pakhi messages them about the starting of the race. Whereas, Vinayak gets teased by his schoolmates and they makes fun of him.
Later, Sai runs along with Savi to reach the racing ground but falls down and gets injured. She still tries to run with difficulty while Vinayak couldn't able to run the race and stands still in the starting position. Whereas, Chavans gets shocked seeing him.
Now in the upcoming episode, Virat will get into a fight with Jagtap and holds his collar. He will proclaim to teach him a lesson while Jagtap will reveal the truth to him about Savi being his daughter. Virat will get shocked and moves back from Jagtap. Whereas, Sai will decide to leave the city along with Savi. She was about to get inside the train, when Virat will come there and holds Savi's hand to stop her from going. Meanwhile, Sai and Virat will look at each other and the latter will get shocked.
Will Chavans find about Savi's truth?
Will Sai be able to attend Vinayak's race?
It would be interesting to see what happens next on the show.
Stay tuned with us for more news, Spoilers and written updates of Ghum Hai Kise Key Pyaar Meiin.