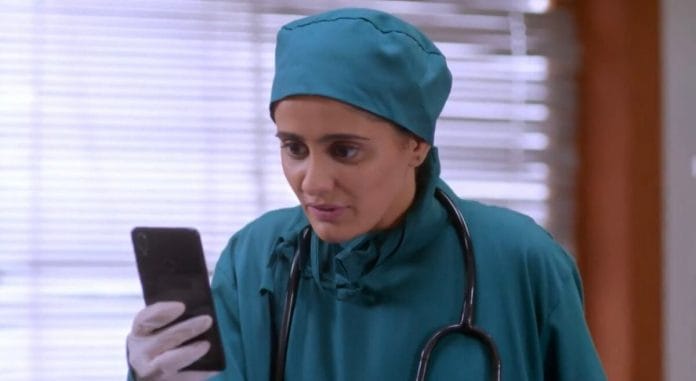 Ghum Hai Kisikey Pyaar Mein Spoilers, Upcoming Story, Latest Gossip , Future Story, Latest News and Upcoming Twist on tellyexpress.com
The peculiar twist in the tale of Star Plus popular daily soap "Ghum Hai Kise Key Pyaar Meiin" is enthralling the audiences.
In the earlier episode, Virat lies to his family in order to drop Sai to the hospital, as she starts her internship. She insists him to notify the truth to Bhavani as soon as possible, while he ensure her. He shows his emotions towards her, while Dr. Thurat sees them and gets irked. Meanwhile, Pulkit praises Sai in front of her colleagues and introduces them to Dr. Machindra Thurat. He ask the interns to report him for their duties, while Sai gets excited for her new journey.
Here, Dr. Thurat mocks Sai and ask her not to bring her family and emotions inside the hospital. She gets confused with his rude behaviour, while he keeps trying to demean her. Sai sees the time and gets worried about reaching home late for the programme arranged by Bhavani.
Sai tries to convince Dr. Thurat to grant her an early leave but he denies and gets furious at her. He ask her to leave the internship, but she apologises to him and promises to compensate for her leave. He then agrees to fulfill her wish, but with a shocking condition.
Ahead, Dr. Thurat makes Sai exchange her duty with w gynaecologist and ask Sai to complete a delievery case. The latter gets worried and tries to handle the situation, but the patient insists to talk to her husband and Sai makes her video call him.
Virat lies to his family and gets worried as Sai didn't get free from work. Whereas, Bhavani and Ashwini waits impatiently for Sai and Virat. Bhavani defends Sai when Sonali and Pakhi mocks her. Whereas, she even brought a gift for Sai and scolds Pakhi for trying to take Sai's place.
Dr. Thurat keeps taunting Sai and her husband, while the latter takes stand for herself. Sai manages to talk to Virat through the patients video call and ask him to handle the situation at home as she couldn't able to come without attending the patient. Whereas, Dr. Thurat becomes Infuriated after seeing Sai interacting with her husband.
Now in the upcoming episode, The guests comes inside Chavan Niwas, while Bhavani tries to handle the situation. The ladies will get fed up and questions that when Sai will come. They will taunt Bhavani and her daughter-in-law. They will decide to leave from there, while Ashwini insists them to wait. Whereas, Dr. Thurat will ask Sai to do a 24hour duty, while she gets shocked.
Will Sai be able to reach her house?
Will Virat be able to help Sai?
It would be interesting to see what happens next on the show.
Stay tuned with us for more news, Spoilers and written updates of Ghum Hai Kise Key Pyaar Meiin.