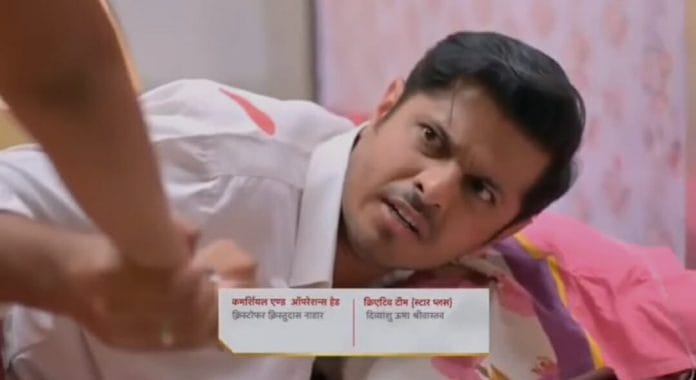 Ghum Hai Kisikey Pyaar Mein Spoilers, Upcoming Story, Latest Gossip , Future Story, Latest News and Upcoming Twist on tellyexpress.com

Star Plus popular daily soap Ghum Hai Kise Key Pyaar Meiin is unravelling lot many dramas with each passing day. The show is making the viewers curious, with its unpredictable storyline. Previously, Pakhi and Mohit gets shocked seeing Sai.
The latter asked Sai about her relationship with Jagtap and also questioned about Savi, but the latter denied to answer her. Whereas, Pakhi hided about Sai from Chavans and decided to confront the latter before taking any decision.
In the current track, Virat gets furious at Sai after seeing her close with Jagtap. He misunderstands her relationship and suspected Savi to be their daughter. He lashes out at Sai, while she shouts at him and treats his wound which starts bleeding.
Here, Virat confronts Sai and demands for an answer but she denies to reply him and taunts about marrying Pakhi and having a child with her. Meanwhile, Pakhi gets concerned for Virat and Sai instructs Vinayak to perform his exercises and leaves from there.
Mohit also warns Sai to stay away from his family and proclaims that they have recovered from a major trauma and doesn't want to get back to it. Sai breakdown in front of Usha and rebukes Virat for again coming in her life.
Ahead, Pakhi shares her concern with Virat while he tells her about his suspicion. He also assures Pakhi that he won't let their relationship suffer due to Sai.
Sai cries and feels hurt thinking about Virat and Pakhi's relationship. Usha insists her to tell the truth to Virat, but she denies and proclaims to keep her daughter away from Chavans.
Now in the upcoming episode, Sai will face Pakhi and tells that she knows Virat won't agree to get treatment from her, but will warn that it isn't safe for him to travel so long in such state, as he is not well. At that time Virat will come there and tells Sai that she doesn't need to care about his wounds as he is going back to his house along with his family.
He will hold Pakhi's hand and drags her along with him, while the latter will look at Sai being stunned.
Will Pakhi be able to convince Sai?
Will Virat's misunderstandings gets clear?
It would be interesting to see what happens next on the show.
Stay tuned with us for more news, Spoilers and written updates of Ghum Hai Kise Key Pyaar Meiin.