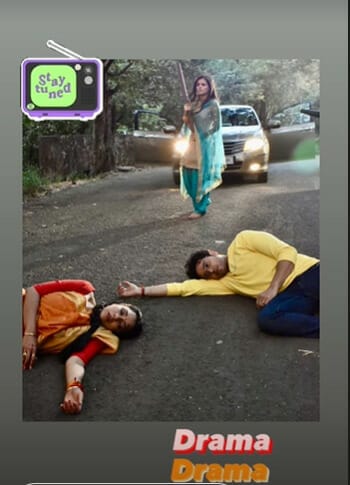 Anupama Upcoming Story, Spoilers, Latest Gossip , Future Story, Latest News and Upcoming Twist on TellyExpress.com
Anuj and Anupama to meet with an accident while saving a stranger.
In today's episode, Anuj asks Anupama if he should take short route or long one to reach the camp. Anupama suggest for long route. But Anu asks for short route. Anupama worries. Anu and Anuj enjoys the ride.
Anuj decide to enjoy music in the car. Anupama, Anu enjoys. Sad songs play Anupama sit stressed. Anu asks Anupama and Anuj what is called separation. Anuj tell when two people stay away from each other. Anu asks if Pakhi and Adhik are separated from them. Anupama sit stunned. Anuj covers up the talk. He asks Anupama not to feel bad as it is necessary for Pakhi to grow.
Kinjal and Kavya plays with Pari. They shockingly call out Shah. Shahs stunned to see Pakhi and Adhik with their bags. Anupama, Anuj drop Anu to the camp. Anu gets sad. Anupama asks Anu's teacher to take care and feed her on time. Teacher assures Anuj and Anupama. Anu asks Anuj, Anupama if they will come to take her back and they will not be separated. Anuj, Anupama comfort Anu. They ask Anu to enjoy her camp. Anupama's dress gets stuck. Anupama worries. Anuj talks with Anupama and share he can relate with Anu's fear. Anupama worries. Anuj asks Anupama to relax.
Anuj, Anupama decide to spend quality time together. Elsewhere, Pakhi discloses to Shahs that she is their neighbor.
In the upcoming episode, Anuj Anupama will try to help stranger couple. Goons will attack on Anupama, Anuj. Will Anupama, Anuj survive the accident or there is more twist in the tale? Time will only tell.
Follow us for TV serial latest updates