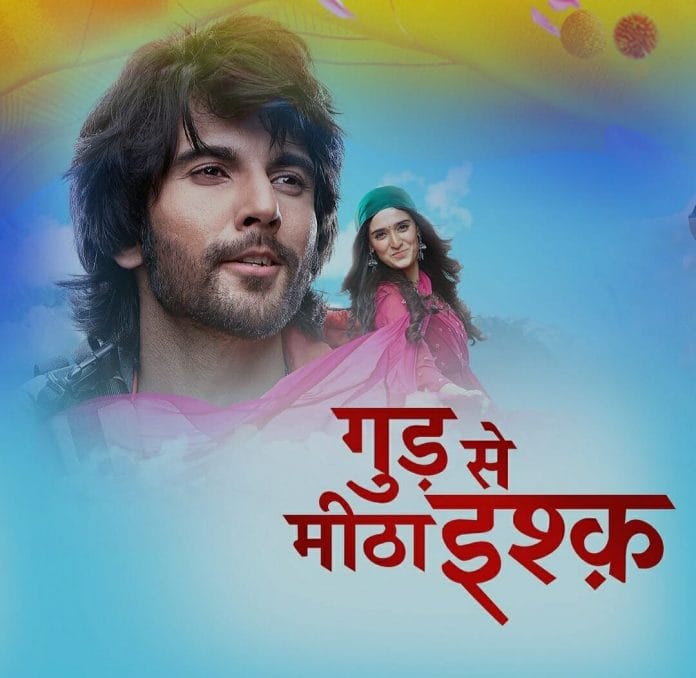 Gud Se Meetha Ishq 21st September 2022 Written Update on TellyExpress.com
In today's episode, Chandni tells Dev that Noor just spoke her heart out nothing else. She complains that Dev has changed as he gives all his time to Pari only. Neel sits in his room and recalls whatever happened today. Pavitra comes there, she touches Neel's hand and pretends as if she is feeling bad for him. She says that she asked Kajal to check the pendrive once but she didn't listen to her.she asks him to not take this failure to heart. Kajal comes there and says that Neel has failed because of her. She offers tea to Neel, Pavitra delibaretly pushes her hand. The cup plate falls on the floor and breaks.
Kajal grows concern and asks Neel if he is alright. Neel asks her to relax as he is unhurt. Pavitra calls the day inauspicious. Neel tells Kajal that it's his fault as he should have checked the pendrive. He says that he is wondering how the song came in the pendrive as none listen such song at his house. He asks Pavitra to not come to their bedroom unless it's really urgent. Pavitra says that she and Neel are friends. Neel says that he is Kajal's husband before everything. Pavitra leaves. Neel hugs Kajal. He says that next time he will take part in the competition and win it too.
Bhoomi asks Pavitra to calm down who breaks stuffs in anger. Neel, Kajal hear it. Pavitra says that she tried everything possible but nothing worked. She says that Neel doesn't understand that Kajal deserves to be neither his wife nor the maid of Khurana house. Neel asks Kajal to open her eyes and understand Pavitra's intention now atleast. Kajal says that she will help Pavitra to move on in life.
Bhoomi tells Pavitra that she has a simple plan. Kajal, Neel arrive there, Kajal says that she has a plan too. They tell Pavitra that they will help her to move on in life and forget Neel. They show her the matrimonial profile they have created for her. Pavitra gets speechless.
Pari goes behind Noor and tries to defend Dev. They stand on the stairs. Noor calls her a liar and blames her for everything. Pari says that she is not liar. Noor asks her to move aside and pushes her. Pari falls from the stairs. Noor gets shocked and comes down. Dev tries to wake Pari up. He asks Noor if she pushed Pari. Pari opens her eyes. She says that she and Noor were playing and she slipped. She asks Dev to leave and takes Noor with her. Chandni and Nimrit wait for Bhuli to execute a plan. Noor asks Pari why she lied to Dev. Pari says that she didn't want Dev to scold her. Noor says that Pari can't become her friends by doing all these.
Pari says that she never had any friend and she wants Noor's friendship. Pari screams in pain, Noor checks her wound. She applies medicine on Pari's wound. Pari praises her. Noor says sorry to her. Pari says that she wants to stay happily with Dev and Noor. She tells Noor about her gudda guddi. Noor calls her nice. Pavitra complains about Neel, Kajal for making her matrimonial profile to Bhoomi. Neel, Kajal like some boys' profile and plan to show them to Pavitra. Pavitra says that she won't meet anyone from the site.
Neel worries anticipating the same, Kajal says that she and Mahadev will handle everything. Nimrit, Chandni return from shopping. Nimrit says it's just the beginning. Dev comes there and informs Nimrit about arrival of few guests at home tomorrow for closing a deal. Nimrit says that she will prepare dishes to impress them. Chandni says that she will help Nimrit as there is none else to help in the house. The episode ends.
Precap – While playing Noor finds a gun. Pari asks her to put it down as it's not safe. Noor says nothing will happen. She fires and gets shot. Noor becomes unconscious. Dev comes there and gets worried for her.
In today's episode, Nimrit sees that Pari secretly enters into Noor's room and leaves her chocolates for her in order to make Noor happy. Pari leaves. She notices that one chocolate is left with her, she goes to keep it in Noor's room too. She goes back to Noor's room and sees that Nimrit is holding the chocolates, Noor is standing there as well. Pari looks shocked. Nimrit says that just because Dev gave her more chocolates than Noor, she has come there to tease Pari. Pari tries to tell the truth but Noor asks her to shut up. She returns the chocolates to Pari and asks her to leave. She pushes Pari out of her room and locks the door. Pari drops the chocolate and leaves.
Neel looks anxious at the competition venue as he fails to find the pendrive at home. He calls Kajal and informs her about it. Kajal says it must be at home and asks how pendrives look. Neel gives her a vivid description. He asks Kajal to find it otherwise he won't be able to take part in the competition. Bhoomi spots the pendrive on the floor.
Bhoomi asks Kajal to search in Neel's room. Kajal goes to room. Bhoomi picks up the pendrive. She thinks that the pendrive will reach Neel but the content will be something else which is beyond Neel's expectations. Kajal searches for the pendrive at room. Pavitra spots her and asks her what she is searching for. She informs Pavitra about the pendrive. Bhoomi shows the pendrive to Pavitra.
Click to read