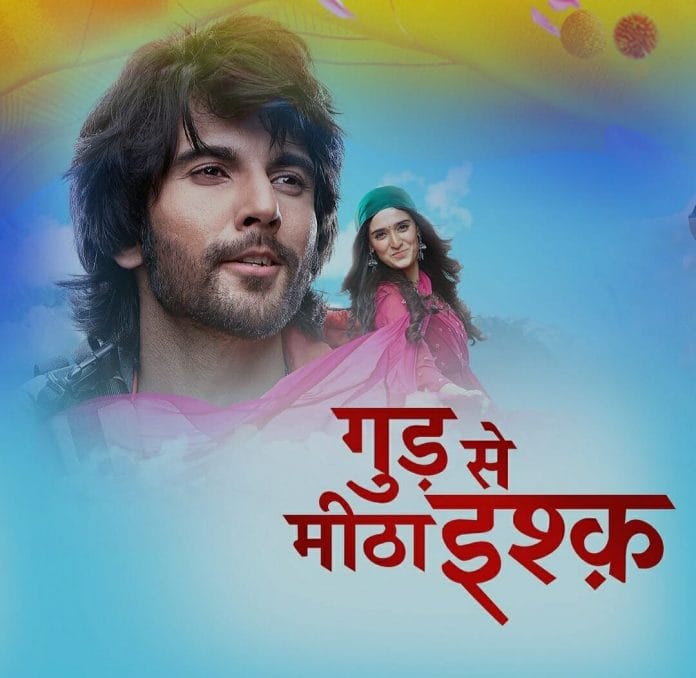 Gud Se Meetha Ishq 22nd September 2022 Written Update on TellyExpress.com
In today's episode, Chandni tells Dev that she is not mocking him but stating the facts only. She proposes to forget the past and stay together like two mature adults. Dev says it's too late. Chandni says that Dev is misunderstanding her as she wants Dev's friendship only. She stretches her hand for Dev to hold it but Dev leaves to find Pari avoiding Chandni. She fumes in anger. Nimrit suggests her to gulp the anger in order to maintain her relation with Dev. Kajal makes Pavitra sit and call Neel. He brings laptop, Kajal says that they have shortlisted few suitable matches for her. It's their surprise for Pavitra.
Neel shows the profiles to her and asks her to finalize so that they can fix meeting. Pavitra delibaretly finds flaws in all the matches and rejects all of those. Neel says no more profile is left. Kajal says if Pavitra meets someone in real she may like. Pavitra says that she is tired and leaves. Bhoomi goes behind her. Neel tells Kajal that Pavitra doesn't want to move on. Kajal wonders that there must be a way out to convince Pavitra. Dev notices that Noor and Pari are playing with Gudda Guddi in their room and becomes happy. Chandni, Nimrit come and sees them too.
Chandni goes to her room, she breaks articles in anger. Nimrit asks her to relax. She tells Chandni, if Noor spends time with Pari, Dev will realise how much Pari is harmful for Noor. Pavitra comes to Neel and asks him to not do all these as she can't move on from him. Neel asks Pavitra to come out of her bubble. Kajal comes and says that she has another surprise for Pavitra. Pavitra gets surprised seeing her father. He tells her that Kajal informed him about Pavitra's decision to move on so he has come to help Pavitra. They share a hug. He says that he is very happy with her decision to move on and thanks Neel, Kajal. He says that he has finalized Kabir for him who will come to meet Pavitra today.
Kajal says that she will help Pavitra to get ready for the meeting and hugs her. Pavitra says that if everything is already finalized let's fix the marriage. Kajal asks her to not take such an important decision in hurry. Neel agrees with her. Pavitra doesn't listen and asks to finalize the alliance. Dev plays guitar for Noor and Pari. Chandni, Nimrit see it. Dev informs Noor and Pari about the arrival of guests at home. He asks them to stay together like this as everyone else will be busy then. Noor, Pari agree happily.
Nimrit tells Chandni that it's golden opportunity for her and asks her to do something so that Dev can understand the difference between her and Pari. Kabir comes to meet Pavitra with his parents. Kabir says that he is ready for the marriage. Pavitra tries to secretly pick Neel's phone from his pocket. Noor, Pari play hide and seek in the hall. Nimrit tells Chandni to meet the guests as Dev's wife.
Pari says that she will meet them as Dev's wife. Nimrit asks how can Pari fulfill the responsibilities of a wife when she plays with Noor whole day. Pari says that she will get ready and meet the guests. Kabir, Pavitra gear up to exchange rings in presence of family. Kabir receives a message in his phone and gets shocked seeing old pictures of Neel and Pavitra. The episode ends.
Precap – While playing Noor finds a gun. Pari asks her to put it down as it's not safe. Noor says nothing will happen as the gun is not real. She fires and gets shot. Noor becomes unconscious. Dev comes there and sees gun in Pari's hand.
In today's episode, Chandni tells Dev that Noor just spoke her heart out nothing else. She complains that Dev has changed as he gives all his time to Pari only. Neel sits in his room and recalls whatever happened today. Pavitra comes there, she touches Neel's hand and pretends as if she is feeling bad for him. She says that she asked Kajal to check the pendrive once but she didn't listen to her.she asks him to not take this failure to heart. Kajal comes there and says that Neel has failed because of her. She offers tea to Neel, Pavitra delibaretly pushes her hand. The cup plate falls on the floor and breaks.
Kajal grows concern and asks Neel if he is alright. Neel asks her to relax as he is unhurt. Pavitra calls the day inauspicious. Neel tells Kajal that it's his fault as he should have checked the pendrive. He says that he is wondering how the song came in the pendrive as none listen such song at his house. He asks Pavitra to not come to their bedroom unless it's really urgent. Pavitra says that she and Neel are friends. Neel says that he is Kajal's husband before everything. Pavitra leaves. Neel hugs Kajal. He says that next time he will take part in the competition and win it too.
Bhoomi asks Pavitra to calm down who breaks stuffs in anger. Neel, Kajal hear it. Pavitra says that she tried everything possible but nothing worked. She says that Neel doesn't understand that Kajal deserves to be neither his wife nor the maid of Khurana house. Neel asks Kajal to open her eyes and understand Pavitra's intention now atleast. Kajal says that she will help Pavitra to move on in life.
Click to read