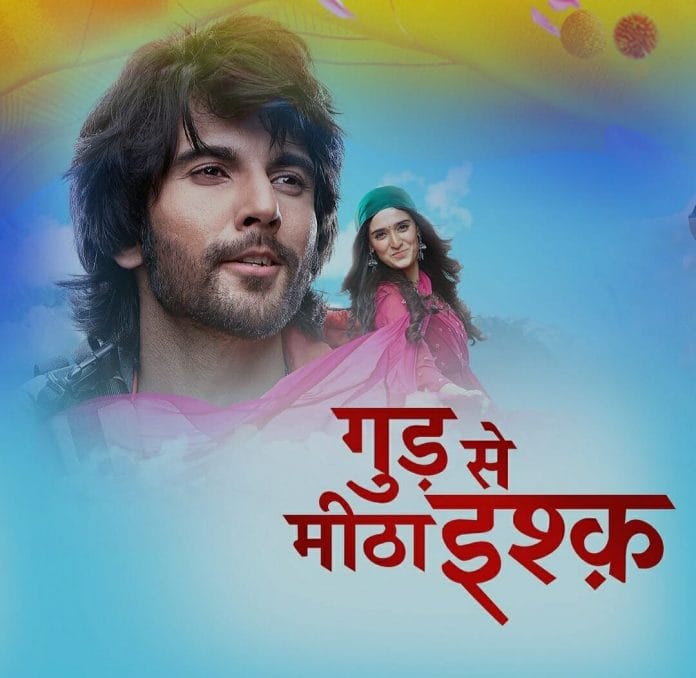 Gud Se Meetha Ishq 24th September 2022 Written Update on TellyExpress.com
In today's episode, Dev questions Pari for playing with gun and if she is fine. Chandni gets mad seeing that Dev is still caring for Pari. She calls it an attempt to murder. Pari tries to go near Noor but Dev stops her. He says that Pari and Noor can't play together hereafter. Pari tries to explain but Dev asks her to keep quiet. He scolds her for giving him troubles all the time. Dev asks Noor if it's hurting. Noor says very much. Chandni says that Noor has become so scared and calls Pari responsible for everything. Dev picks Noor up in arms and takes her out of the room. Chandni goes behind him.
Nimrit shows fake concern for Pari and gives her water. She asks Pari to not take Dev's words to heart. She adds that Dev is not wrong this time. Since Pari came in his life Dev doesn't get time to think about himself and won't ever get time since she will be there. She suggests Pari to exit from Dev's life for his happiness. Pari becomes thoughtful. Neel, Kajal wait for Neel's turns for interview at the exhibition venue. He gets shocked after learning that his name is not there in the interviewees lists. He spots the organiser who called him for the interview and asks him to resolve the issue. The organiser says that it was first come first serve basis and slots are already booked.
Kajal requests him to check Neel's pictures once as he did a lot of hard work for the exhibition. She tells Neel that they have to fight for their rights and asks him to show the photographs to the organiser. The organiser questions Neel for bringing his uneducated wife there. Neel asks him to stay in limits and says that he is proud of his wife. He also says that he is standing there because of Kajal only. He criticizes the organiser for wasting his time and asks him to learn humanity first. He leaves with Kajal. Pari spots Dev, Chandni and Noor together in a room.
Nimrit tells Pari that this is what a happy family looks like. She says that only Chandni and Noor can give happiness to Dev. She asks Pari to decide whom she wants to be happy herself or Dev. Neel, Kajal return home. Pavitra says that she has planned surprise treat for him. Neel informs her that he could not take part in the exhibition and tells him the reason too. Later, Bhoomi asks Pavitra if she did anything. Bhoomi says yes. She vows to torture Neel so much so that he returns to her leaving Kajal. Pari cries recalling whatever happened that day. She sees Dev and asks him to talk to her.
Dev asks her to sleep as he will work till late night. Pari says sorry and asks forgiveness as her intentions were not wrong. Dev doesn't listen anything and asks her sleep. Pavitra tells Neel to not worry as she will ask her dad to rearrange the interview and make sure that Neel gets chance to take part in the exhibition. Kajal comes there and says that it's not needed. She takes Neel upstairs with her. Neel gets shocked seeing an exhibition of his photographs inside Khurana house.
Kajal says that Dhruv has helped her by uploading the photographs in SNS and giving address of their place too. She informs him how much people are praising Neel and appreciating his works. Neel gets tears of happiness. Kajal asks Neel to thank Dhruv. Neel hugs him and thanks him. Dhruv says that it's his responsibility only and praises Neel. He tells Neel that all these photographs has become viral and there will be huge crowd at Khurana house soon. Neel explains about the photographs to Khuranas. He thanks Kajal and hugs her.
Precap – Chandni tells Dev that Noor is her everything and she can't live without her. She asks Dev to decide whom he wants at Khurana house, Pari or Chandni and Noor. Pari overhears the conversation. Pavitra tells Neel that Kajal might threw away something important while cleaning the floor in morning.
In today's episode, Kabir shows the pictures to Neel and asks what's all these. Everyone get shocked. Flashback shows that Pavitra secretly picked Neel's phone from his pocket and did this. Kabir says that the photos are not giving just friends vibes. Neel says that these are old pictures and he is already married to someone else. He says not to discuss all these now. Kabir asks then why Neel has sent him the pictures from his own number as dp is showing his picture only. Neel says that he didn't send anything and gears up to show his phone. He fails to find his phone and says that his phone is not in his pocket.
Kabir says that the way Pavitra was looking at Neel, he did find it fishy. He says that he can't marry Pavitra and leaves angrily with his parents. Pavitra tells Neel that she was not wrong, Neel still loves her that's why he sent those pictures to Kabir. She felt his love that night only. Neel says that Pavitra is mistaken as he didn't send any message to Kabir. Guests appreciate Dev's hospitality and goes to sing papers. Pari comes there to welcome the guests. She applies tika, puts garland on them forcefully which irks the guests. Nimrit, Chandni enjoy the scene. Chandni comes there. She says that she will help the guests in freshen up, asks Pari to go inside.
Dev defends Pari and says that she is his wife. He adds that Pari is not only special but the most special person of the world for him. He apologizes to the guests for Pari's behaviour and says that her intention was not wrong. They ask about the documents as Pari spoiled them.
Dev says that relation is more important for him as documents can be printed again. Pari holds her ears before them and goes inside. Dev says that he didn't hide anything, this is what he is and his family. The guests get impressed seeing Dev's heart and signs the deal. Pavitra's father questions her for staying at Neel's house leaving her own. He threats her to harm Neel. Pavitra says that if he harms Neel, she will commit suicide. He asks her to go for dinner with him so that they can discuss, he promises to not force his decision on Pavitra.
Click to read