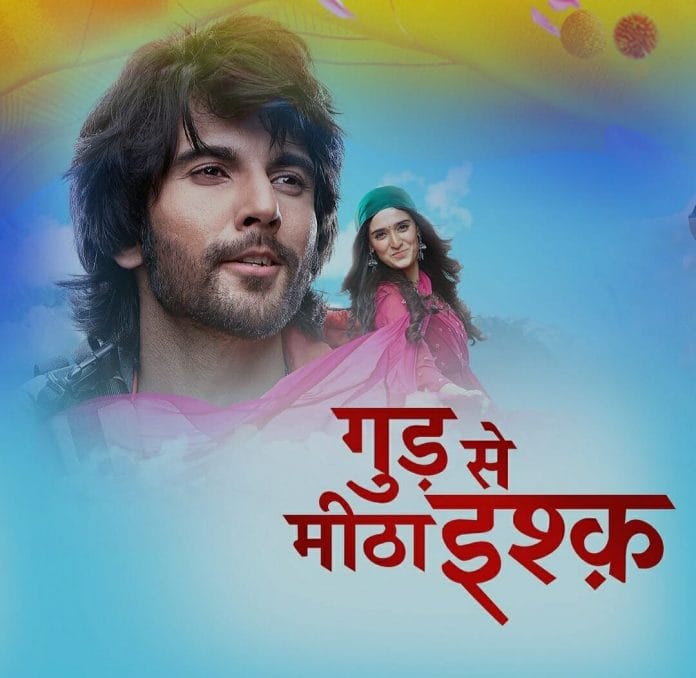 Gud Se Meetha Ishq 28th September 2022 Written Update on TellyExpress.com
In today's episode, Nutan and his husband discuss about Dhruv and Bhoomi. Neel comes there and informs them that the visitors loved his photographs, almost all photographs got sold out. Neel asks Bhoomi about Kajal if she has seen her somewhere. Nutan also enquires about Kajal. Bhoomi tells that Kajal's mood was off so she went for a walk outside.
Neel worries for Kajal's safety in congested City like Delhi. Bhoomi asks him to relax and not worry for Kajal. She leaves from there. Neel tells his uncle and aunt about his latest interaction with Kajal, how much he is regretting now for mistreating with her. They suggest him to speak his heart out infront of Kajal so that she can understand him. Neel agrees and goes outside to search her.
Pari asks for food from Kajal as she feels hungry. Kajal gives Pari her favourite chocolate. Pari hugs her. She asks Kajal if she will remember Neel like she will remember Dev. Kajal says yes. Like Pari loves Dev, she also loves Neel. Distance or circumstances can't affect the love. She tells Pari that true love never ends, it increases with time. Kajal says that Pari should go back to Dev as he is really nice. Pari gets irked and asks if Kajal doesn't like her. Kajal says that she loves her a lot but she must inform Dev about Pari. Pari objects. Kajal gets convinced. Pari gets excited as she will sit in bus for the first time. Kajal hugs her.
Neel fails to contact Kajal's number and worries. He asks Dhruv about her. Dhruv suggests him to go and check in his own room first. Neel comes in his room. He thinks that Kajal is inside the washroom and apologies to her. He gets shocked as Pavitra comes out of the washroom dressed like Kajal. She asks Neel if she is looking good and says that today is the new beginning of their lives. Neel enquires about Kajal. Pavitra says that Kajal has left forever and she has taken the decision for Neel's betterment. She hugs him but he pushes her away.
Neel lashes out at Pavitra for her act. He questions her for being desparate when he clearly refused her in past again and again. He says that Pavitra is losing her respect and dignity for all these. She says that she loves Neel. Neel shouts and says that she doesn't even know what love is. He says that Kajal defines what true love means. Pavitra calls Kajal uneducated. Neel objects and says that she is his wife whom he loves her a lot. He says that even if Kajal goes away from him, no girl in this world can take her place in his life.
Pavitra tries to convince Neel to accept her in his life. Neel asks her to shut up and gears up to go and search for Kajal. Pavitra picks the divorce papers and informs Neel that Kajal has left after signing on the divorce papers. She asks him to stay with the divorce papers hereafter. Noor, Dev gear up to leave to do practice for the sports event. Dev goes to call Pari. Chandni stops him and asks him to stay with Noor so that she can get his undivided attention. She informs Dev that Noor was upset after learning that she has to leave with Chandni but got cheered up after seeing him. Dev gets convinced. Dev asks Noor to do practice at home. Noor agrees. Chandni smirks.
Noor does practice with Dev. Dev remembers Pari. Noor falls, Dev calls her Pari and asks if she is fine. Noor asks him if he is missing her best friend and worrying for her. Dev says no as Pari is taking rest in room. Dev mentions about that incident and asks Noor to not stress as Pari will not come near her. Noor tells Dev that Pari didn't shoot her, she shot herself by mistake.
Pari tried to stop her but she didn't listen. Noor says that she was afraid to confess this because of Chandni and Nimrit. Noor praises Pari and acknowledges her unconditional, endless love. She says that she will choose her out of Chandni and Pari any day. Dev becomes happy and thanks her. Noor informs him that Pari is not at home. Dev gets shocked. The episode ends.
Precap – Dev lashes out at Chandni and Nimrit for kicking Pari out so that she doesn't get any share from his property. Kajal talks to Nutan over phone and asks her to not inform Neel about her whereabouts. Kajal tells Pari that she spent the best days of her life with Neel.
In today's episode, Kajal tries to defend herself saying that she didn't do anything intentionally aa she thought it just a piece of paper. Neel lashes out at her for not understanding the difference between a normal paper and appointment letter. He indirectly calls Kajal uneducated and says that marrying her was the biggest mistake of his life. He gives her the paper and leaves angrily. Kajal cries while Pavitra smirks. Pavitra asks Kajal to not worry and says that she has an idea.
Kajal says that she can do anything for Neel. Kajal meets Pavitra's father who says that he will help Neel to get the job. Kajal thanks him for the help. He says that it's not any favour and asks Kajal to leave Neel as the price.He says that he knows it's not right but he can do anything for Pavitra. if Kajal divorce Neel, Pavitra will live happily with her. He asks Kajal to choose if she wants Neel's happiness and job or her and Neel's togetherness. He gives divorce papers to her to sign on it.
Pavitra meets her father and thanks him. He asks her to not mention about suicide hereafter. She says no as her happiness lies in Neel. Kajal gets emotional. On the other hand Pari sheds tears for Dev. They cry sitting on the same bench in a park. They see each other. Kajal asks Pari what is the matter with her. Paro says that Dev has changed after marriage, he lost all his happiness due to marrying her so she left home for Dev's happiness. She asks Kajal about her.
Click to read