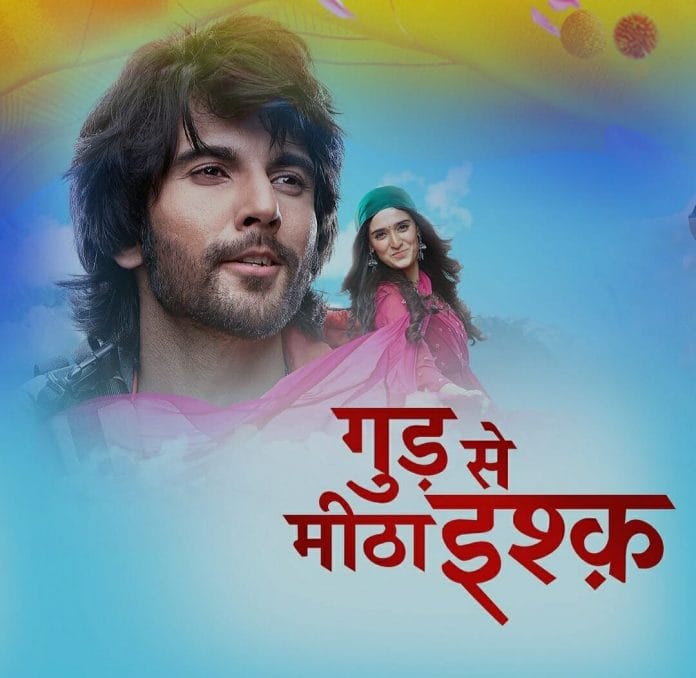 Gud Se Meetha Ishq 30th September 2022 Written Update on TellyExpress.com
In today's episode, Dhruv asks Bhoomi to wake up from sleep as Kajal is not at home. In sleep, Bhoomi reveals that Bhalla uncle aka Pavitra's father made Kajal sign on the divorce papers and is responsible for her leaving house. Dhruv gets shocked and questions her. Bhoomi wakes up and says that she didn't know all these, Pavitra told her later.
Dhruv tells Bhoomi if she is involved in this matter, he will abondon her and she has to start afresh in life. Dev visits Khurana house with lots of balloons and enquires about Pari to Neel. He tells Neel whatever happened at Shergill house and asks him to call Kajal to bring Pari there.
Neel breaks into tears. He informs Dev that Pari is not at Khurana house. Dev gets restless hearing that. Dhruv asks him to relax. Dev proposes to inform the police. Rajat says no need as Pari is safe wherever she is right now. Dev gets clueless and asks for Pari's whereabouts. Neel informs him that Pari is with Kajal. Dev asks him about Kajal. Neel says that he insulted Kajal so she left home. He adds that Kajal contacted Nutan and also asked her to not give their location to him and Dev. Neel blames himself for the situation. Dev says that he wants to apologise to Pari. He asks Neel to let's go to Kajal's house to bring their spouses back.
Nutan stops them and says that she and Rajat has important stuffs to discuss with them. She talks to Dev and asks him to return to his house. Dev says that he will not return home without Pari. He asks her about Pari's location. Nutan says that it was their mistake to let Pari marry him, they can't repeat the same mistake. She adds that Pari is just like a 12 years old kid by heart and brain and it's not possible for her to spend whole life with a mature man like Dev. She requests Dev to forget Pari and start afresh in life. She asks him to stay happy with Chandni and Noor.
Dev says that Pari is his wife and he can't live without her. He loves Pari for what she is. He wishes to talk to Pari once. Neel says sorry to Rajat who points out his mistake for insulting Kajal for a mere appointment letter. Rajat informs him that Kajal left a letter for him. Neel finds the letter. Nutan says that she doesn't want either Pari or Noor to suffer because of each other. Dev says that whatever happened at his house, Nimrit was responsible for everything. He says that he will take Pari and Noor away and will keep both of them happy always. He bends on his knees and keeps requesting her to break her promise.
Nutan says that she can't help but is breaking her promise to Kajal seeing Dev's undying love for Pari. Neel reads the letter where Kajal says that she doesn't want to create further problems in Neel's life. She asks him to accept Pavitra. She says that she will keep loving him till her last breath as love means sacrifice too. She promise to work hard and take care of Pallavi and Pari. At Pallavi's house, Kajal shows Pari how she works as a tourist guide. Her friends visit her. Kajal enquires them about work. They ask Kajal to take part in the singing and dancing competition in the nearby schools.
Kajal says that Pari will sing there, Pari convinces Kajal to take part in dancing. Dev packs bag to leave for Kajal's village. Chandni asks if he is leaving her and Noor. She also informs that Nimrit is staying at hotel. Dev says that he is going to bring Pari back. Chandni requests Dev to wait for one more day and attend the sports event at Noor's school. Dev gets convinced. Kajal, Pari practice for their performances and get tensed. Kajal gets an idea that they will perform together. They appear on the stage. The episode ends.
Precap – Neel tells Kajal that he is nothing without her. Kajal forgives him. They share a hug. Pari says that Dev is not happy with her. Dev says that he wants Pari only. Pari hugs him. The couples say ' I Love You' to each other.
Click to read