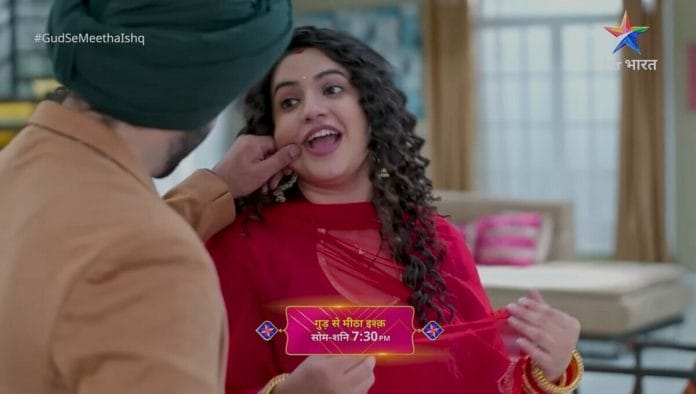 Gud Se Meetha Ishq Spoilers, Upcoming Story, Latest Gossip , Future Story, Latest News and Upcoming Twist on tellyexpress.com

Gud Se Meetha Ishq depicts the rollercoaster journey of a young couple Neel and Kajal who got married in an unusual circumstance on Star Bharat and Hotstar. Currently we are seeing that Pari learns about Dev's arrest and informs Khuranas about it.
Khuranas rush to the police station to release Dev leaving Dhruv's birthday party. Bhoomi instigates Dhruv against his family. Dhruv destroys his birthday cake in anger.
In the previous episode, Nimrit arrived at home and informed Pari about Dev's arrest. She called Chandni responsible for Dev's arrest. Pari said that her uncle is a famous lawyer, he would release Dev from jail. She left for Khurana house with Nimrit.
Khuranas celebrated Dhruv's birthday. They danced together. Nutan started worrying for Pari and she was unable to contact her and Dev. She stopped Dhruv from cutting the cake and asked to wait for Pari. Pari arrived there and informed Khuranas about Dev's arrest. She asked Jaidev to release Dev.
Khuranas left for police station leaving Dhruv's birthday party. Bhoomi said that Khuranas love Pari more than Dhruv. Dhruv destroyed his birthday cake. Pavitra informed the ring matter to Neel. Neel returned Pavitra her money. Khuranas arrived at police station. Police said that Dev won't get bail.
She asked to convince Chandni to withdraw her case. Pari went to meet Chandni with Neel and Kajal. She requested her to withdraw the case. Chandni wished to talk to her alone. Pari left Kajal's hand and went with Chandni.
In the upcoming episode, Pari tells Dev that she has a surprise for him. Dev gets shocked seeing Chandni and Noor at Shergill house. Chandni tells Nimrit that after seeing Dev and Pari together she understood the value of having Dev. She wants Dev back.
How will Dev react? Will he allow Chandni to stay with him and Pari? Will Chandni snatch Dev from Pari? What Pavitra is upto?
To know stay tuned to Gud Se Meetha Ishq on Star Bharat, Hotstar app and this space.