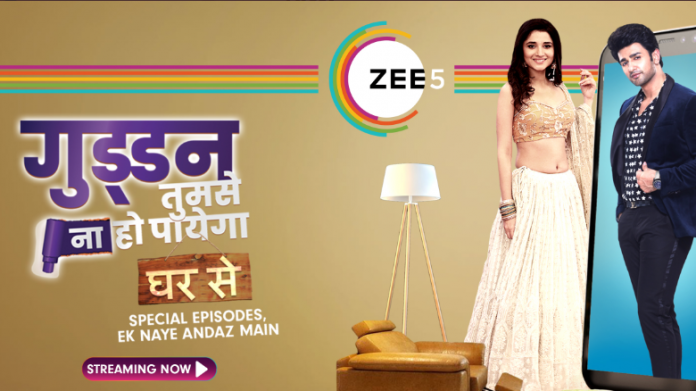 The episode starts with Akshat falling unconscious on his bed after getting hit on the head.
One night before, Akshat was on video-call with Guddan who was apologizing for her mistake and was ready to bear his anger which is understandable as he is concerned of her so if she keeps making mistake he would get angry. Akshat says that he got scared for her and their baby. He adds that it's not her mistake and asks her not to stress since he called the police and they will investigate into the matter. Guddan wishes for them to be together. Akshat says that they will be together after few days and then nobody will be able to separate them. Guddan is touched by his love and says that it's only after meeting him that she came to know that there is no power which is bigger than love.
On the other hand, Saraswati scolds his recruit since he is failing continuously. He asks him to return the money and leave. She threatens to tell all his information to the police. The recruit tells her that he has already spent the money so she can call the police and if they get to know what crimes she has made him do, she will never get out of jail. Saraswati immediately says that she was just joking and they shall think about another idea. The man says that he already has an idea: he suggests removing Akshat from their way before harming Guddan. He tells Saraswati what he has in mind.
Akshat asks Guddan to keep the mobile near her stomach so that he can talk to their baby. Guddan says that she just gave the news about her pregnancy yesterday, obviously the baby won't be talking yet but Akshat insists and he starts talking to the baby introducing themselves. Guddan gets emotional feeling extremely lucky to have him. Akshat says that he is the lucky one to have such a wife. He asks her to keep the video-call on during the night. Akshat wants to cancel tomorrow's competition but Guddan insists that they shall not and she is also sure that she will win it. She asks Akshat not to worry. Akshat asks her how she is able to do all this. Guddan replies that it's because he is with her. They say I love you to each other before cutting the call.
The next morning Akshat is on video conference with Guddan, Ganga, Saraswati, Durga and Lakshmi for the cooking round of Mrs. Lockdown competition. Durga is ahead in the race since she won the dance competition. Durga and Lakshmi ask Guddan if she is fine. Guddan replies that she is fit and fine. Saraswati suggests her to take rest instead of participating in the competition. Guddan asks her if she got scared and wants to remove her from the competition. Lakshmi says that Guddan is the entertainment factor of the competition, so they will not be able to enjoy without her.
Guddan hears a noise and gets alerted. Akshat says that he will judge the dishes by looking at them since he won't be able to taste them. He wishes them all the best and starts the competition. The ladies start cooking their respective dishes. Guddan hears a noise again and goes to check. Akshat asks what's going on. Saraswati thinks that her recruit has arrived. Durga, Lakshmi and Ganga gets worried about Guddan too. Akshat asks Guddan to speak up. Guddan comes back and says that she went to get some spices. She asks them all not to worry. They continue the competition. Lakshmi asks Guddan what she is making. Guddan tells them that she is making AJ's favourite pancakes. Durga says that she is making her husband's favourite Choco lava cake. Lakshmi gets shocked since she is making it too as she had told her yesterday. Saraswati blames them of cheating. Akshat asks them not to waste time and focus on presentation of the dish which is more important. Saraswati smirks thinking that Akshat is in the danger zone.
The time is up so Akshat asks them all to stop. He asks them to show their dishes. He is impressed with Durga's cake but adds that it looks a little over baked. He moves on to Ganga who has made golgappe but the presentation is not so good. Ganga says that she has made golgappe just for Guddan who might want to eat them. Akshat likes Guddan's pancakes but says that the chocolate syrup is not so thick like it should be. Ganga isn't able to understand what Guddan has made but says that it must be tasty.
Durga scores 8 out of 10. Lakshmi gets 8 too since her cake was a little big. Saraswati, who made noodles, get 7. Saraswati is disappointed. Akshat gives 9 to Ganga and 9.5 to Guddan who wins the round. However, Guddan is upset since he cut half point. Akshat says that he would have given 5 only but then he added numbers just thanks to her daughters-in-law who gave a great feedback, plus a bonus half point.
Guddan starts arguing with Akshat. The latter hears a noise. Lakshmi asks if something got broken. Ganga says that she doesn't understand what's happening with Akshat and Guddan. Akshat goes to check in the kitchen and then goes back in the bedroom.
Suddenly someone hits Akshat with dumbbells from behind. The ladies see that through video-call and gets shocked. A masked man comes in front of camera and asks them not to shout and says that he has kidnapped Akshat.
Episode ends