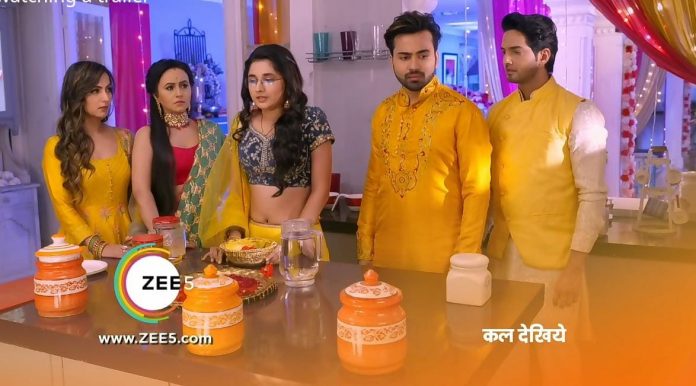 Guddan Tumse Na Ho Payega 23rd January 2021 Written Update on TellyExpress.com
Episode starts with Choti saying now she has proof against Pushpa and Nia. Shona says now you won't be spared. You yourself have confessed all your crimes and we recorded this. Pushpa gets shocked. Choti says now you'll do what I say.
Nia's father shouts at Agastya saying you threatened Nia that's why she is behaving like that. Agastya says why will I do it? I was waiting for her. Agastya asks Nia who said you to do all these? Choti asks the same thing. Nia says I am not doing this under pressure. Its my decision. Choti says she is not a kid. Maybe its her decision only. Nia's father says then she will leave this house with us. Choti says Nia has lived with us for so long. Don't take her away like that. She can spend some days with us at least. Nia too says I also want to stay here for some days. Nia's parents leave.
Agastya takes Choti with him in their room. Agastya asks Choti what has she said to Nia that suddenly refused to marry him. Choti says stop your drama. I know you are happy after hearing Nia's refusal. You didn't want to marry her. Agastya smiles at her. He says you have become smart. Guddan says you were really going to marry her? Agastya says you gave me the divorce papers. Guddan says that was fake. Agastya gets happy he says I am happy that you did this drama. He tries to get close to Guddan. Suddenly he gets a phone call and leaves. Guddan says she has a secret as well.
All members call Pushpa and Nia. Pushpa asks now what's left? Choti asks Pushpa about Badi Guddan. Arav says why are you silent? They answer that they have no idea where Badi Guddan is. Choti says let's play a game, if Pushpa wins then the recording will be hers. But if she loses then she will have to tell everything. Pushpa sees hockey sticks. Choti says you love to play with hockey sticks right? But there's a twist. You have to hit the ball with this and if the boxes fall down then you will win. Otherwise you will get punishment. Pushpa fails during first attempt and Choti tells Nia to pour the dustbin garbage on Pushpa. Nia does it. Pushpa gives a disgusting look. Nia too fails doing it. Choti tells her to eat something as a punishment. Nia after eating one spoon starts asking for water as its really spicy. Shona gives her water mixed with chilli powder. Nia throws up.
After that Choti ties a rope with Pushpa's and Nia's one leg. They spread the garbage everywhere. Choti tells Pushpa and Nia to clear them within 1 minute. Nia and Pushpa fail to do it. They keep falling. Pushpa and Nia become unconscious after that.
Choti says they lost their senses. Shona says perhaps both of them have really no idea of where Badi Guddan is. Else how can they quite even after getting punished. Choti starts crying and says then where is my mother. They look stressed.
Pushpa opens her eyes and thinks that when Choti will know about Agastya's intentions she will be shocked. She doesn't know that Agastya only killed her mother. Pushpa smiles.
Episode ends.
Click to read: