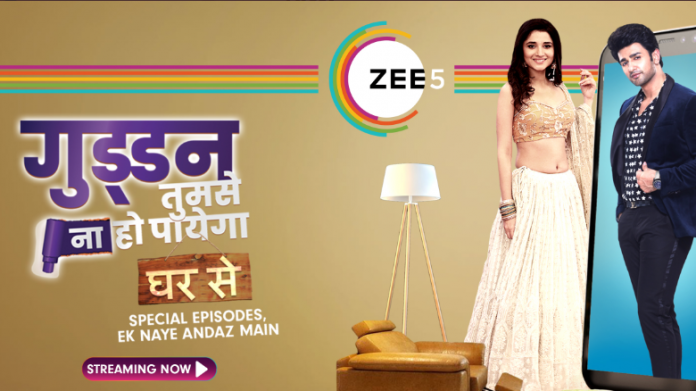 Guddan Tumse Na Ho Payega 23rd June 2020 Written Update on Tellyexpress.com
Today's episode start with AJ video call Guddan. Guddan receive his call and wish him Good morning. AJ says it's not morning it's already 12 at noon. Then she says don't kill my morning vibes and she walk out from her room and see the gifts which AJ send to her. And she also sees a latter in which AJ wrote that today you have to confess your love. But Guddan says your gift is cute but your note is little bit demanding. AJ says am doing so much for you can't you do this for me. Guddan doesn't agree with it and she hang up the call.
After a while Guddan is doing some house work and say, she will not confess her love easily as AJ also took a lot of time to say I love you to her. So she will also do the same with him. Meanwhile AJ again video call her. And then both play dumb charades as Guddan is getting bored in lockdown.
Guddan start first and AJ guess the moive right. Later it's AJ turn and he again ask Guddan to say I love you by this game. But Guddan ask him to not to play smart in front of her. AJ said that I really want to listen these words. And you also said I love to me numerous time in the past. Guddan recalls those good memories and says but it was in the past. AJ still try to please her to say I love you. Guddan says okay I will do that but I will say that at night after everyone sleep. And she again hung up his call.
After their video call ends. He start recalling his and Guddan's precious memory. And later it's 12 at night so AJ video call Guddan and sees that Guddan decorated her room. AJ ask her why she does that.
Guddan says I do it only for you as you always there for me when ever I am in pain, so thank you. AJ says it's okay but please can you know say those words. Guddan says okay I will do write it with my lipstick. But she write I hate you. AJ ask her why you hate me. Guddan says because you forget our wedding anniversary. AJ gets shocked as he forget the most important day. And he try to apologises to Guddan. But she cut the video call.