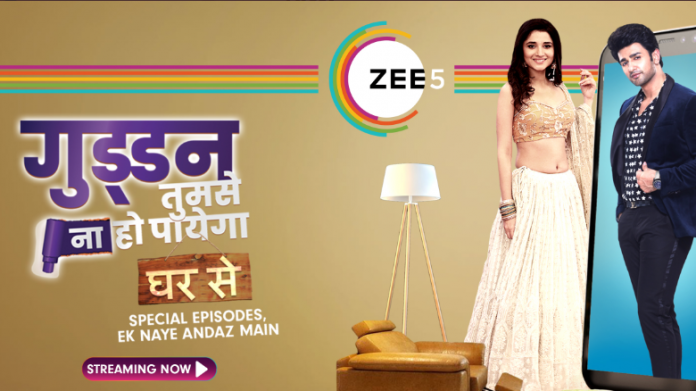 Today's episode start with Guddan who keep disconnecting AJ's call as she is still angry with AJ because he forgets their wedding anniversary. On the other hand AJ is confused that now how can he make Guddan happy. And he came up with a plan. He start sending video messages to Guddan in which he is says some romantic words to Guddan. This make Guddan feel good and then she call AJ.
Guddan ask AJ about messages and AJ tells her that he is doing it for her to make her happy. Guddan tell him that it is not that easy. But AJ already setup his plan to make Guddan's heart fruition, he ask Guddan to get ready for her haldi ceremony. Guddan ask him how will they celebrate haldi. AJ says he will tell her step by step and today they will live all the wedding ceremonies again. Then Guddan make haldi and duo put haldi on their faces.
After a while Guddan and AJ start getting ready for their next ceremony which is their sangit ceremony . But Guddan gets confused as she has no idea that what outfit she will wears next. And same thing happening with AJ. So later Guddan advice AJ to wear a t-shirt as this will bring something new and spicy in their lockdown celebration version.
AJ do the same as Guddan Says. And Guddan wear beautiful red dress which make AJ breath less. then Guddan make some food as this is also most important thing in wedding. So she make some paneer item which is looks super delicious. AJ ask her to now get ready for wedding. like this duo recall their pervious wedding moments and with that they also remarry again through the video call.
Guddan also expresses her love for AJ. She also tell AJ that she loves him which make AJ extremely happy. Later both count that how many time they get married and with this they also recall bad memories which Antra gave them. Because of this later at night Guddan have nightmare in which Antra haunting her.