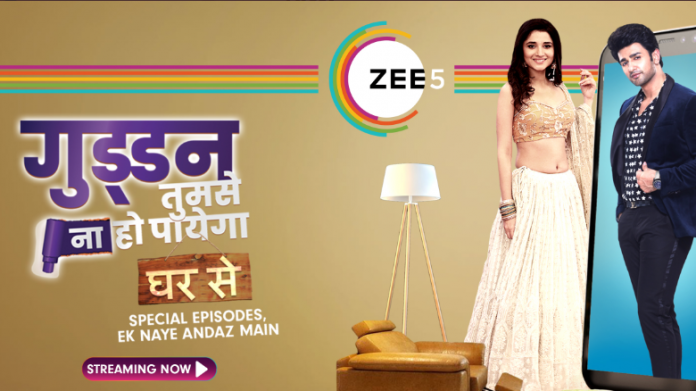 Guddan Tumse Na Ho Payega 26th June 2020 Written Update on Tellyexpress.com
Today's episode start with Guddan who call AJ in the morning. AJ receive her call and Guddan act like a Manjulika with messy hair as she wants to scare him. She says "Aami Manjulika" and AJ reply her with "Aami Tomake Bhalobasi". Guddan ask him why can't you float in my flow. AJ chuckled and tells her that he can but it is very difficult for him to be afraid of a lovely lady like her. AJ's answer makes her happy and she give him kiss through the video call. AJ ask her to give him more as one kiss is not enough for him but Guddan say no to him.
AJ still please her to accept his wish and give him more morning kisses as weather is also rainy and romantic. He also ask Guddan to join him in this beautiful weather. Guddan tells him that she want to but because of lockdown she cant and she also have no idea that when will she can get back to AJ's side. She tells AJ that she missed him alot and wants to meet him quickly.
Suddenly AJ start laughing and Guddan ask him what happened. AJ tells her that he is recalling those day in which it was very hard for us to share a room together and today we can't live without each others. Guddan also start remembering those old days in which she was newlywed and she didn't even know how to wear a sadi and she tells AJ that it was very difficult for her to carry a sadi.
AJ ask If sadi was that troublesome then why you wear it. Guddan tells him because of elders respect and also for him. AJ says sadi is not my thing if you really want to wear something for me then wear a glamorous dress. Guddan accomplishes his wish and show him her sensuous side in her stunning outfit. After seen Guddan in her new avatar, AJ gets mesmerized and he give her flying kiss. Then She ask him when will they meet again and AJ tells her we will meet soon. (Episode end)