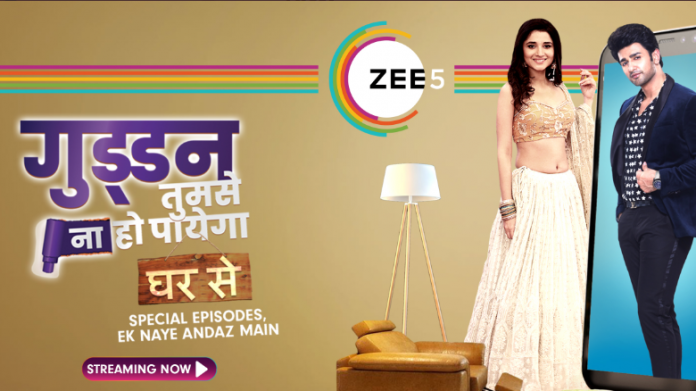 Guddan Tumse Na Ho Payega 27th June 2020 Written Update on Tellyexpress.com
Today's episode starts with Guddan give AJ a video message in which she is spinning the bottle and she ask AJ to play truth and dare with her. AJ appreciate her idea and he agrees. Guddan spin the bottle and it's her turn. AJ ask her truth or dare and she choose dare. AJ tease Guddan by saying her gutsy and Guddan tells him that she is very daring from the start and it is a small thing for her. After that AJ give her dare to shout "I love you Jindal sahab" 3 times, Guddan make faces and ask him why on the hell his clock still hangs on this "I love you " and AJ ask her to stop making faces and complete your dare. Guddan do the same as AJ ask and she shout three times "I love you Jindal sahab" then Guddan's neighbours appear at her door because of the noise and ask her what happened and Guddan says she accidentally sit on the remote and volume gets increased so it happened. Then her neighbours leave and she come back.
Here AJ is laughing at her lame excuse and ask her to at least makes a solid reason to which Guddan reply it's okay, it worked for her and now lets start the game again. She again spin the bottle and it's AJ's turn. He also choose Dare and Guddan dares him to striptease, he starts with his shirt. Guddan tells him that he is looking very hot and his hotness can burn her phone. AJ is still opening his shirt buttons which now makes Guddan shy and she ask him to stop. AJ chuckled and call her naughty.
Then Guddan ask him that which one is the most daring thing in the past which made him super nervous. AJ recalling the past and tells her that when she was drowning, when she was at gunpoint by Dutta and when she wanted to marry an old man thus those things made him anxious. After that Guddan suggest him that instead of spinning the bottle they should just go turn by turn and AJ agrees with it.
AJ ask her truth or dare and this time she choose truth and AJ ask her if she was ever so mad at him that she wanted to leave him. Guddan tells him that there were instances where she gets extremely upset like, when AJ forced her to sign share papers and when he chose Antra over her. But still she never wanted to leave him as she loves him more. Then Guddan ask him what he wants to choose and AJ say he wants to follow Guddan so he will also chooses truth, and Guddan ask him, when was he realized that he start felling for her. AJ tells her it is a very simple question and tell her that when he proposed her that's when. Guddan say but it was too late. AJ then realized it very early on that he is in love with her, then she says, it's so early. AJ then ask her to leave this and tell him what you want to choose now. She says, this time dare.
While AJ lost in his thoughts and Guddan ask him what's going on, and AJ tells her that he fell in love with her when they first met in temple. Guddan also confesses that the first time she fell in love with him when she met him in the restaurant and he saved her from falling. (Episode end)