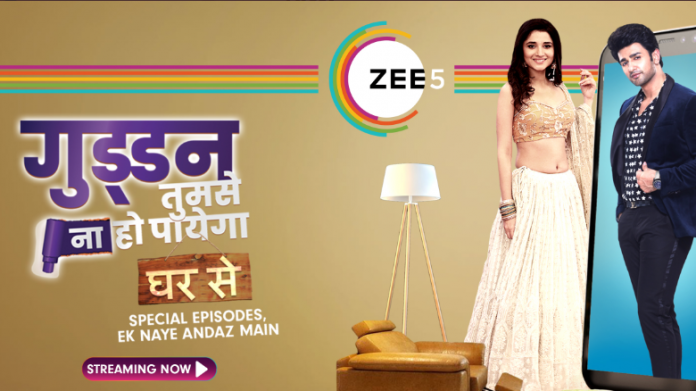 Guddan Tumse Na Ho Payega 29th June 2020 Written Update on Tellyexpress.com
Today's episode start with Guddan struggling to wear a tie so she decides to call AJ and ask him for help. On the other hand, AJ is trying to repair his speaker and Guddan give a video call to him, he received her call and ask her what sup. Guddan tells him that she needs his help and sees that he is also doing something, so she ask him what is he doing to which AJ replies that he is trying to fix his speaker and ask her to leave it and tell him her problem. She tells AJ that she is trying to wear a tie for some small commercial add but, she don't know how to wear it.
Then AJ bring his tie to teach her properly how to wear it but, she still not understand, so she decided to leave it aside and ask AJ to fix the speaker first. AJ replies that it is very tricky and she can't repair it. Guddan then says that she can do anything and ask him to recall those moments when she saved him from firecrackers at diwali celebration and from Mr. and Mrs. Dutta. AJ tells her that he is also saved her many time and ask her to refresh her memory and remember those days when he helped her by saving her sister from Perav, when he saved her from goons and when she gets kidnapped.
After that AJ ask her to learn how to wear a tie but Guddan gets upset as AJ praise himself for saving her and forgets that how she saved him from drowning and rescued him and his family from Antra. AJ then ask her not to waste time and learn how to wear a tie otherwise he will go. Guddan stop him and ask him to teach her to which AJ ask her to follow his step. This time Guddan follow his steps carefully and knot her tie successfully.
AJ then ask her to hung up the call as he now wants to fix his speaker to which Guddan ask him to pat speaker to cure it. At first AJ denies it but because she forces him to do so. So he pat it and his speaker starts again. Duo then thank eachother. (Episode end)