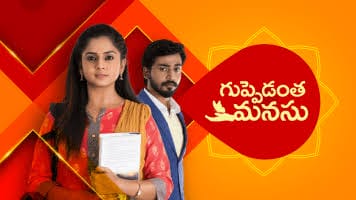 Guppedantha Manasu 10th August 2022 Written Update on TellyExpress.com
The episode starts with Devayani closing the door of Rishi's room and asking what's it Sakshi. They see Vasudhara and Jagathi. Sakshi blames Vasudhara for her problems and questions why she came. Vasudhara asks what she did. Sakshi says you're separating Rishi from me and I'm feeling feared thinking you may do something in the marriage too.
Devayani asks her to stop. Sakshi asks Devayani to not allow Vasudhara at their place. She asks Vasudhara to leave. Rishi comes out. Sakshi leaves in anger. Devayani follows her. Jagathi tells Rishi that Vasu came for her. Rishi leaves saying he didn't ask her.
Vasudhara says she will talk with Rishi. Jagathi says it's not the correct time as he looks disturbed. Vasudhara says she will ask Rishi why he agreed to marry Sakshi and we have the responsibility to know it. Jagathi asks her to stay silent telling her it's not the time to question Rishi. Vasudhara tells her ok and leaves.
While going Vasudhara is about to slip in the steps but Rishi holds her on time. Both lost in each other. Vasudhara says she didn't see. Rishi asks where she lost. Vasudhara says she is lost in him. She tells they need to talk. Rishi asks her to talk. Vasundhara says not now. Devayani tells Rishi that tomorrow Sakshi's parents are coming to write Lagna Patrika. She invites Vasu to the function. Rishi agrees and leaves. Devayani smirks.
Later Devayani asks Dharani to prepare sweets. Mahindra asks what's happening. Devayani asks Sakshi's parents are coming here to write Lagna Patrika. Mahindra says Rishi doesn't like Sakshi and doesn't know why he agreed to marry her so don't play with Rishi's life and stop this marriage. Devayani says I fought with Sakshi to stop the marriage. Dharani says to Gautham that it's Devayani's plan only.
Gautham says he knows it. Mahindra promises her that they will listen to her for a lifetime and asks her to stop the marriage. Devayani says she doesn't have any role in this marriage. She asks him to talk with Rishi. Jagathi asks Mahindra to not plead with anyone. Devayani asks if she is giving courage to him. Jagathi says she feels this marriage won't happen. Devayani says her curse won't work.
Vasudhara goes near Rishi's car. He comes out. She tells she wants to talk with him. Rishi says there is nothing to talk about. Vasudhara says many things needed to be told to him. Rishi says I know what you talk and I don't need to explain to anyone. Vasudhara says you need to answer your heart, is your decision is taken by your heart. Rishi asks her to stop discussing the matter which is decided.
Vasudhara says you know how evilly Sakshi behaved with you. Then why do you want to marry her? Rishi asks what is she thinking and asks if she thinks he is being forced. Rishi says he is MD of a college I know how to make my life decisions. Vasudhara says she knows him and that's why I am asking you as your well wisher. Rishi reminds what Vasudhara said to him indirectly. Rishi goes away in a car.
Mahindra asks Jagathi why is Rishi doing like this. How could Rishi think to marry Sakshi. Mahendra says Rishi used to talk about small things even and now he cuts off his friendship with me. I know how much he loves Vasudhara. Mahendra asks Jagathi why is he not talking about anything.
Jagathi says I don't know answers for your questions that's why I am staying quiet. Jagathi says I might be responsible for what happened. You brought me here. And I think because of it Rishi might have kept you at a distance. Jagathi says we should accept one fact that we made a mistake in Rishi's matter.
Episode ends.