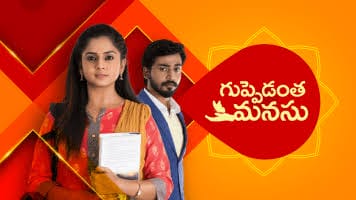 Guppedantha Manasu 10th January 2023 Written Update on TellyExpress.com
The episode starts with Devayani taunting Mahindra and Jagathi. She says she may manage the situation if she goes with Rishi but you guys stopped me and you guys are not doing anything for Rishi. Jagathi gets emotional. She hears a car sound and says seems like Rishi came. They notice Rishi coming inside. Devayani and others surround Rishi and ask him where he went. Devayani asks Dharani to get coffee for Rishi. Rishi says he doesn't need anything. Jagathi tries to say something. Rishi stops her and says this deceiving is common for him since childhood. Devayani smiles. Rishi asks Jagathi "why it's happening to him always". He says I used to feel thankful for Jagathi for bringing Vasudhara to my life but don't know what to say now as Vasudhara taught me a life lesson. Rishi says thank you madam and leaves. Jagathi cries badly.
In the jail, Vasudhara misses Rishi and cries badly. She thinks she will live with the memories of Rishi. On another side, Rishi sees things related to Vasudhara and he tries to throw them out but he couldn't.
The next day, Phaneedra asks Devayani if Rishi woke up. Devayani says no one cares for Rishi at home except them. Phaneedra asks her to not talk in that way. Dharani serves them coffee. Devayani says she will give it to Rishi. Mahindra stops her and says he will give it to Rishi. He goes to Rishi's room with coffee and notices Rishi sleeping on the floor. Mahindra feels bad. He wakes up Rishi and asks him why he slept on the floor. Rishi sleeps on his shoulder and asks if love gives him this much pain. He says love is giving him immense pain and his love is not leaving him. Mahindra asks if he is hating Vasudhara. Jagathi comes there. Rishi says I know how to love, Vasudhara gave me beautiful memories and make me see the new world. Jagathi thinks about why Vasudhara did it. Mahindra asks him to drink coffee. Rishi denies it.
Rajiv calls Devayani and asks her what she did about Vasudhara's bail. Devayani asks him to go to jail and tells him that all formalities are getting finished by her lawyer. In jail, Vasudhara signs the formalities. The lawyer asks Devayani to talk to Si. So tells Devayani that they are releasing Vasudhara seeing your Guarantee. Devayani says Vasudhara doesn't do anything wrong. Rajiv comes there. Lawyer tells Rajiv, he can take her. SI asks Vasudhara to live with her husband and tells her that it's wrong to have a relationship with another man. Rajiv says he said it correctly. Si asks him to keep his wife in his control. Vasudhara gets released. Rajiv asks her to come with him and tells her that her parents are fine and advises her to get married to him. Vasudhara says she is married. Rajiv says I know that you're not married and I won't leave you. Vasudhara says Rishi tied it. Rajiv says Rishi confessed that he didn't tie it and I know that you tied it to yourself and I'm happy to get an intelligent wife like you.
Episode ends.